If you're reading this, there's a good chance you've seen a work colleague or someone you know using a height-adjustable desk (or standing desk). Perhaps you've even had the chance to try one yourself!
If so, you're not alone; according to a report by the Society for Human Resource Management published in 2017, sit-stand desks are one of the most sought-after benefits by office workers in the United States.
The desire to improve health, reduce lower-back pain, and maximize productivity are some of the main sources of their popularity, especially since scientists have shown beyond a shadow of a doubt that sitting for extended periods of time is extremely detrimental to our health… even for those who exercise outside of work!
If you're among the curious, you probably know that moving around more during your workdays by adopting a sit-stand working style also raises a lot of questions. And one of the most popular questions is: "What is the best standing desk for me?"
It's a great question, and given the number of factors that influence the answer, we'd like to respond fully and transparently. Without any further ado, here are the top 9 factors that determine what is the best standing desk for you.
Factors influencing the performance of a standing desk
We can all agree on one obvious fact: if you want a height-adjustable standing desk, the primary functionality you're looking for is quite simply the ability to alternate between standing and sitting during long working hours.
What you might not know is that there are multiple sub-categories of adjustable desks: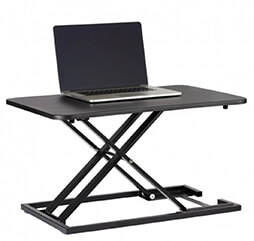 Standing desk converters are an addition to your existing desk that allow you to elevate just your computer/keyboard/mouse/monitor.
Primary advantage: less expensive solution.

Primary disadvantage: less glamorous design.

Price: typically under $500 CAD.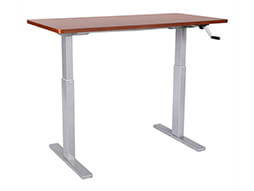 Crank-adjustable desks are desks whose work surface must be elevated manually by turning a crank several times for each additional inch of height.
Primary advantage: no need for an electric cord

Primary disadvantage: adjusting the height takes time

Price: typically under $500 CAD.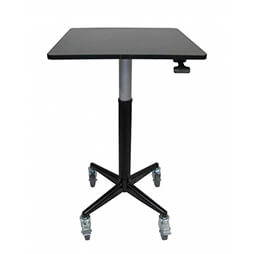 Pneumatic adjustable desks function similarly to desk chairs: you just press a lever to raise or lower the desk.
Primary advantage: no need for an electric cord

Primary disadvantage: supports very little weight and isn't very stable

Price: typically under $500 CAD.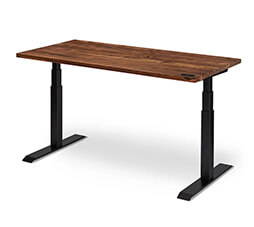 Electric adjustable desks only require the touch of a finger to adjust them to the desired height. Some electric adjustable desks even let you save your positions to make your life easier and ensure the optimal ergonomic position every time.
Primary advantage: simplicity of use & speed of adjustment

Primary disadvantage: requires a nearby electrical outlet

Price: varies a lot, from 500$ to 5000$ CAD.
Electric adjustable desk in action. Model shown: the Shift standing desk by ergonofis
In our experience, people who opt for:
a standing desk converter do so primarily for the price and are less concerned about design;

a pneumatic or crank desk stop using it because the adjustment process takes too much time and effort;

an electric adjustable desk finds the transition to sit-stand easier and are more satisfied with their new desk.
For all these reasons, the rest of the buying guide focuses on the latter.
If you're a very analytical person who has taken the time to compare each functionality of height-adjustable desks, you will probably have noticed that different models can vary enormously in their maximum weight load.

Basic lower-end models usually have a maximum capacity of 150 pounds, while higher-end models can hold up to 350 pounds. Why do people have different capacity needs? It depends mainly on the weight of the work surface itself, and the number of computer monitors and accessories that are kept on the desk (printer, speakers, etc.)
While lower-end models have just one electric motor, a second one is needed to hold more weight and provide increased stability. General rule: if you want a truly robust desk and prefer not to have to question what might or may not be on your desk, opt for a dual-motor electric standing desk.
In order to minimize costs, some adjustable desk models have columns with only 2 height levels (instead of 3), which prevents them from going lower than 27" or higher than 42". This is fine for people of average height (between 5'6" and 5'10"), but according to the BIFMA, in order to suit the vast majority of people, an adjustable desk needs to have a range of motion of 23" to 48".
When you choose your new height-adjustable desk, it's important to consider the environment where it will be used… especially in regards to noise levels! All adjustable desks make some amount of noise when being adjusted, with the average level ranging from 45-60 decibels.
To give you an idea of how much 60 decibels represents, here's a scale taken on the American Speech-Language-Hearing Association website (asha.org):
In short, if the desk will be used in an open area with a constant conversation, this criterion may be less important. Conversely, if it will be used in a closed office or library, every decibel counts!
Maximizing the sound absorption of the adjustable columns requires more complex manufacturing procedures, higher-quality pieces, and high-performance mechanical oils. No surprise that complexity and higher quality cost a bit more!
Alternating between sitting and standing takes some time getting used to, and the easier this transition is, the more likely the experience will be successful. Given that in an ideal world, it's best to change positions every half-hour, a quicker adjustment speed reduces the loss of productivity.
If it takes a whole minute to manually adjust your desk every time, this means 15 minutes lost by the end of the day… but in reality, if the adjustment speed is too slow, people tend to just give up changing positions. In short, if you can opt for an adjustment speed close to the industry standard, which is approximately 1.5"/second.
European manufacturers were the first to mass produce height-adjustable desk components, and have thus developed excellent expertise over time. However Asian manufacturers (particularly Chinese ones) who came to the market later have also managed to develop high-quality products.
Just like with Swiss watches or German cars, European manufacturers of electric adjustable desk components have a better reputation, and this excellent reputation justifies a somewhat higher price.
Design factors influencing the look and usefulness of a standing desk
If you have nothing but a laptop and a calendar on your desk, a 24" x 48" work surface is usually an appropriate choice.
However, if you have a second computer monitor, or you like to spread your things out, you'll need a surface of approximately 30" x 60". This is also the most popular size.
For web developers, finance market specialists, and any other professionals requiring more than 2 monitors, a 30" x 72" surface is highly recommended.
Complimentary desk accessories
Like any desk, when you adopt a sit-stand working style, you have to consider how to integrate your height-adjustable desk into your existing workspace… Otherwise, you'll have to adapt your workspace to it!
Here are some relevant questions to consider:
Does the desk provide dedicated cord management (for computer, lamp, speakers, etc.) or will cords hang behind the desk?

Is it possible to add monitor mounts so your neck stays in a straight and comfortable position?

If you use a PC tower, will it stay on the ground while your desk is raised or do you want it to be raised with the desk when adjusting the height?

If you wear skirts, is it possible to add a privacy panel under the desk?

If you have a lot of electric equipment on your desk, can you install a power strip under the desk so you don't have multiple hanging cords connected to the wall?

If you work a lot on paper, is it possible to add storage space to the desk (e.g. a drawer)?
In most cases, you can buy an adjustable standing desk from one seller, and accessories from another. However, this means extra shipping fees, and a lot more time spent shopping in order to make sure all the products fit the desk and match its aesthetic, so bonus points for standing desk brands who also sell matching accessories.
Whether it's important to you or not, adjustable desks are furniture at the end of the day, and there's no denying that some are more attractive than others.
If all you're looking for is the ability to alternate between sitting and standing while working, at the lowest possible price, go for a plastic and melamine desk.
However, if the aesthetic of your workspace is important to you, the following aspects have a major impact on the final look of your desk:
A height control interface that is embedded in the work surface rather than located underneath;

A hardwood work surface rather than wood laminate or veneer;

A metallic structure with high-quality paint rather than a grey finish that gives off a construction workshop vibe;

Etc.
Customer service and product support
A height-adjustable desk is not something you purchase every day, so you'll want to maximize your investment. Two very important elements to keep in mind when considering the price point is the inclusion of a post-purchase warranty and the ease of using it.
It doesn't happen often, but unfortunately, as with all electronics, some components may fail after a prolonged period of use. You might forgive your desk for crashing after 13 years of faithful service, but 3 years is a completely different ball of wax!
Additionally, given the size and weight of adjustable desks, a company that pays return shipping for you in the event of an issue, is worth its weight in gold!
The ball is in your court
As you've surely noticed, there are many factors to consider when choosing your adjustable standing desk, and there is no one-size-fits-all.
If you want to switch to a sit-stand working style while spending as little as possible, a standing desk converter may do the trick. But if you'd like an adjustable desk that alone makes your workspace more inspiring and whose simplicity maximizes its use, then a high-end electric standing desk will suit you better.
You now have all the necessary information at your fingertips to make an informed choice. However, should you have any other questions or concerns, don't hesitate to drop us a line at info@ergonofis.com!