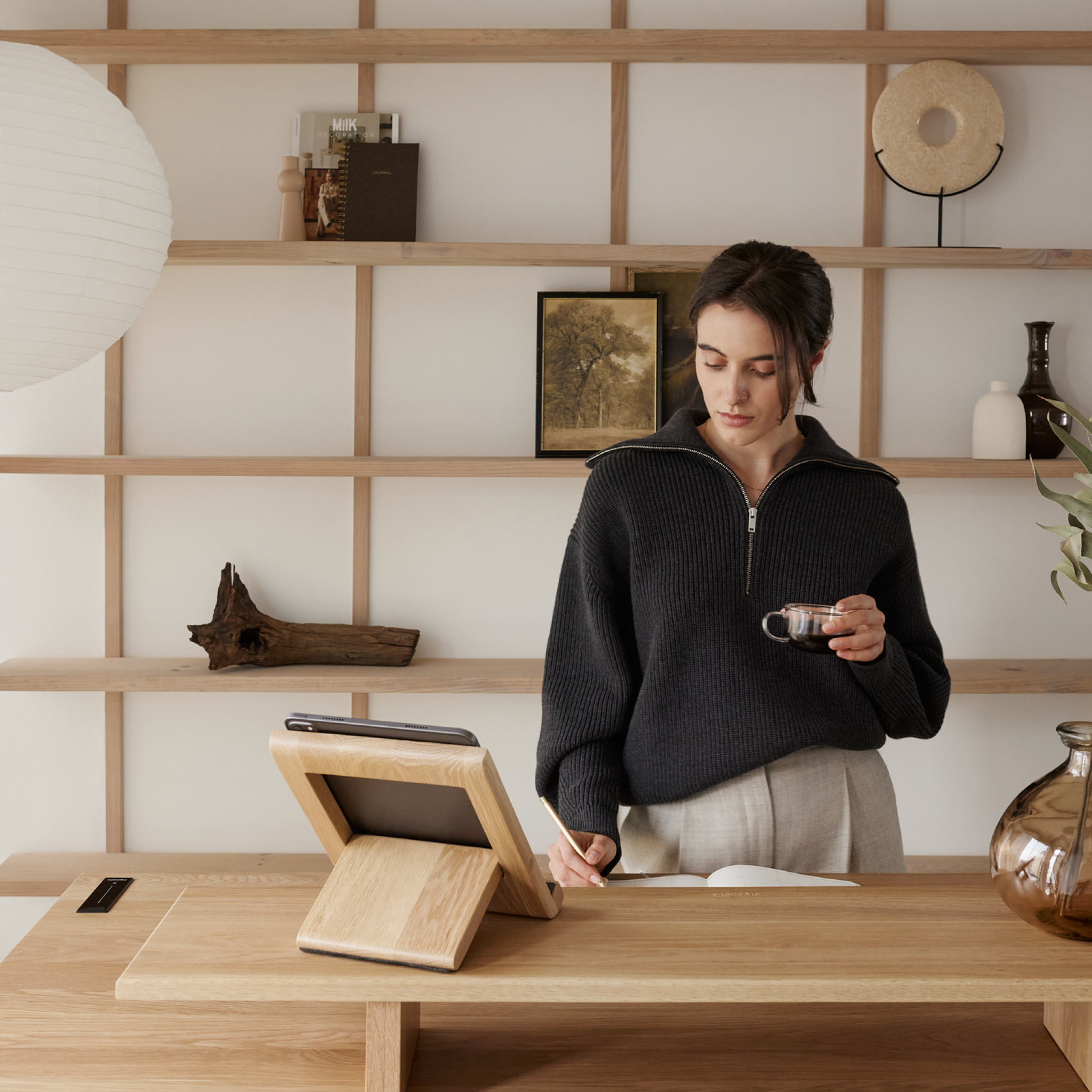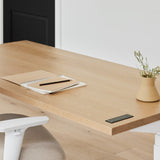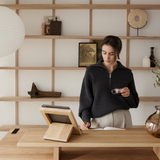 As low as /month with
(Learn More)
description

details

considerations
Transform your workspace into a design and productivity hub with our signature adjustable desk: the Sway.
With its brand new Swipe function, the Sway allows you to glide your finger across the interface and set your desk into one position or the other, without any effort. A revolutionary feature that makes using your height-adjustable desk easier as well as improving your overall experience.
Its sustainable surface was thoughtfully created for you, featuring wood species of the highest quality coming from sustainably managed forests.
Your search stops here: the Sway is so pretty that your home office is sure to become your favourite room in the house.
---
Ships in 5 to 15 business days
---
---
Need help?
Book an appointment with our virtual specialists!
Sourcing & Materials

Solid Wood Tabletop

Handmade locally in Canada, we take pride in crafting our tops with care and precision. The solid wood we use is sourced from sustainably managed North American forests, ensuring both quality and environmental responsibility.

Ecological Finish

We're proud to reduce our environmental impact by prioritizing a water-based lacquer for most of our desks, which keeps the finish as smooth as ever. Our lacquer is applied exclusively to the top surfaces of our wooden desks, as coating the underside serves no purpose.

High Quality Standing Frame

Manufactured in North America, our high quality standing frame embodies quality through and through. Each component is carefully selected for its high quality, and the frame itself is constructed with the most durable materials available.
Care Instructions

How to take care of your wooden Sway Standing Desk?

You can use a soft microfiber cloth dampened with warm or room temperature water. Always dry quickly with a paper towel or soft, clean cloth. Clean following the direction of the grain of the wood.
Why It's a Must-Have

Handmade by
local woodworkers
Meticulously handcrafted for exceptional quality

Classic aesthetics
and timeless design

THE SWAY STANDING DESK IN YOUR HOME


See how our customers styled this item in real life and get inspired.
OUR NEW TECHNOLOGY
Our Sway Standing Desk has an integrated highly customizable control panel. With a sustainably sourced solid-wood top made by local woodworkers, it's no surprise it's our bestseller.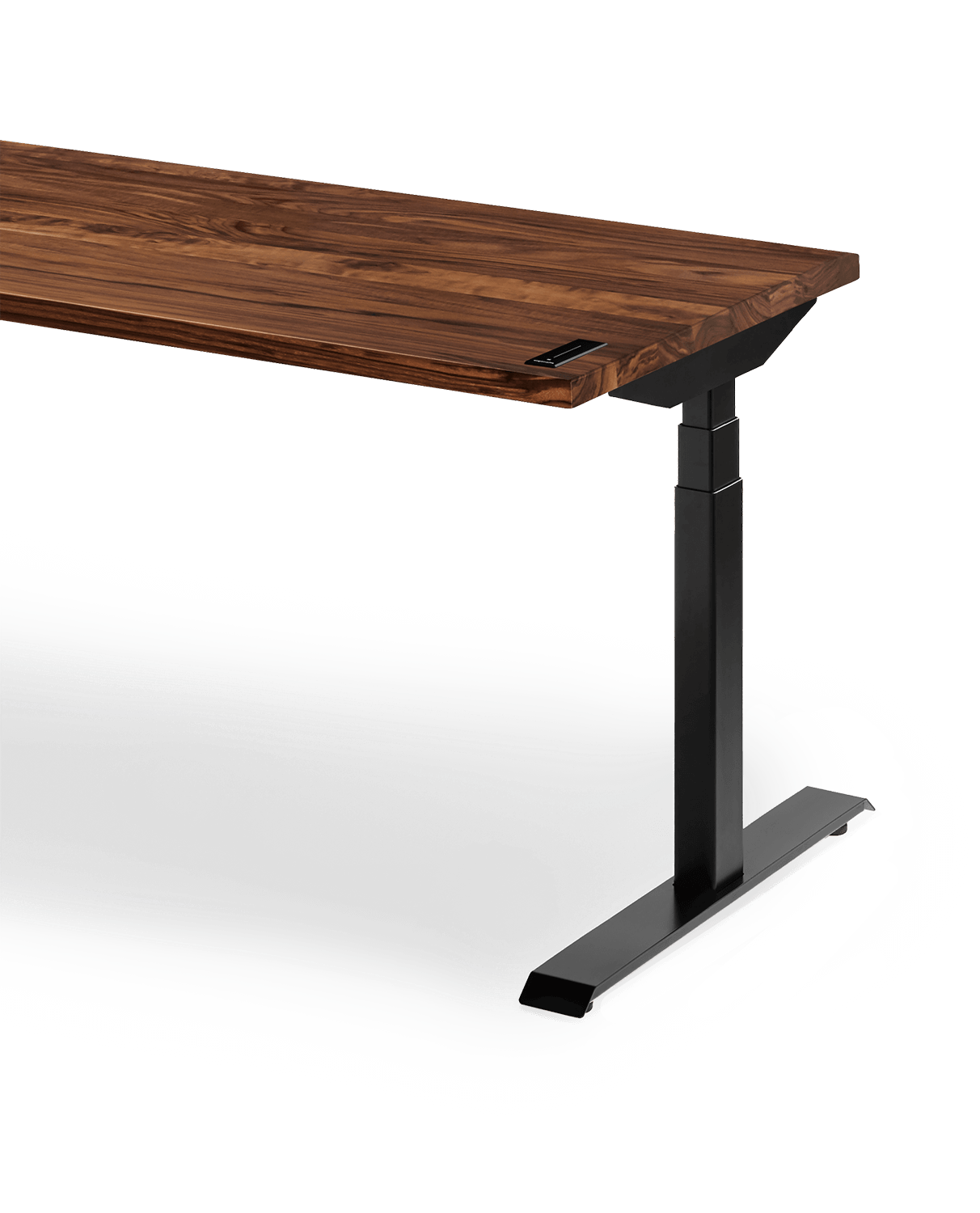 Handmade Locally
Solid Wood Surface
Swipe to raise and lower
Automatic reminders to stand up
Effortless height adjustment
Highly customizable settings
Sturdy frame
Nearly silent motor
Superior motion sensitivity
Easy and fast installation
innovative touchscreen
high quality standing frame
solid wood surface
Seamless Swipe Technology

Introducing our Sway Standing Desk with Seamless Swipe Technology. This innovative feature allows you to effortlessly adjust your desk's height with a single, intuitive swipe motion – either up or down. Our goal is to make your workspace as efficient and user-friendly as possible, and with this one-swipe height adjustment, you can tailor your desk to your exact preferences without any complexity.
Two Saved Position per User

Effortlessly save both your preferred standing and sitting desk heights, allowing for a seamless transition between the two. These saved positions are unique to each user, ensuring a personalized and hassle-free experience. By simply selecting your pre-saved heights, the desk will automatically adjust to your desired position, eliminating the need for manual adjustments and making it easier than ever to maintain your ideal working posture throughout the day.
Four Different Users

We've designed the Sway Standing Desk to accommodate up to four different users, providing a personalized experience tailored to your unique preferences and requirements. Whether you're utilizing it in a shared workspace or within your family, each user can securely store their individual settings. This functionality simplifies the process of adjusting your desk's height and configuration to perfectly align with your specific needs and ensure your utmost comfort.
Reminders to Move

Our reminder feature empowers users to set intervals for standing prompts using the desk's interface, promoting a more active and health-conscious work routine. By encouraging regular posture changes, it not only helps you maintain better alignment but also mitigates the adverse effects of prolonged sitting.
Superior Anti-Collision System

The anti-collision system on our Sway Standing Desk is a highly sensitive and effective safety feature. It ensures that the desk operates securely, automatically detecting and responding to obstacles in its path. This advanced technology prevents collisions and potential damage, providing you with peace of mind and a secure workspace environment.
Quiet Double Motors

Our Sway Standing Desk features quiet double motors that operate almost silently. These robust motors can lift up to 360 lbs, providing both a peaceful work environment and dependable desk adjustments.
Integrated Wire Management System

Our standing frame features built-in wire management, allowing you to discreetly tuck away cables for a clean and organized workspace.
Wide Height Range

The wide height range of our standing desk, adjustable from 22" to 48.3", ensures suitability for individuals of all heights and preferences. Whether you prefer a seated position or standing, this versatile range accommodates everyone, allowing you to find your perfect ergonomic setup with ease.
Exceptional Durability

A solid wood surface is renowned for its exceptional durability due to the inherent strength and resilience of the material. Unlike composite or veneer alternatives, solid wood consists of a single, continuous piece of timber, which makes it inherently sturdy and resistant to wear and tear. Its natural density and structural integrity allow it to withstand the rigors of daily use, from heavy objects being placed on it to the inevitable bumps and scratches that occur over time.
Sustainably Made

Produced right here in Canada, our tops are meticulously handcrafted, reflecting our commitment to excellence. We are dedicated to sustainability, utilizing solid wood from responsibly managed North American forests to guarantee both top-notch quality and environmental stewardship.
Timeless Design

The Sway Standing Desk embodies a timeless design that seamlessly merges classic aesthetics with modern functionality. We take pride in crafting it with meticulous attention to detail, infusing it with clean lines, premium materials, and a minimalist approach that stands the test of time, just like solid wood, which develops a captivating patina over the years.
Frequently Asked Questions
What's the purpose of the grommet?
Is is possible to purchase the Sway surface only?
What are the differences between the Sway and Shift desks?
Extremely pleased with my new home office
I purchased a 72" maple/white combo with shelf, cable management and drawer. The desk arrived at my home as scheduled. I opted to assemble it myself which was a fun experience. The quality of the pieces was immediately obvious. Instructions were extremely clear and all holes pre-drilled, making the process easy. You do need a friend to flip the desk, this is a solid piece of equipment. Operating the desk and programming settings was a pleasure. I do recommend getting the casters to easily move the desk around.
This Standing desk is amazing!
I'm thoroughly impressed with the Sway Standing Desk. Assembly was a breeze clearly, a lot of thought has gone into the design. It stands out with its robust frame, markedly superior to its rivals. The motor is exceptional, effortlessly adjusting to various heights and it's powerful enough to handle my hefty tower, triple monitors, keyboard, and laptop plus it can lift me without a hitch! Setting the preferred sit/stand heights was straightforward. The craftsmanship is evident in the high-quality materials, especially the wooden tabletop. The only drawback is the premium price point, but it's clear you're getting the elite performance of the standing desk world it's the Lamborghini of desks, and that luxury comes at a cost.
Beautiful desk, true to description and picture. The raising/lowering mechanism is much faster and quieter than anticipated. This desk is built to last, everything is high quality and they spared no details to ensure it is a premium product. Very pleased with my purchase.