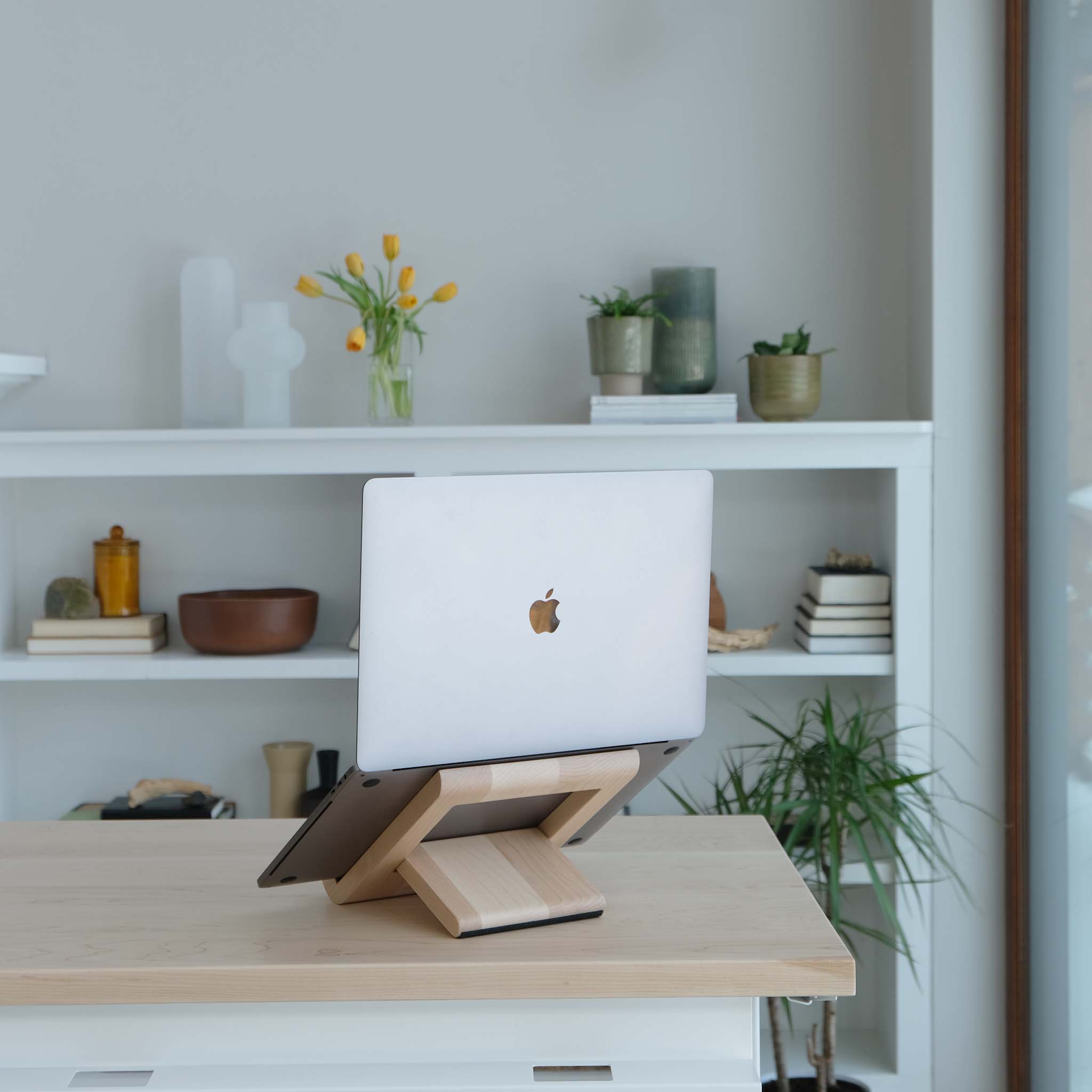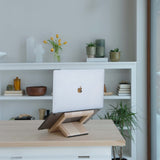 As low as /month with
(Learn More)
description

details

considerations
Locally crafted, this laptop stand is a solid wood masterpiece. This height-adjustable stand seamlessly combines elegance and practicality, ensuring ergonomic comfort. It's also highly portable, making it the ultimate on-the-go workstation companion.
---
Ships in 3 to 5 business days
---
---
Need help?
Book an appointment with our specialists! Book Now
Frequently Asked Questions

How much weight can the Fold laptop stand support?

How many inches can I raise my laptop screen from the desktop with the Fold Laptop Stand?

Is the Fold Laptop Stand compatible with the Desk Shelf?

How can I clean my Fold Laptop Stand?
The Best On-the-Go Accessory

High Quality &
Craftsmanship

Classic Aesthetics
& Timeless Design
Compact for
Easy Transport
features
specifications
sustainability
why we created it
Take It Anywhere

The Fold Stand has been designed for transport: it is compact and can easily be folded to fit into a bag.
Accommodates All Devices

The laptop stand accommodates several types of electronic devices; from laptops to tablets, it will appeal to the entire family!
Height-Adjustable

The pivot, discreetly integrated into the Fold, allows you to adjust its angle and thus raise and lower the screen of your laptop to achieve the optimal ergonomic position.
A Protective Sleeve Made of Recycled Felt

Available Separately

A protective sleeve made of recycled felt is available as an option to protect the Fold during transport.
Materials
Handmade in solid wood
Steel and zinc hardware
Natural rubber
Dimensions
8" x 10.25" x 1.5" (overall)
8" x 9.25" (space for electronic device)
Features
Adjustable angle up to 105 degrees
Raises the screen up to 9"
Ideal size for laptops with screens up to 17.5"
Supports a maximum weight of 5.5 lbs.
Sustainable Materials

The Fold Stand is crafted from sustainable materials, using responsibly sourced solid wood. This reduces the environmental impact associated with the production of the stand.
Handmade Locally

Handmade locally, we not only support our local community but also significantly reduce the carbon footprint associated with long-distance transportation.
Built To Last

Our laptop stands are built to last, thanks to the use of high-quality materials and meticulous craftsmanship. This durability means you won't need to replace them frequently, which not only saves you money but also minimizes waste, aligning with our eco-conscious values.
The Story Behind the Product
The Fold Stand was born because we wanted to reinvent our original laptop stand so it would be more versatile and easily transportable. With today's new reality, people work from anywhere, anytime. That is why the laptop stand was designed with transportation and versatility in mind. It can easily be folded to fit in a backpack, or stored elsewhere. It is also compatible with our desk shelf, meaning that you can now have a monitor and a laptop on this accessory.

Always handmade locally, the Fold Laptop Stand is a must for the modern worker who wants to add a touch of design and ergonomics to their space.
THE FOLD LAPTOP STAND IN YOUR HOME


See how our customers styled this item in real life and get inspired.
Meilleur support!
Ce support est merveilleux car il est solide, se place à différents angles, se range facilement et est joli. Achat très utile!
Voilà un produit très utile et de grande qualité! Définitivement un bon achat.
Le seul point négatif est l'adhésion des bandes de caoutchouc. Dès que j'ai déballé le produit, les deux bandes ondulaient comme s'il n'y avait pas suffisamment d'adhésif. J'ai appuyé une pression pour qu'elles adhèrent, mais le problème est récurent, et l'ondulation revient dès que le support n'est pas utilisé.
Bonjour M. Gadbois,
Merci pour vos bons mots!
Serait-ce possible de nous envoyer une photo du produit au info@ergonofis.com afin que l'on puisse régler cela pour vous?
Au plaisir de vous aider,
Jason