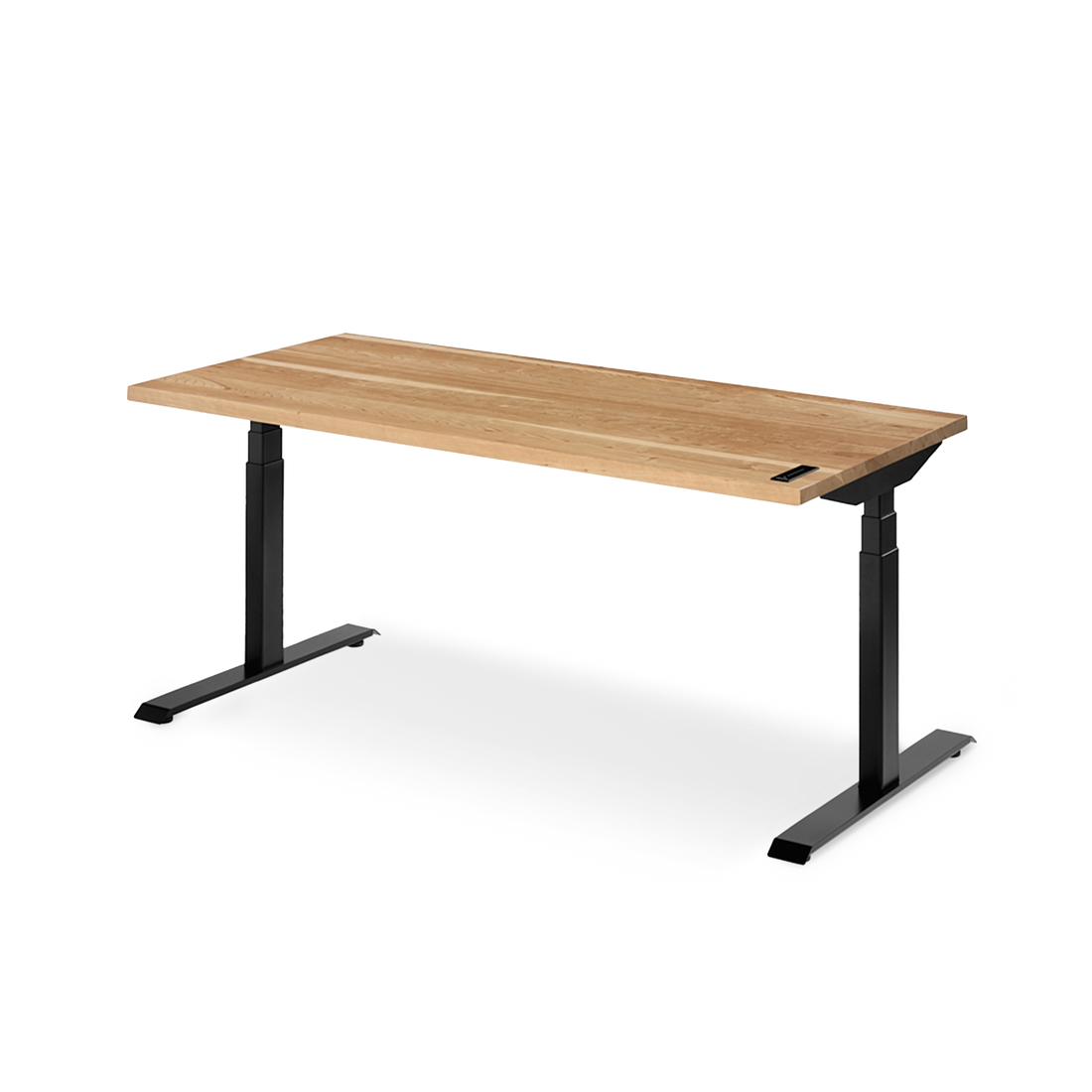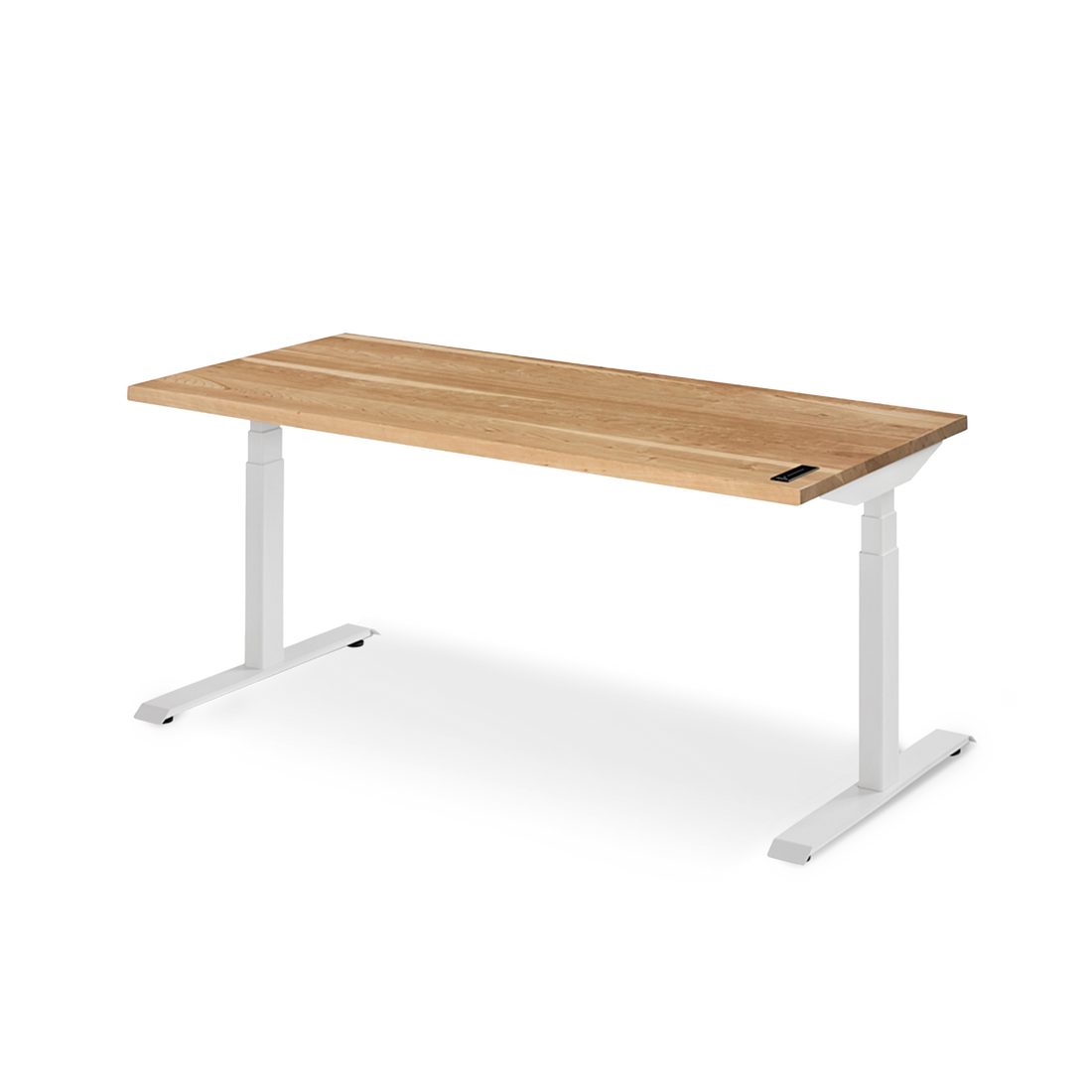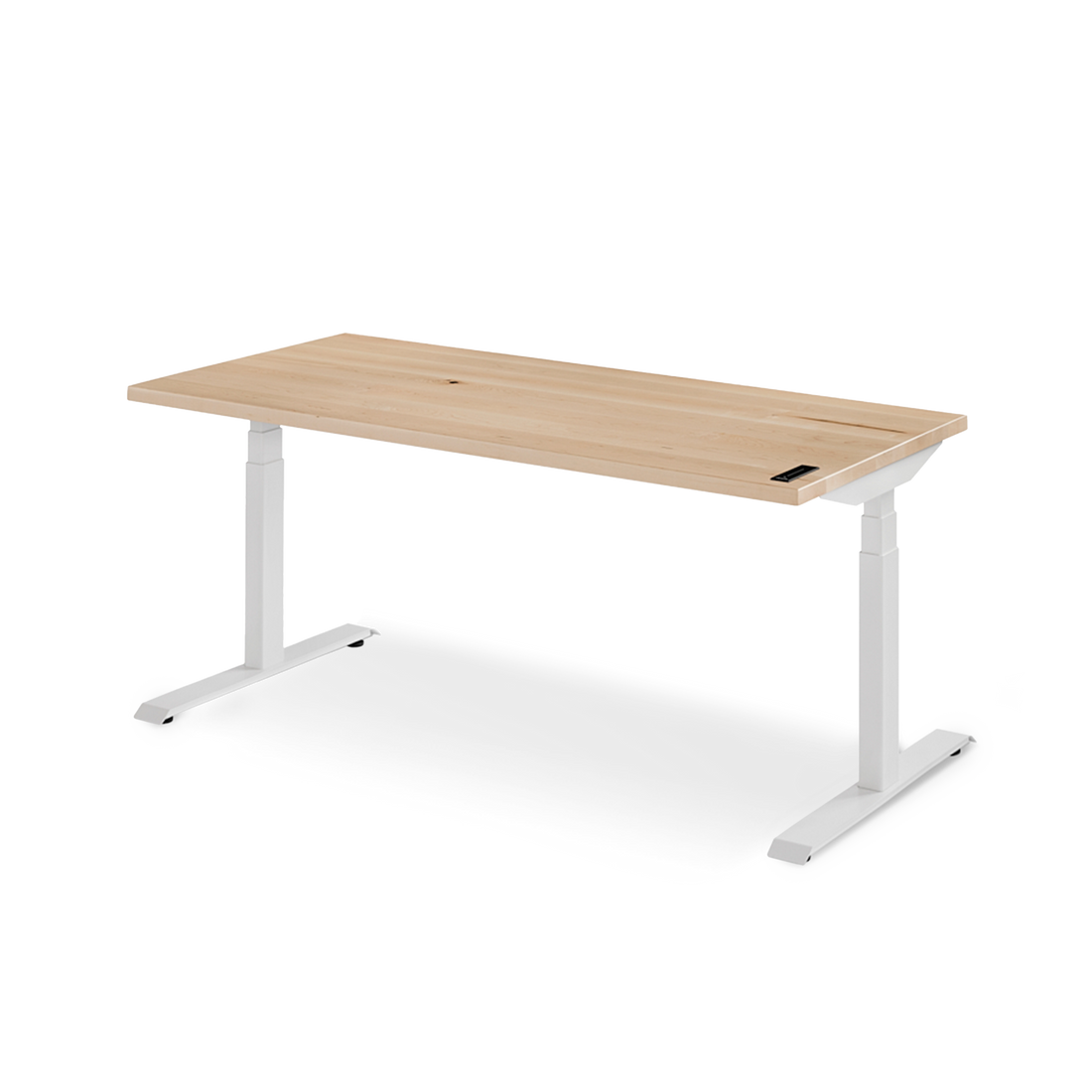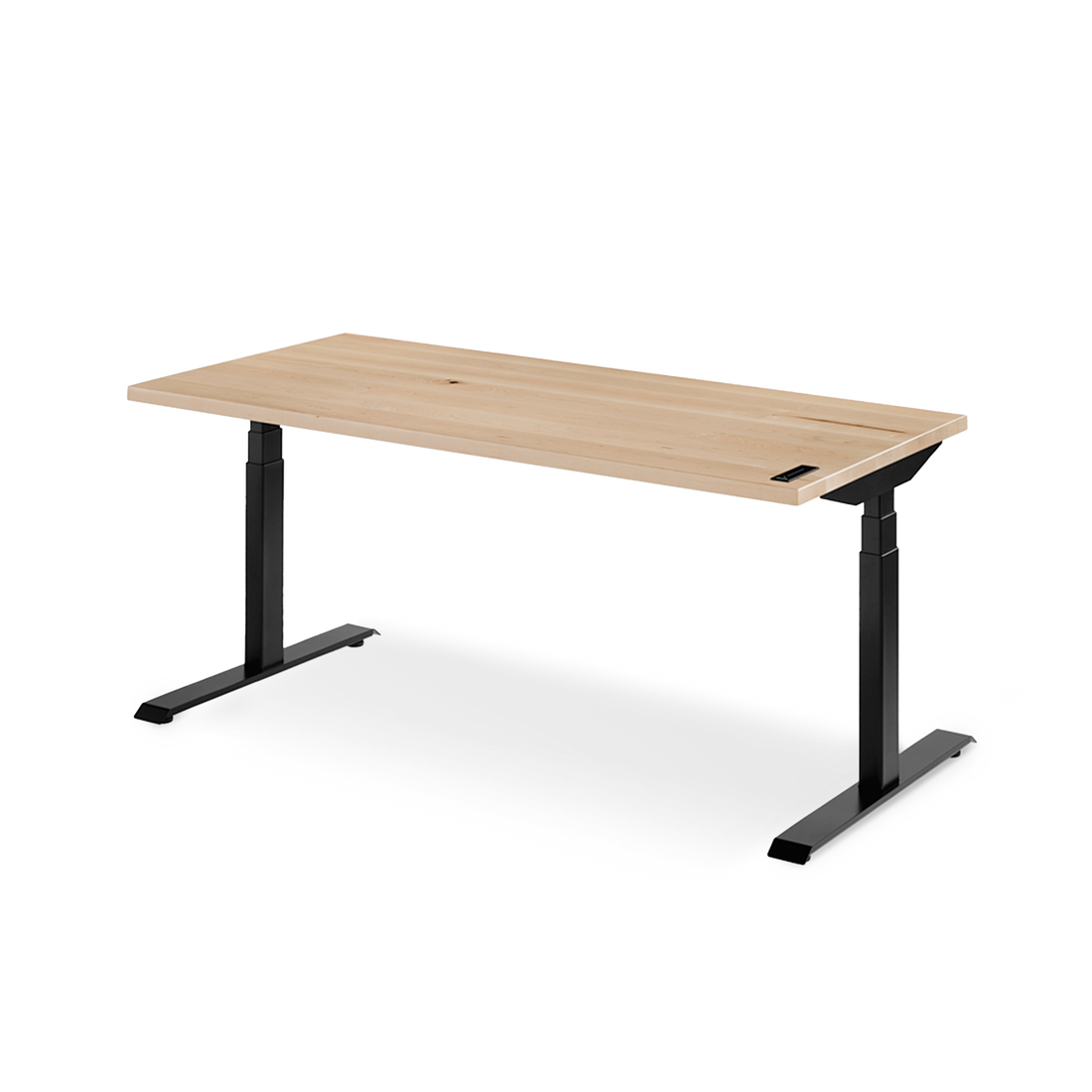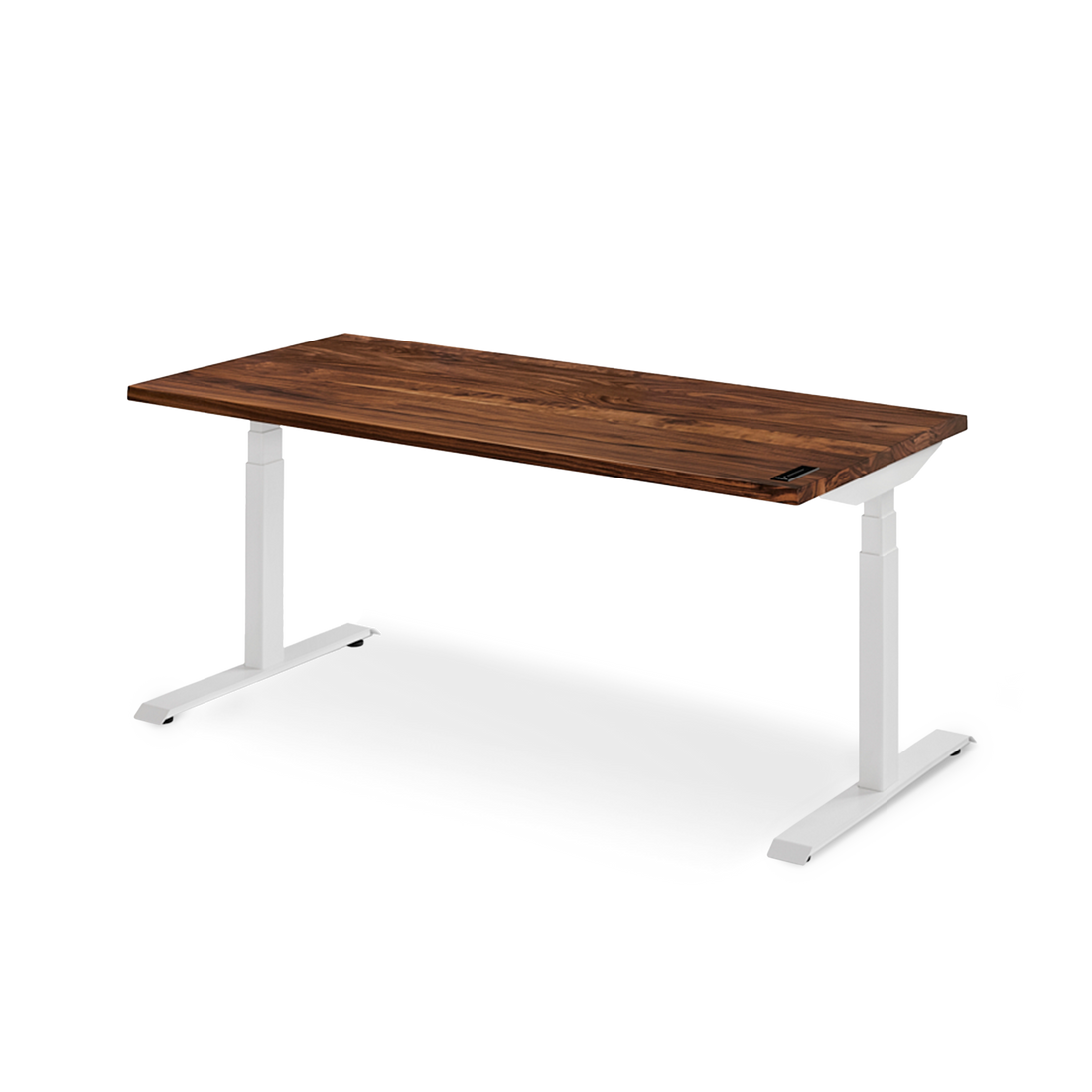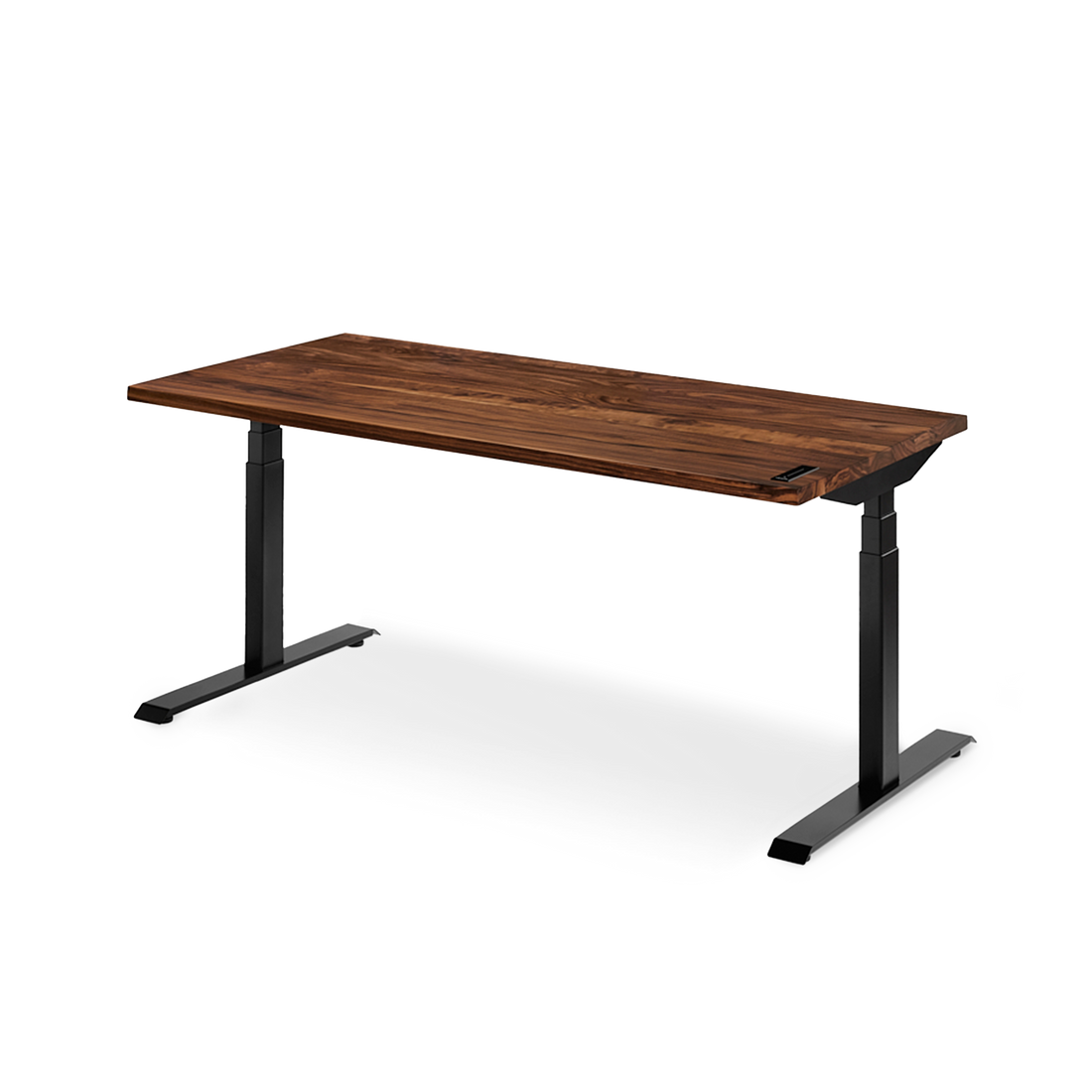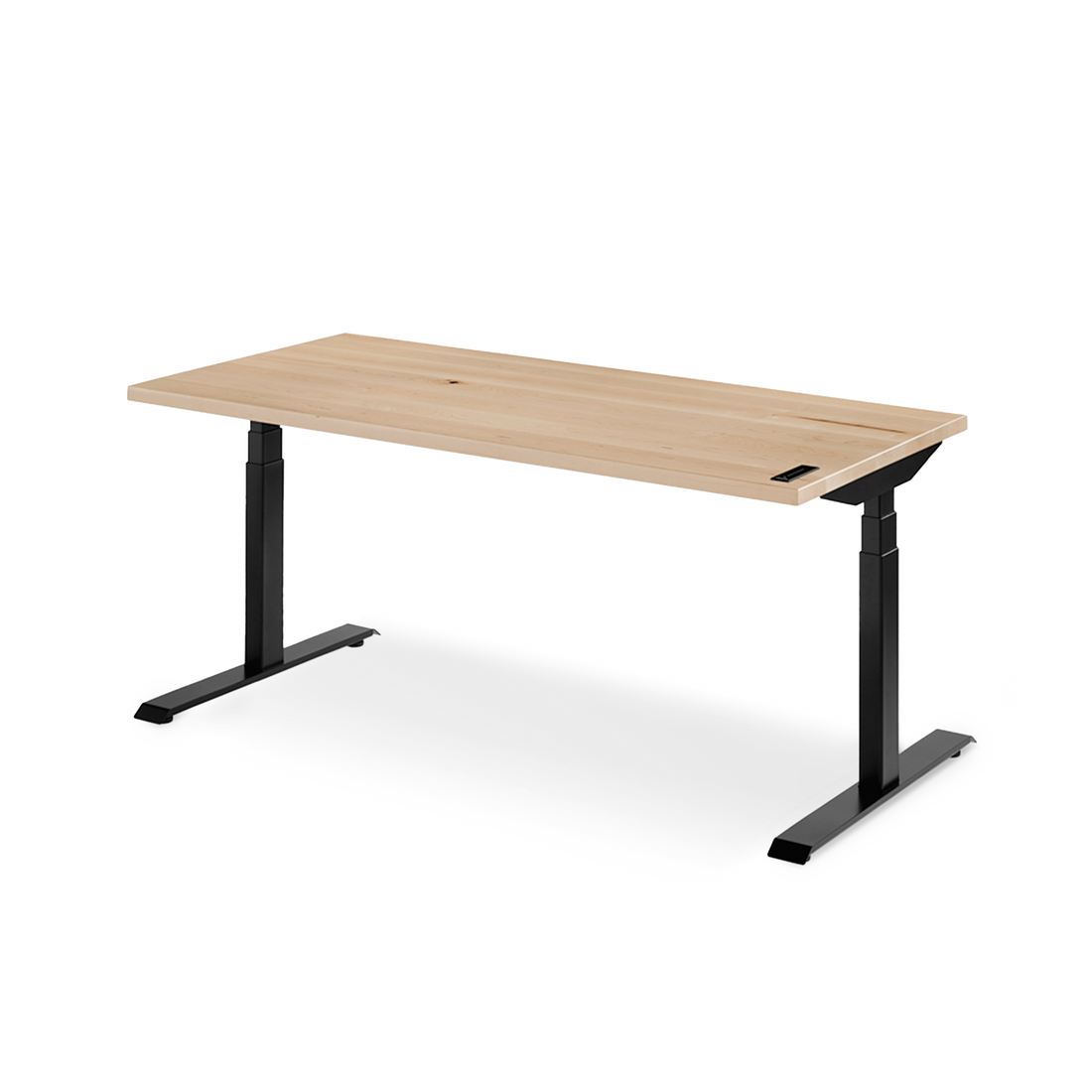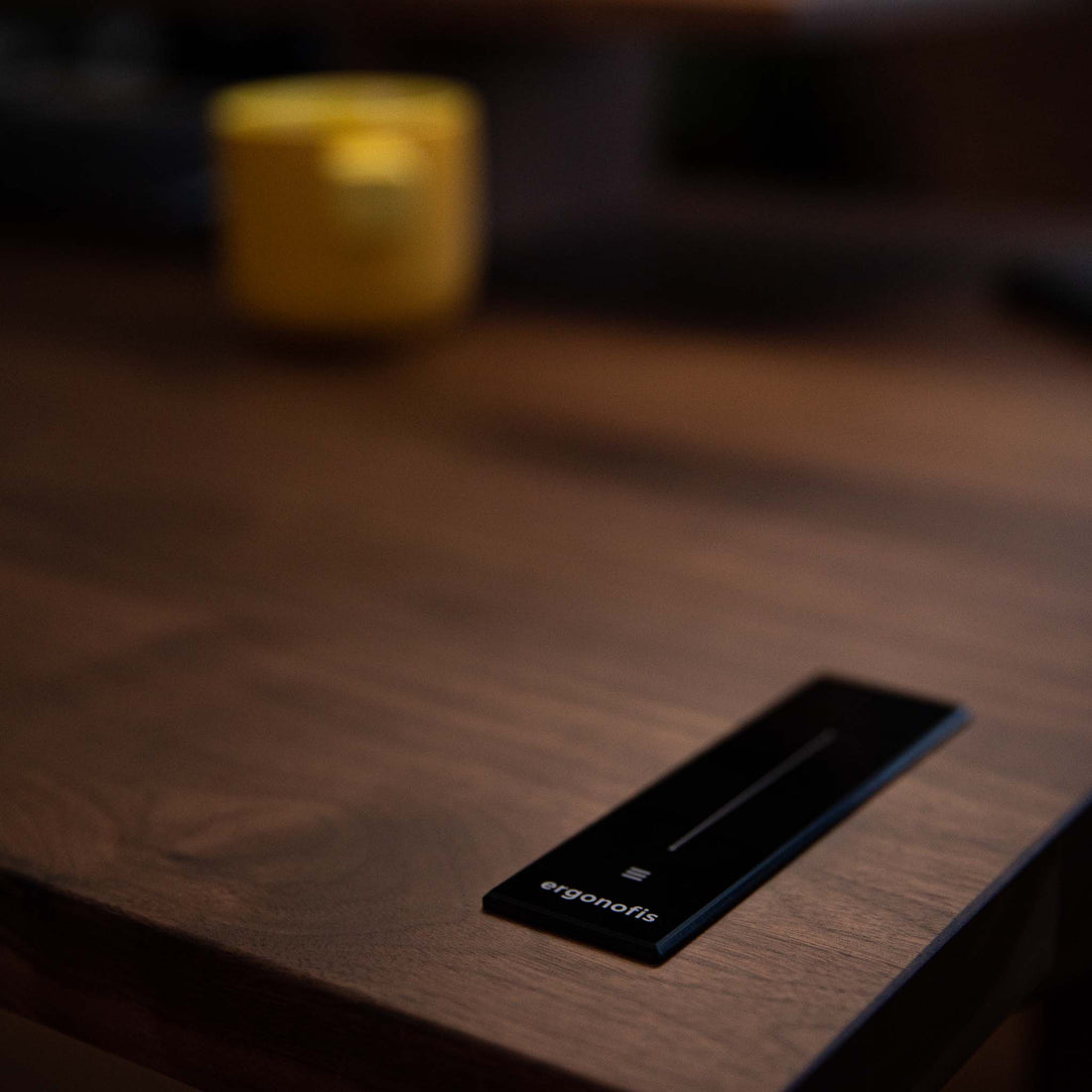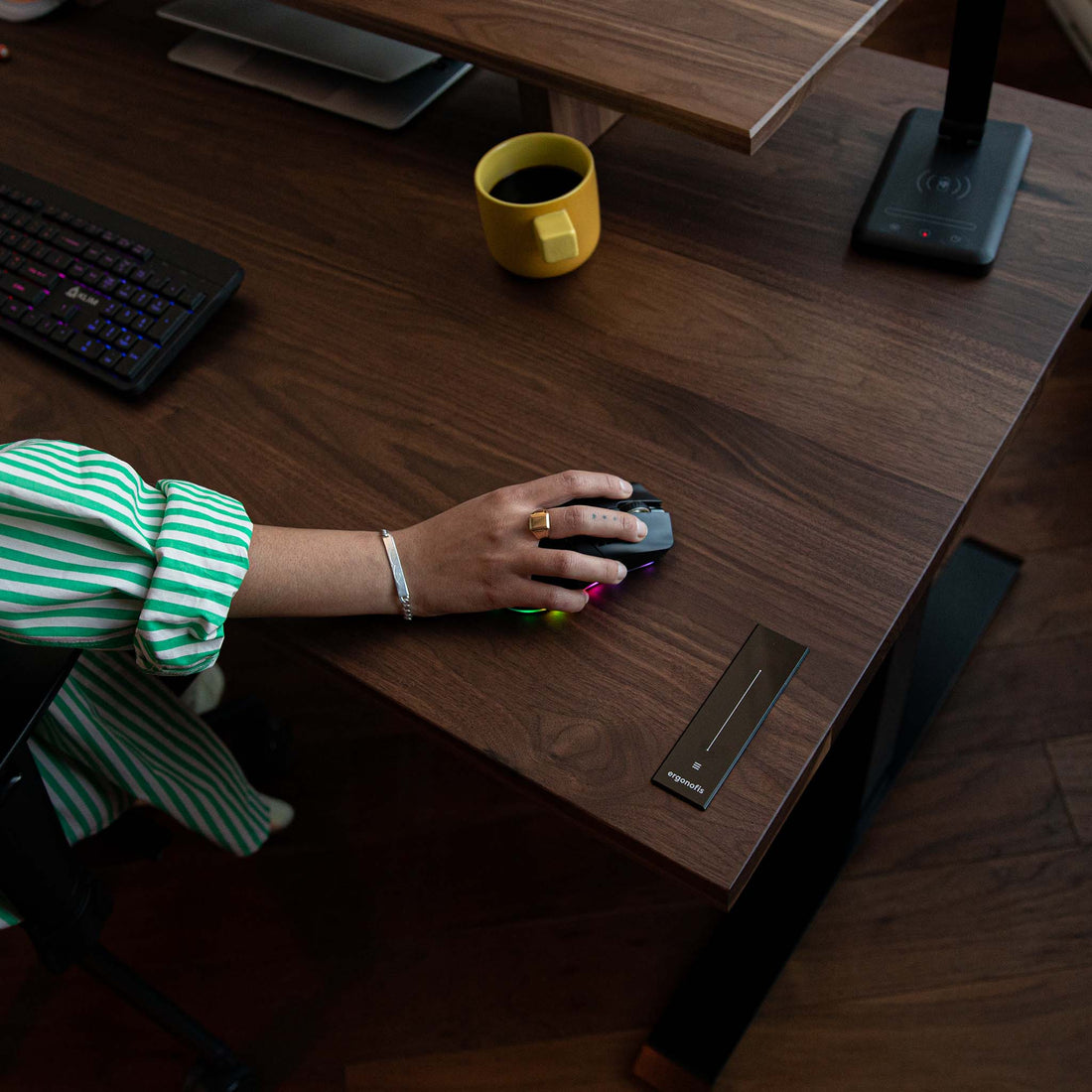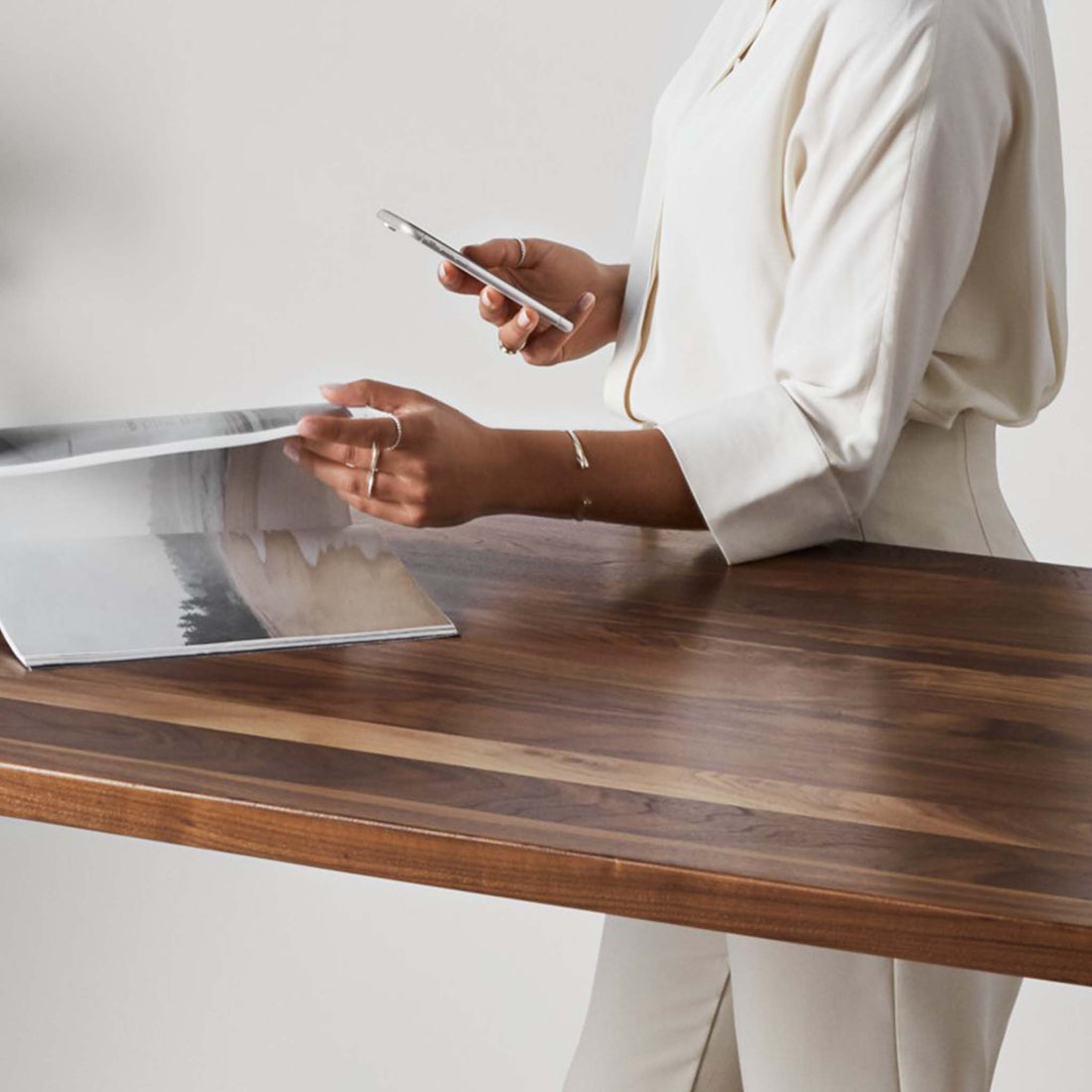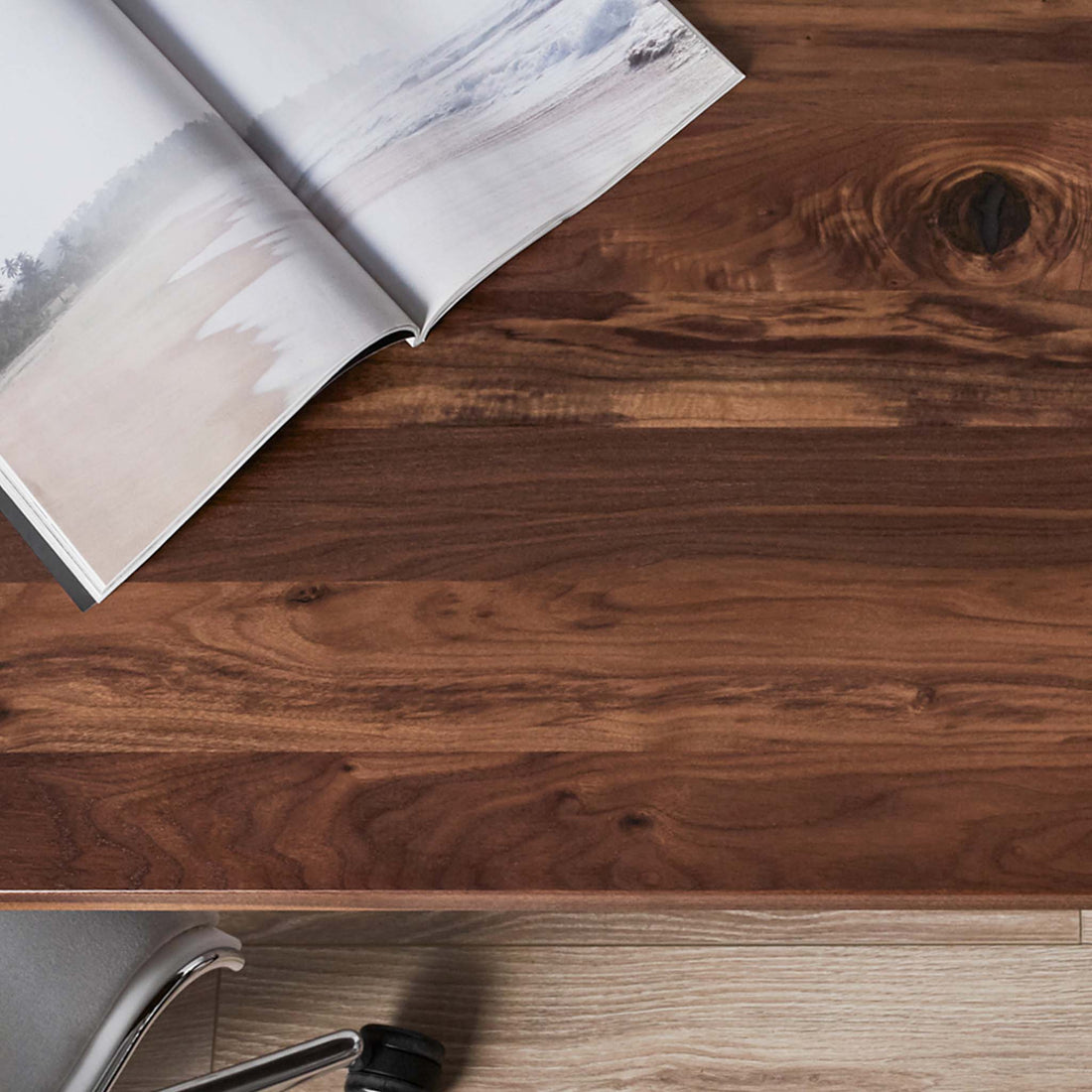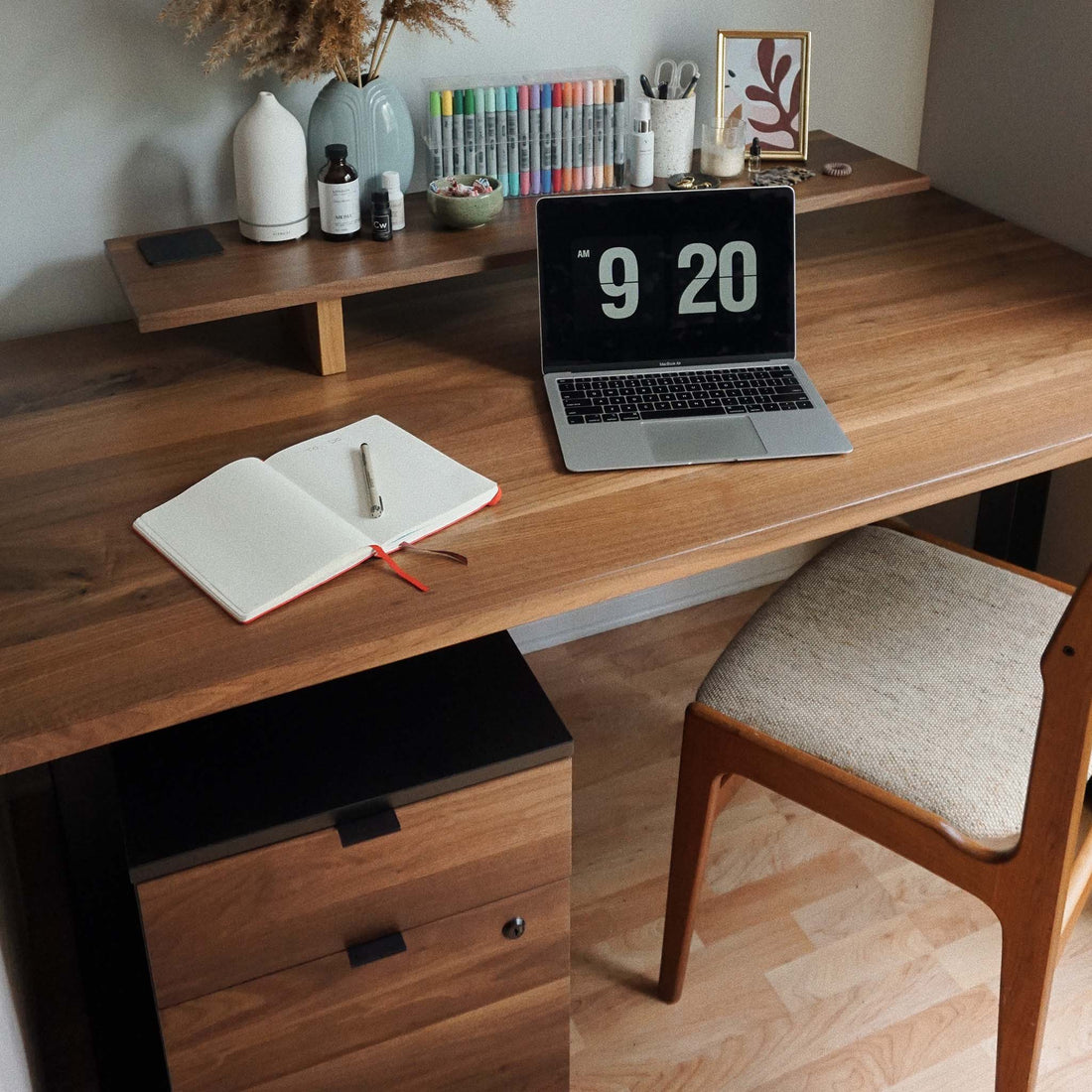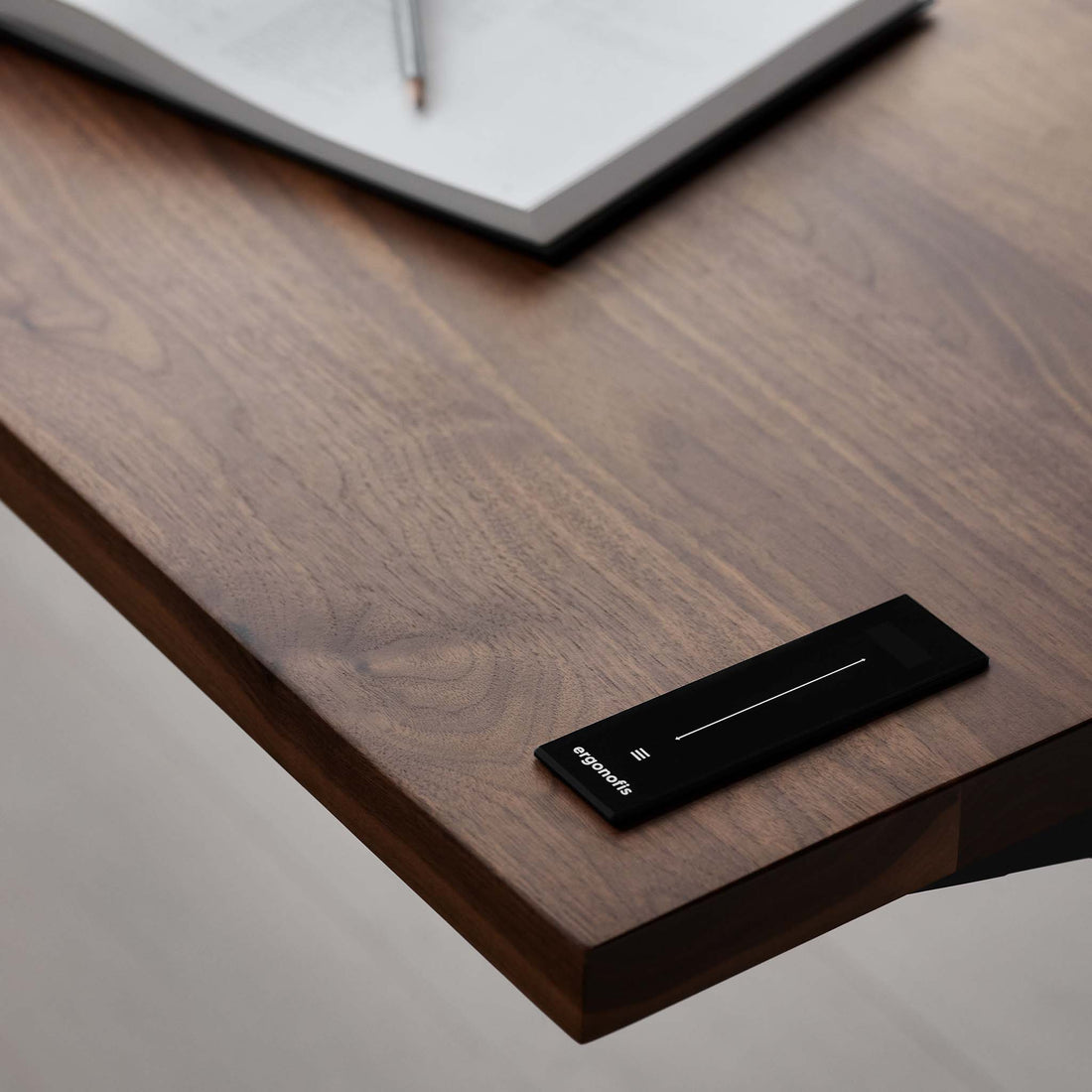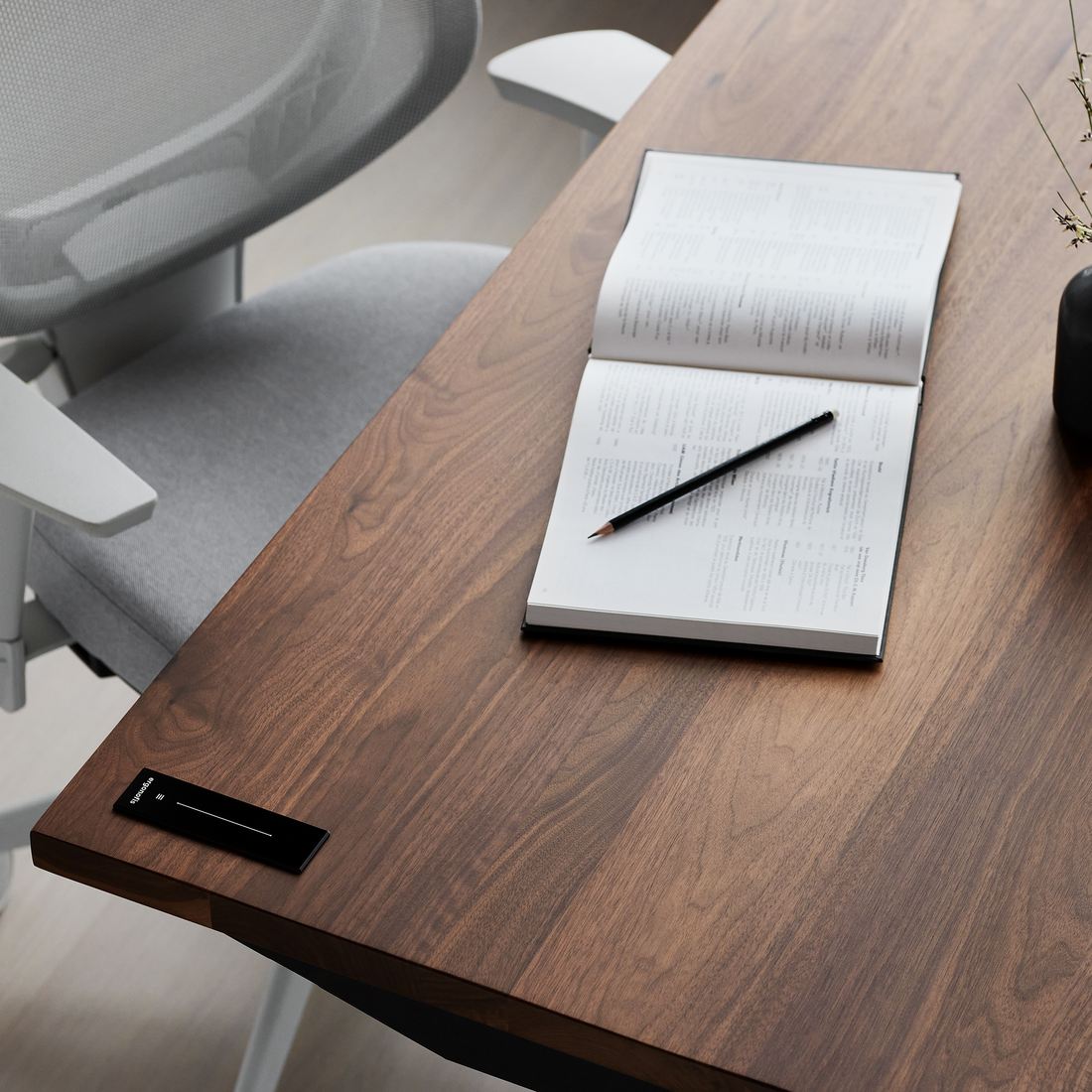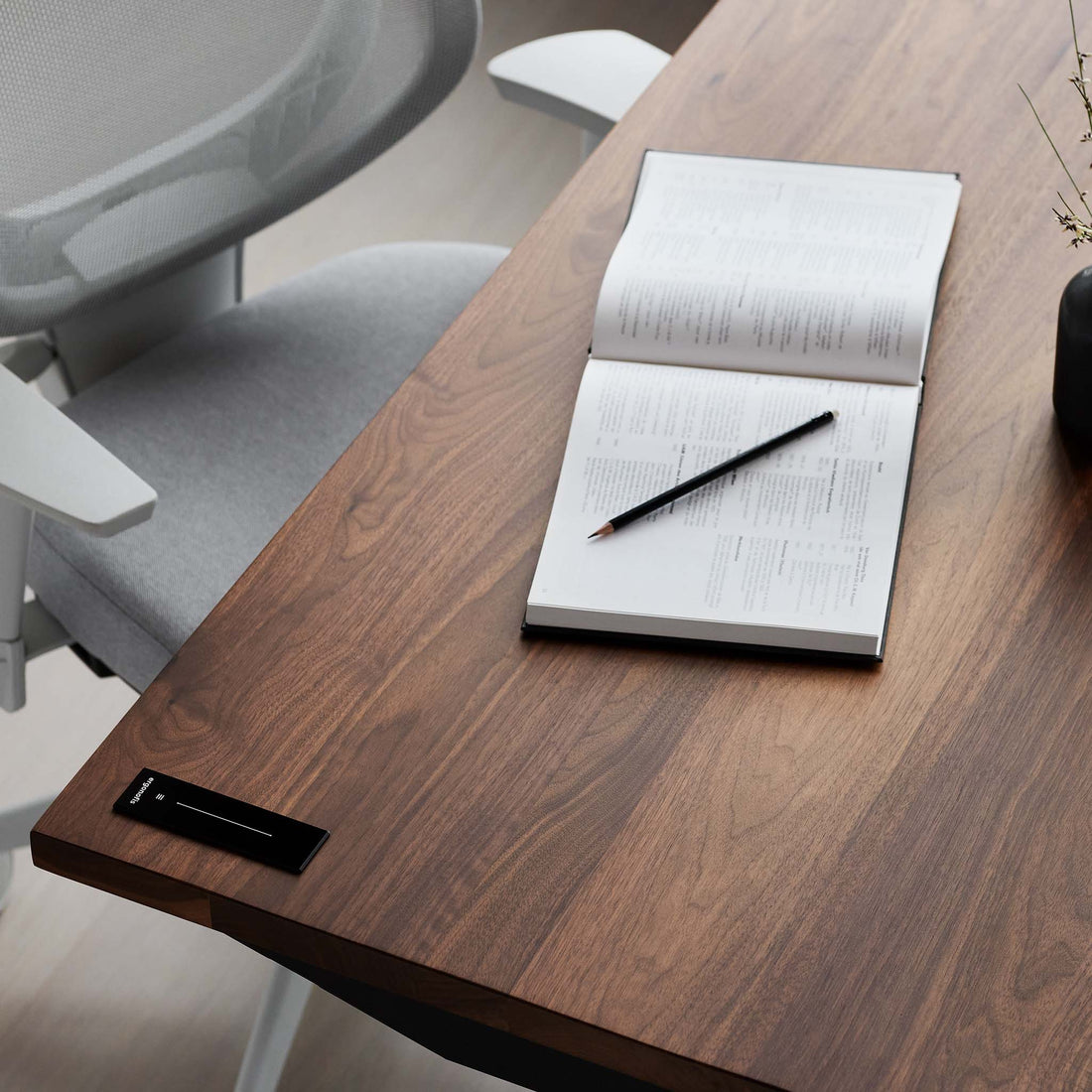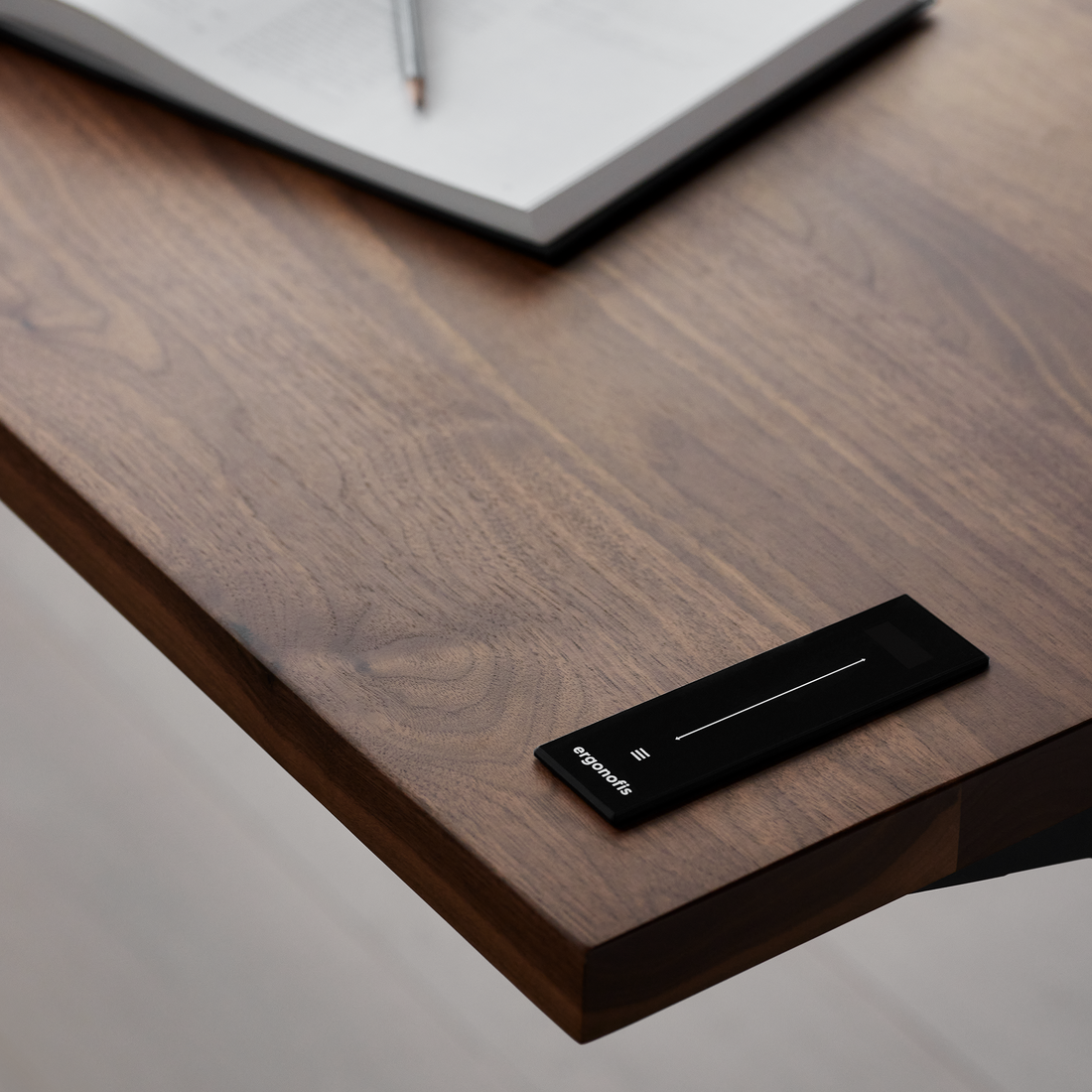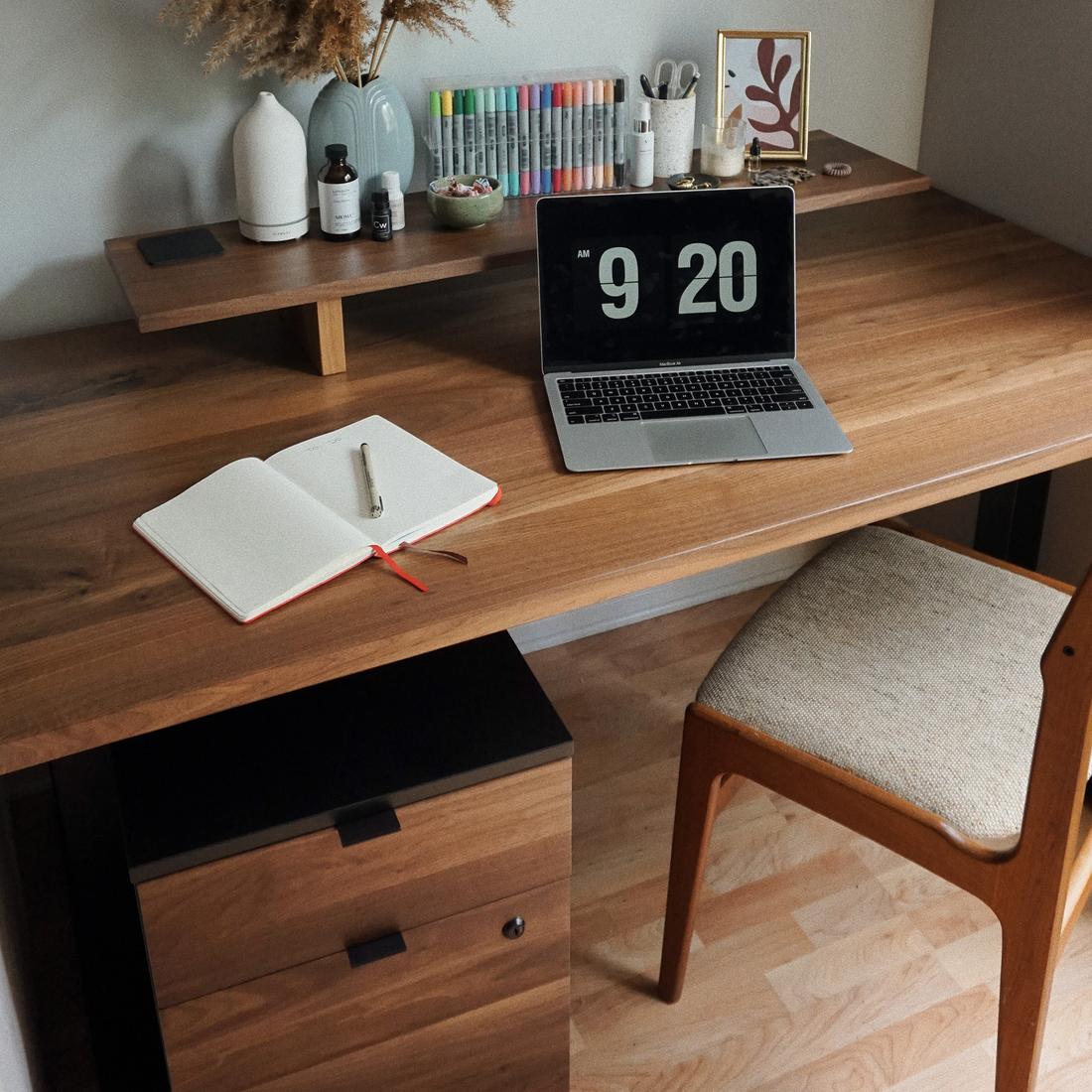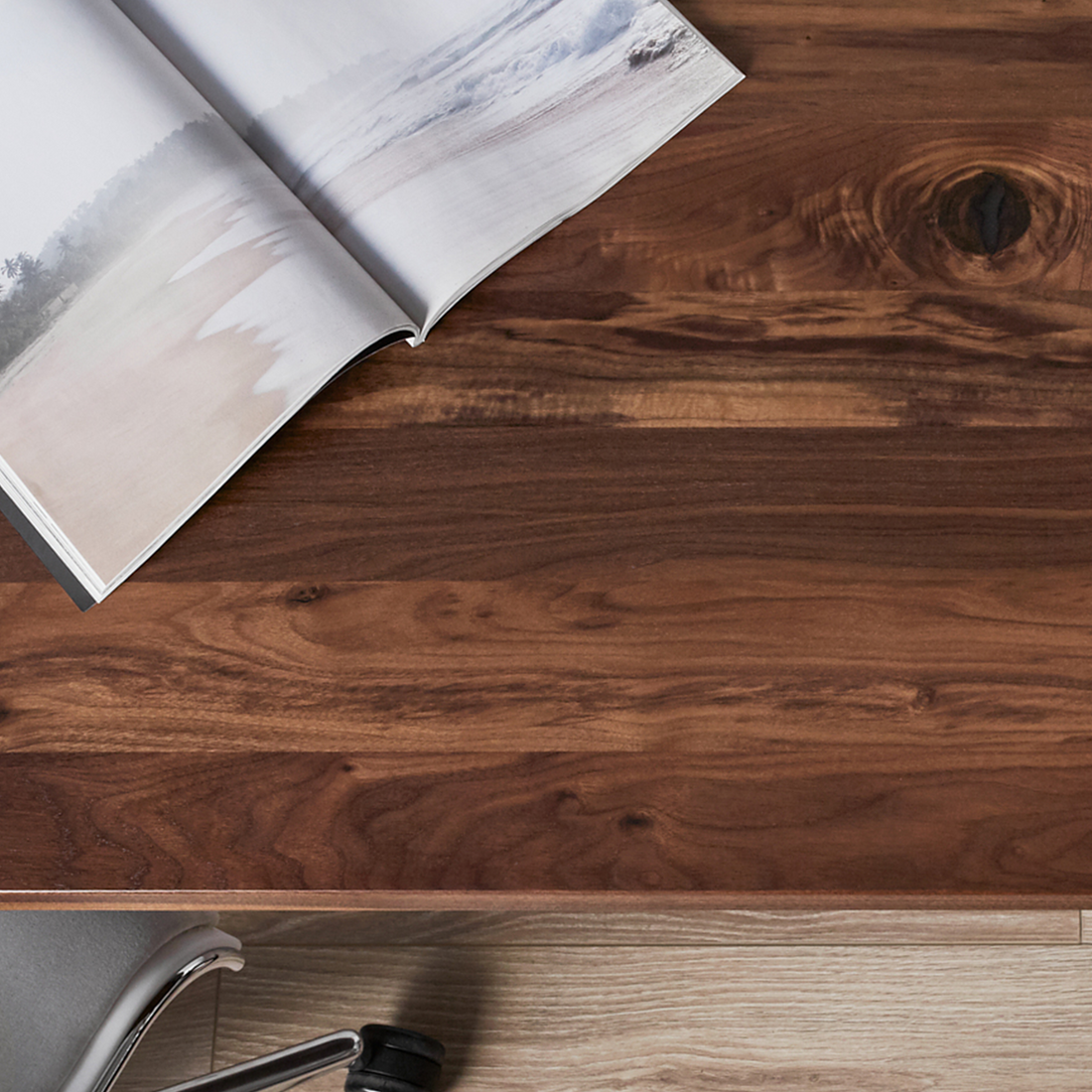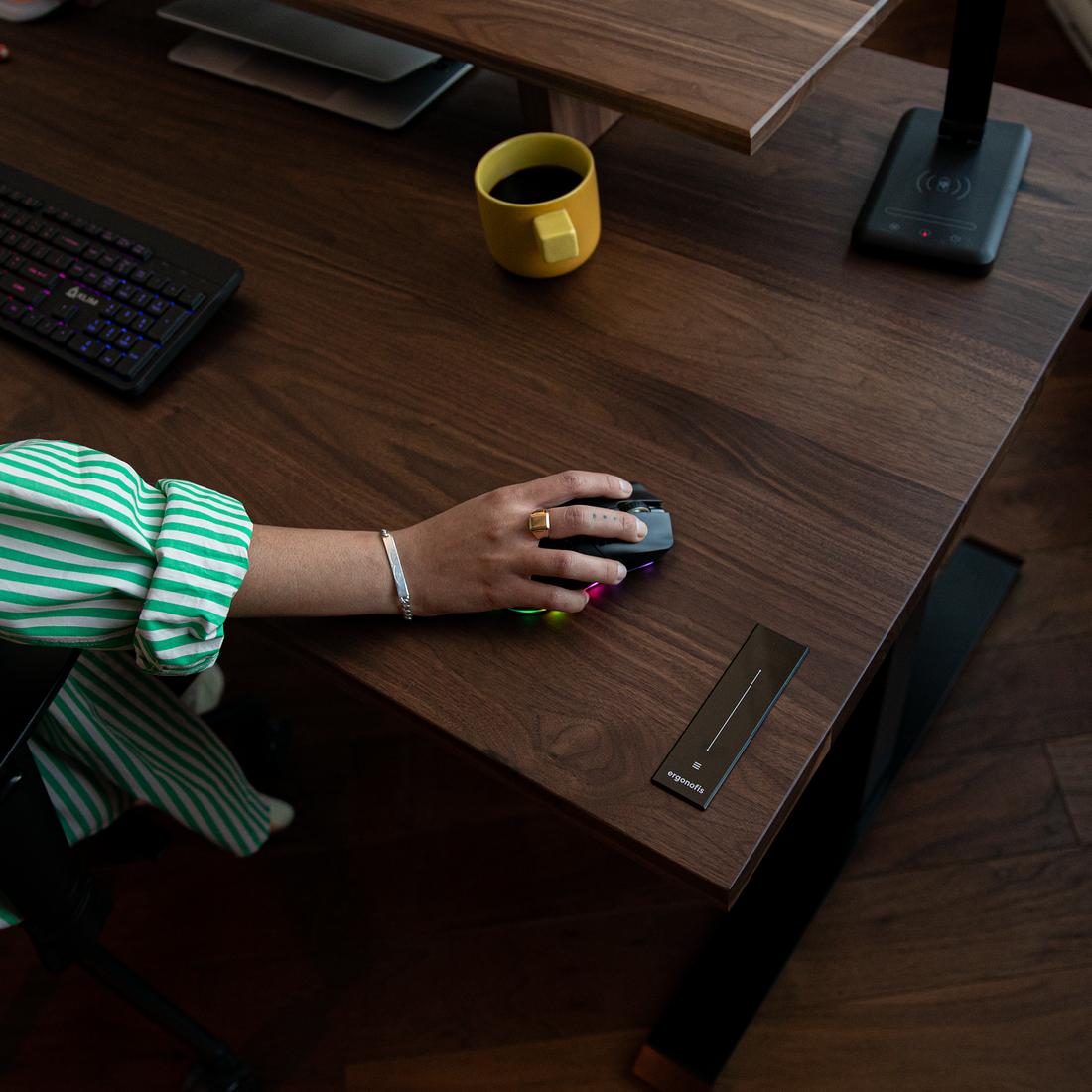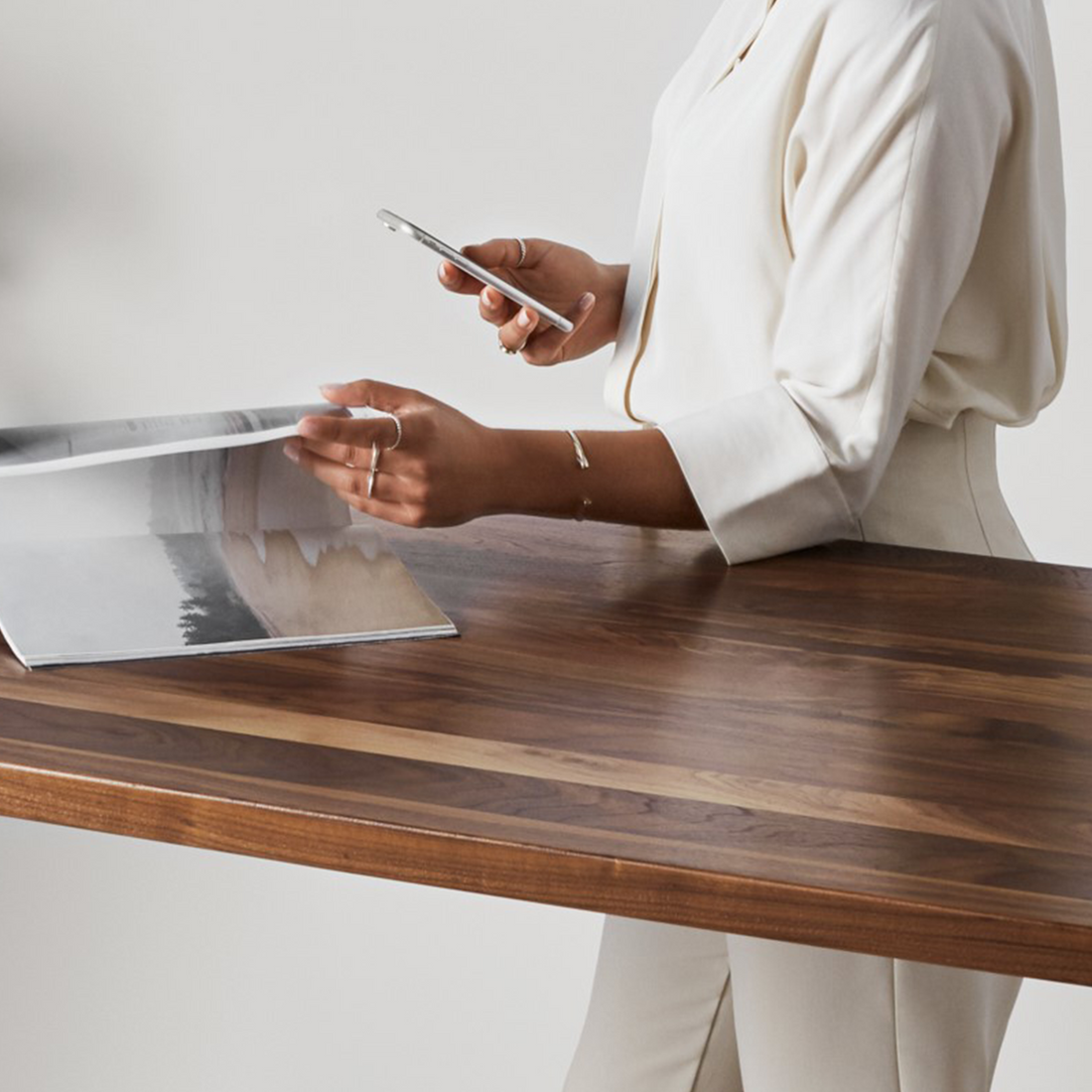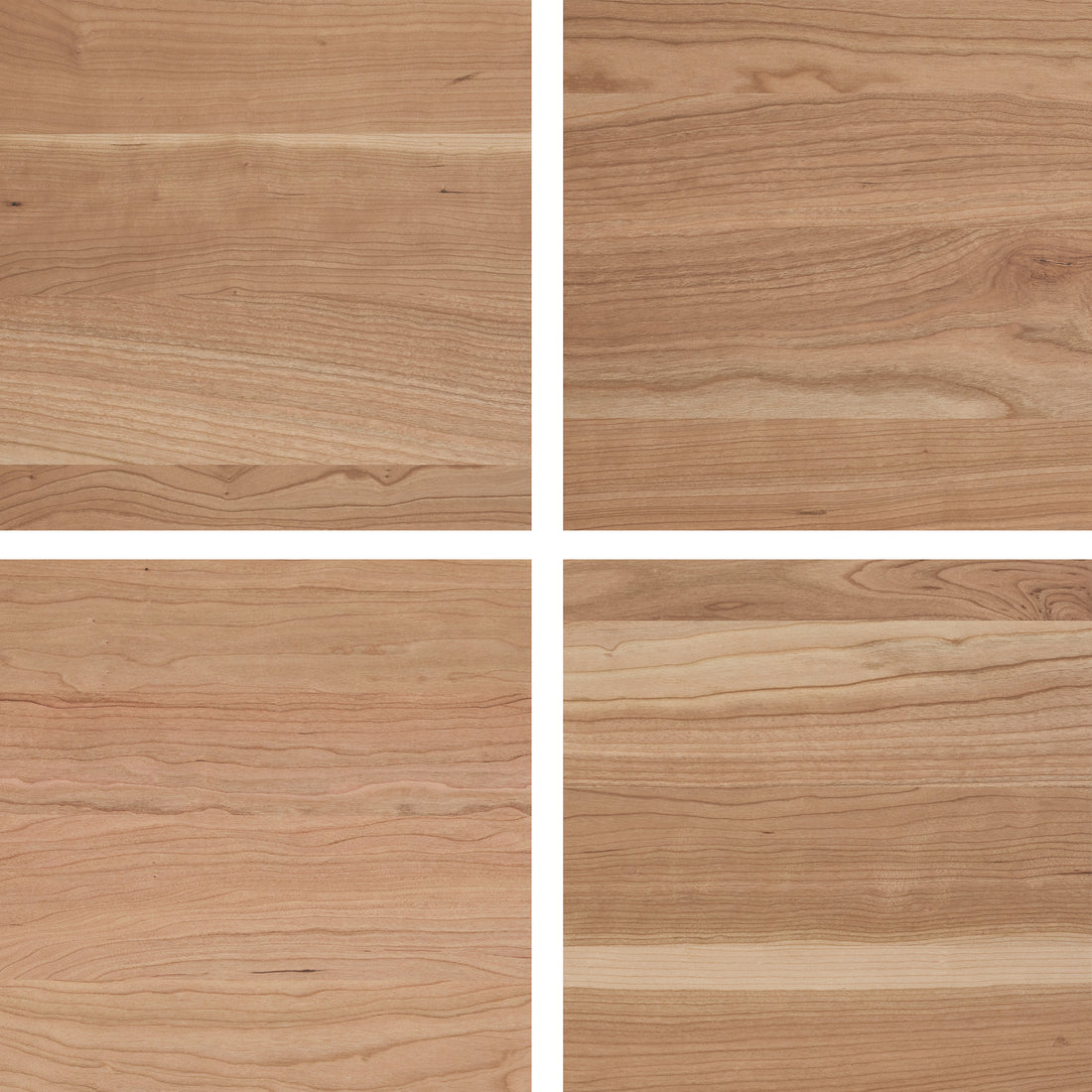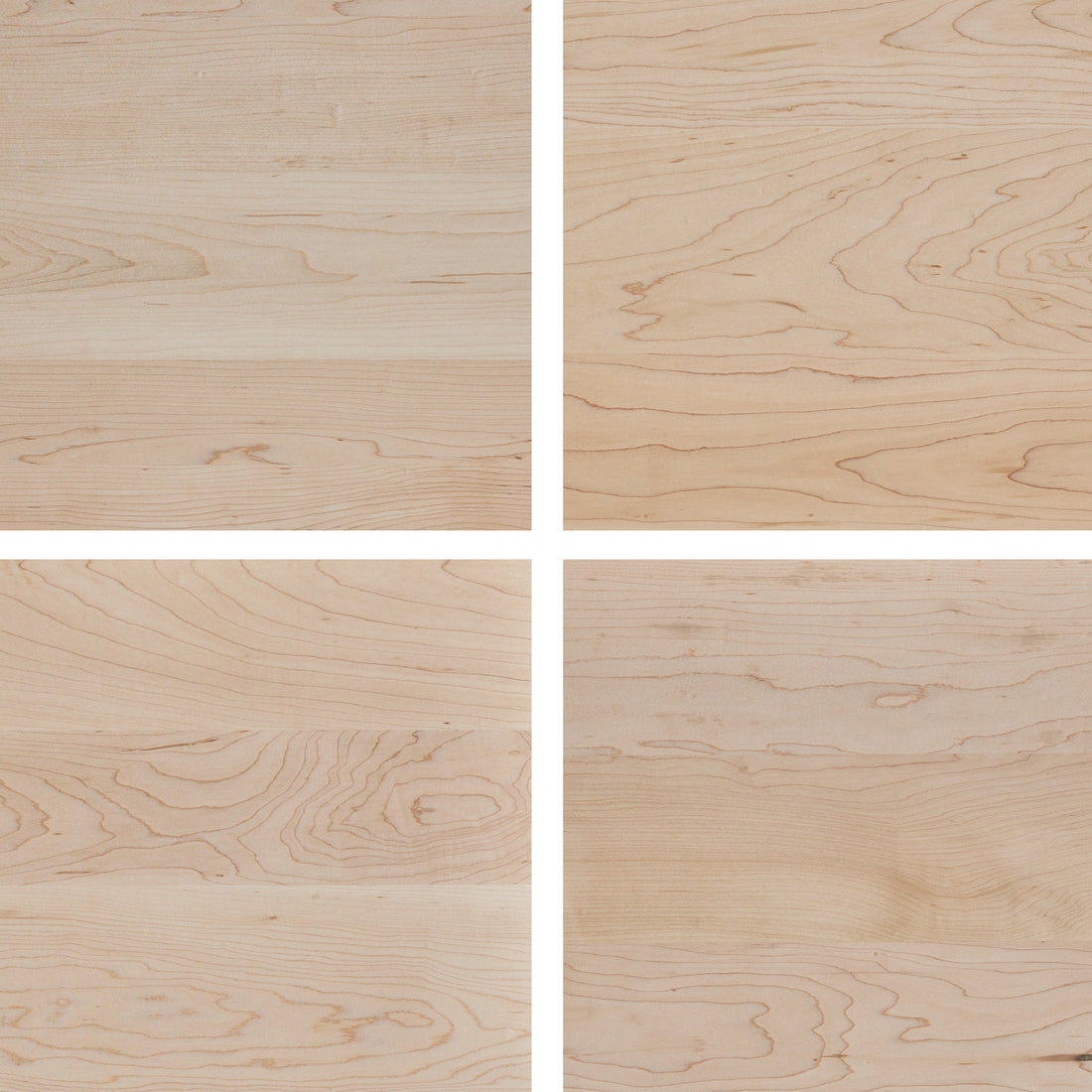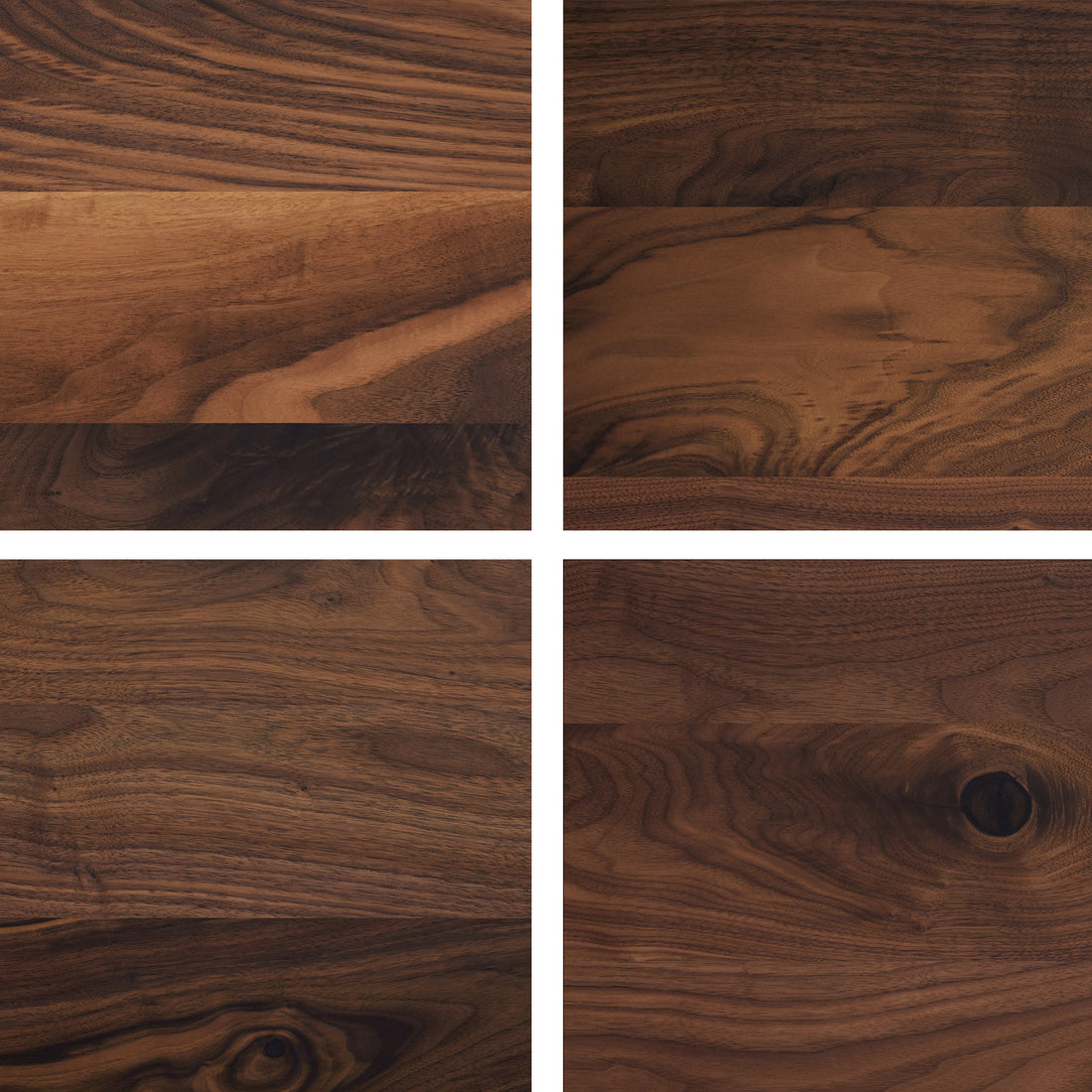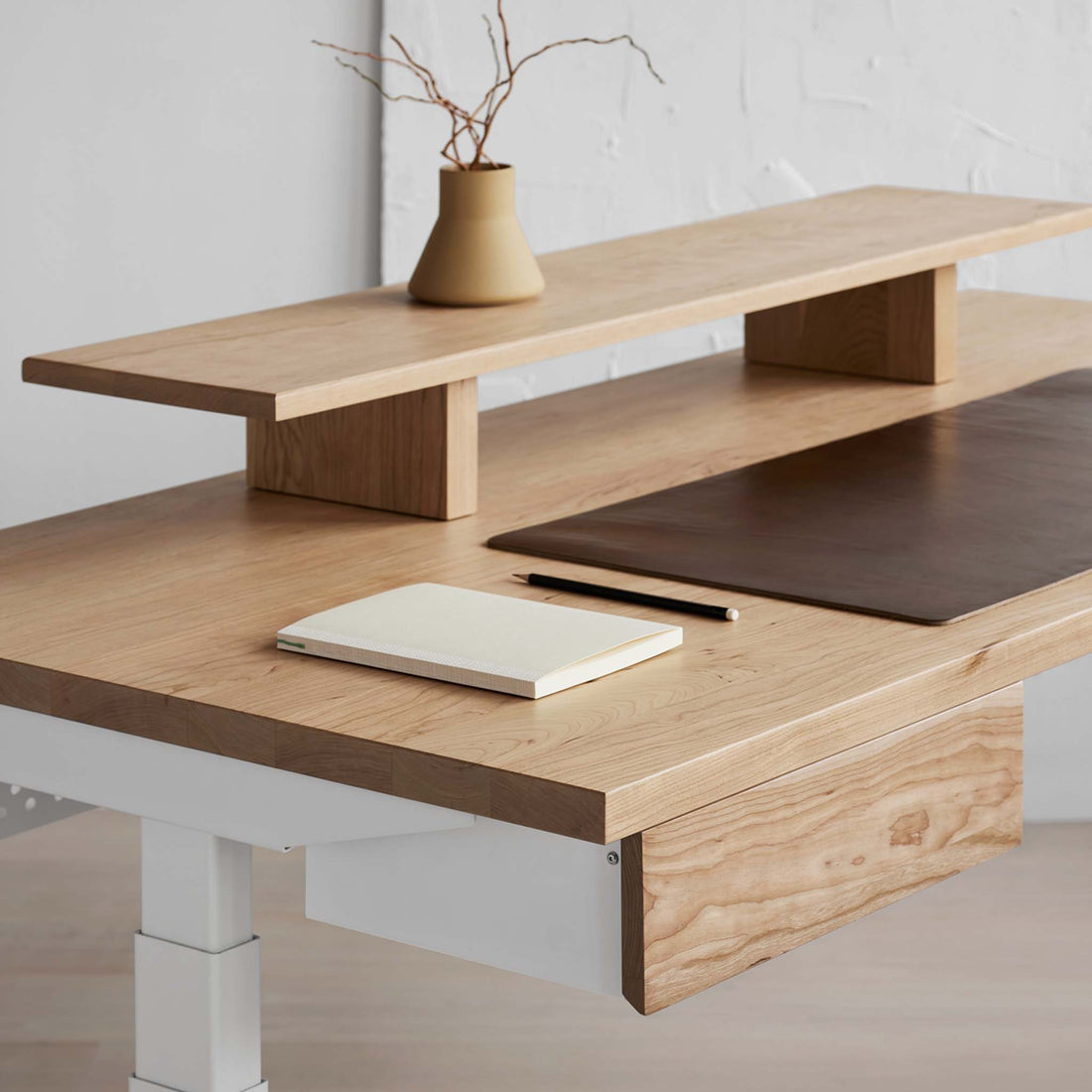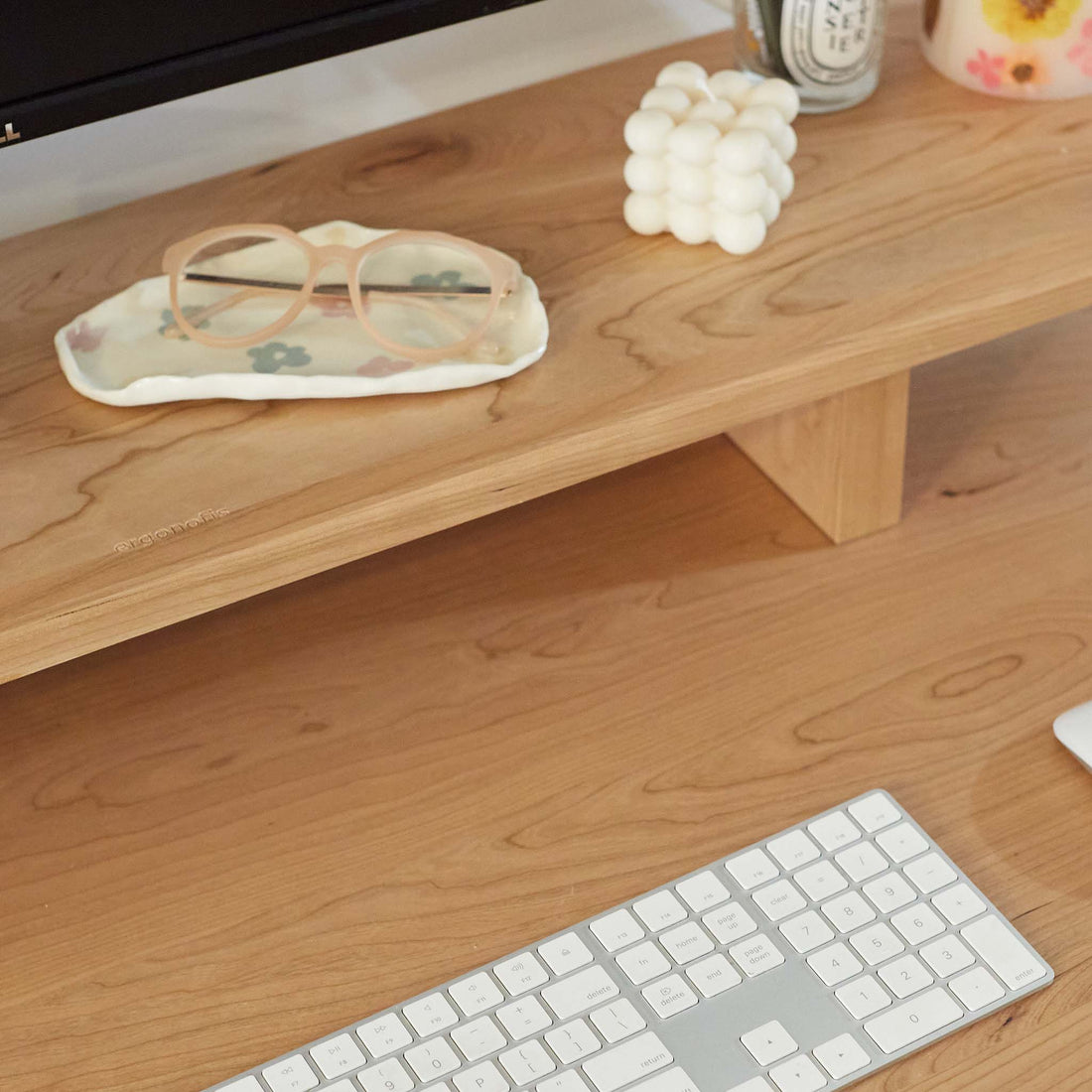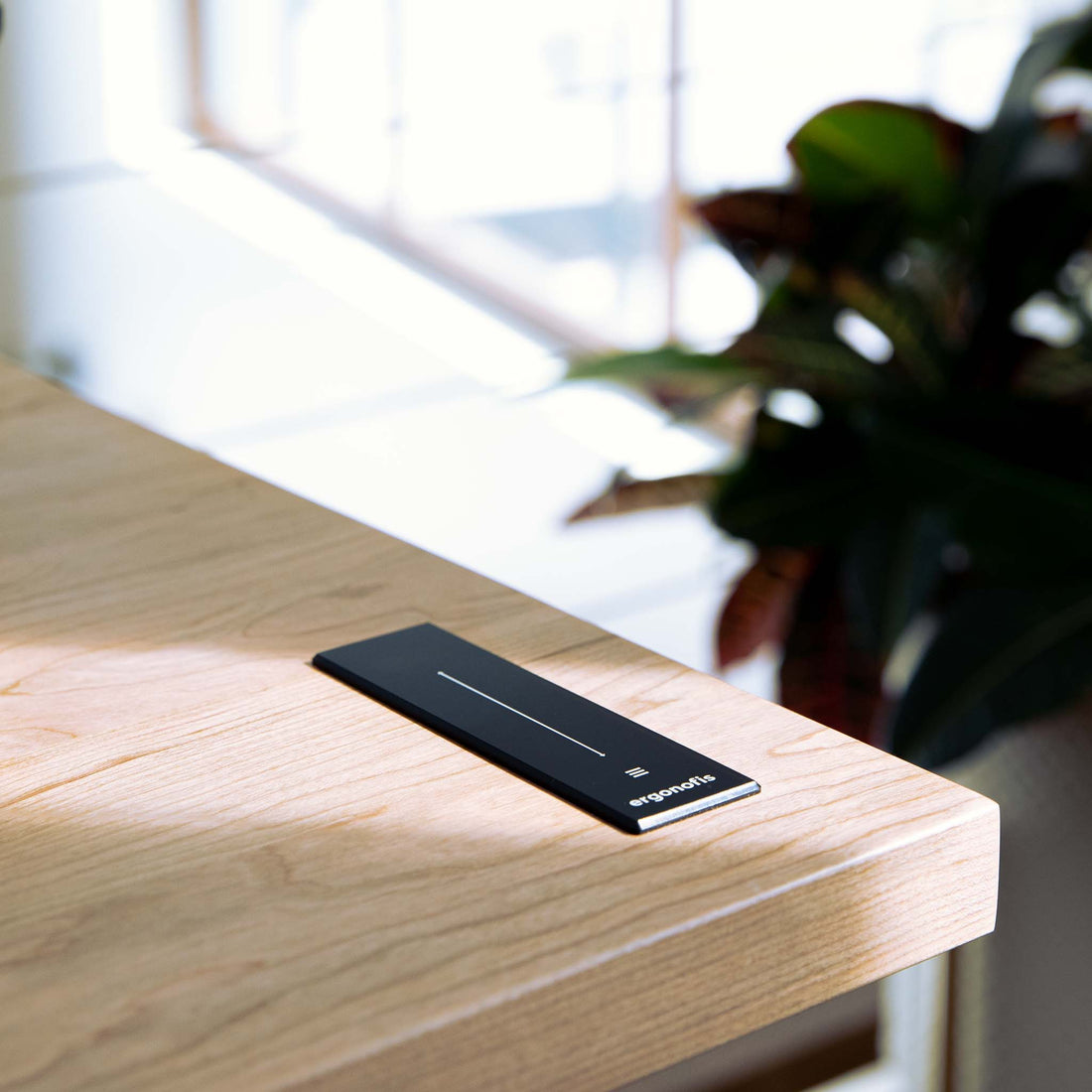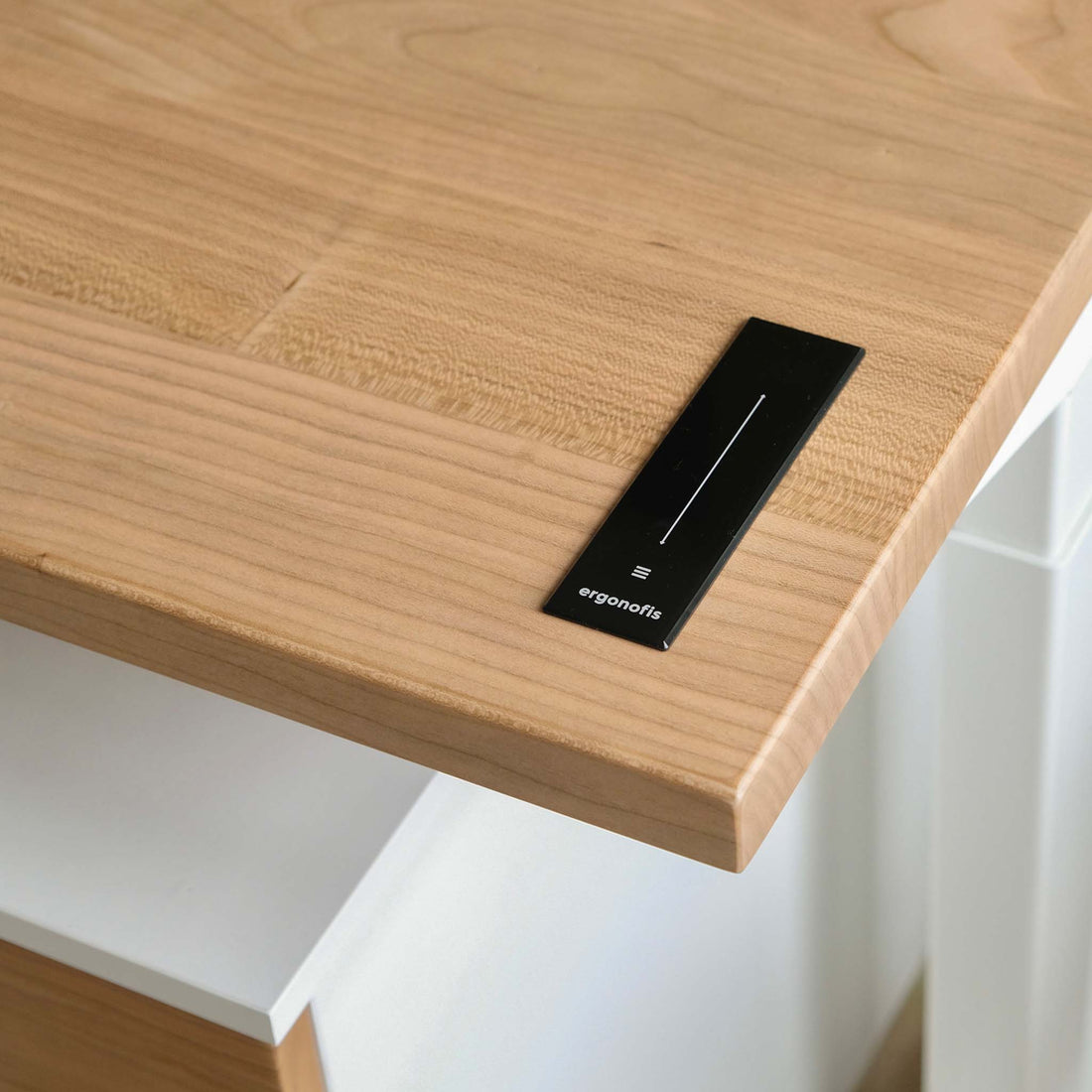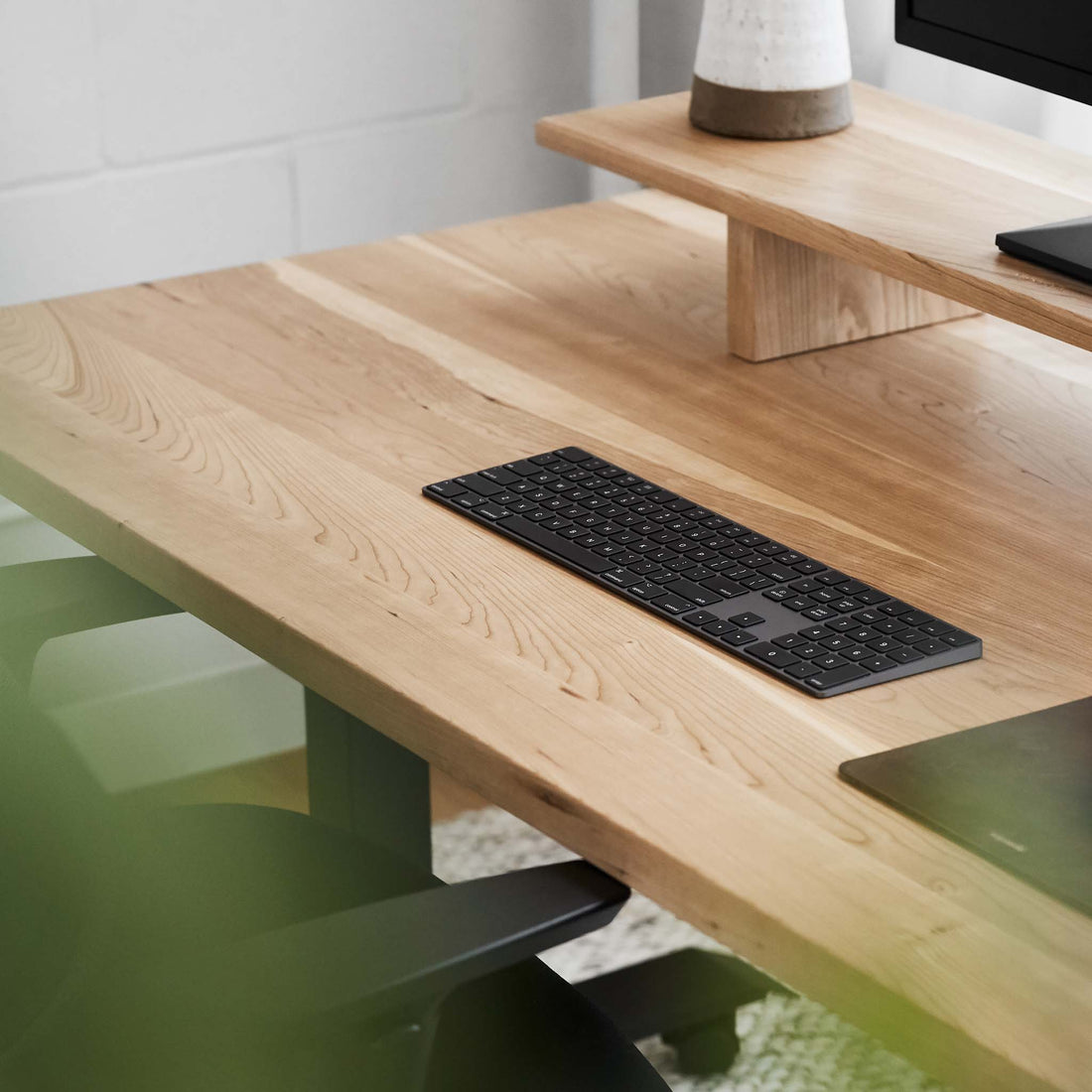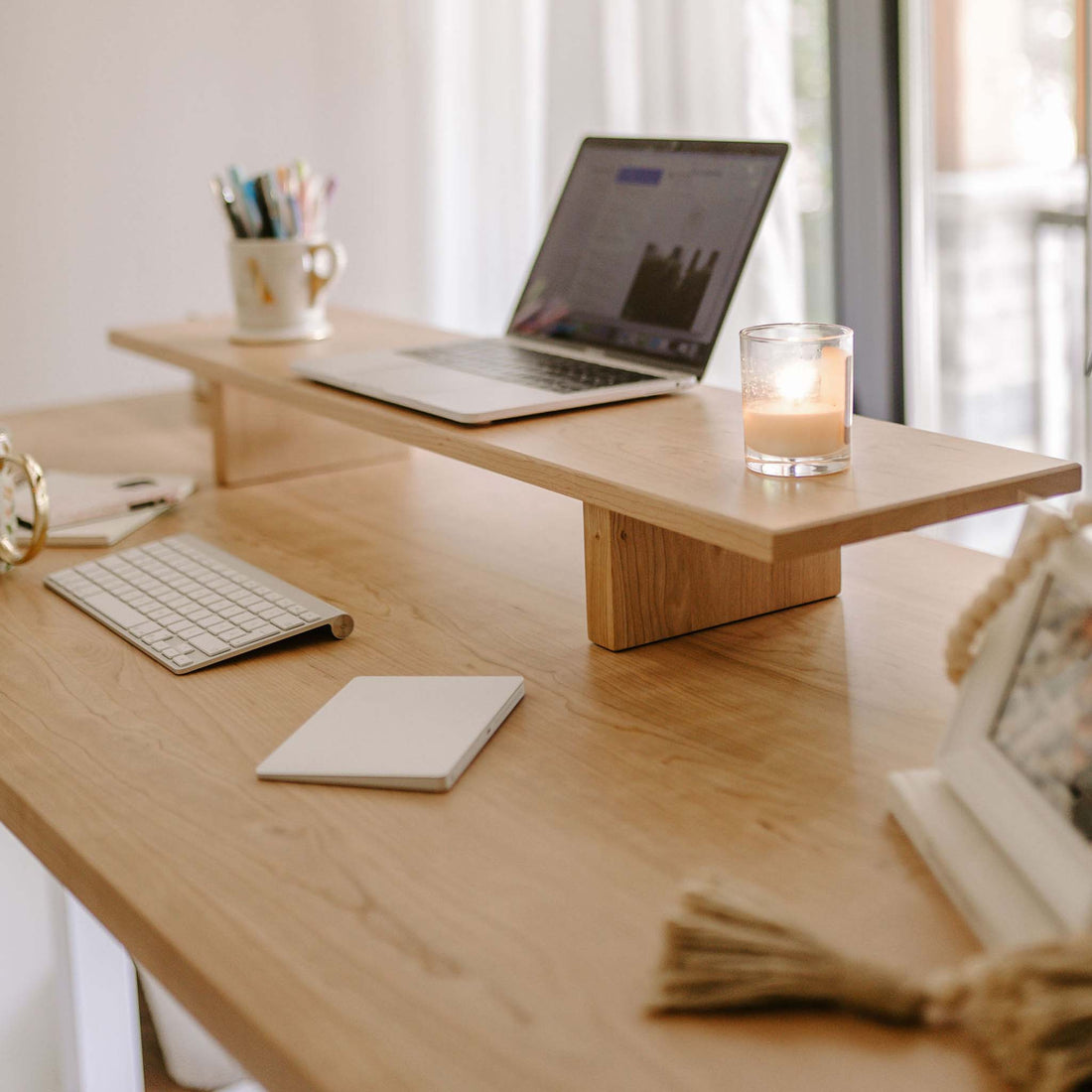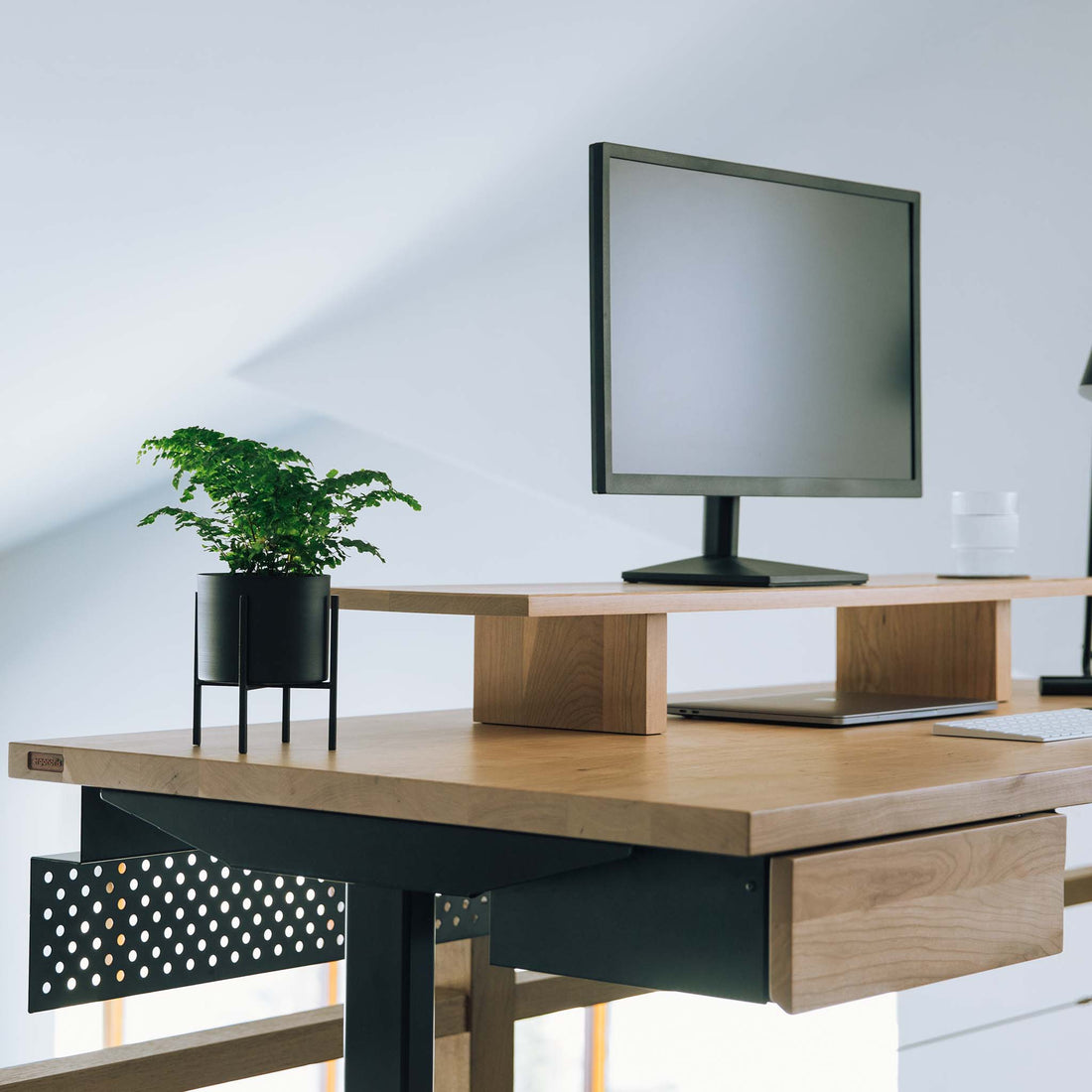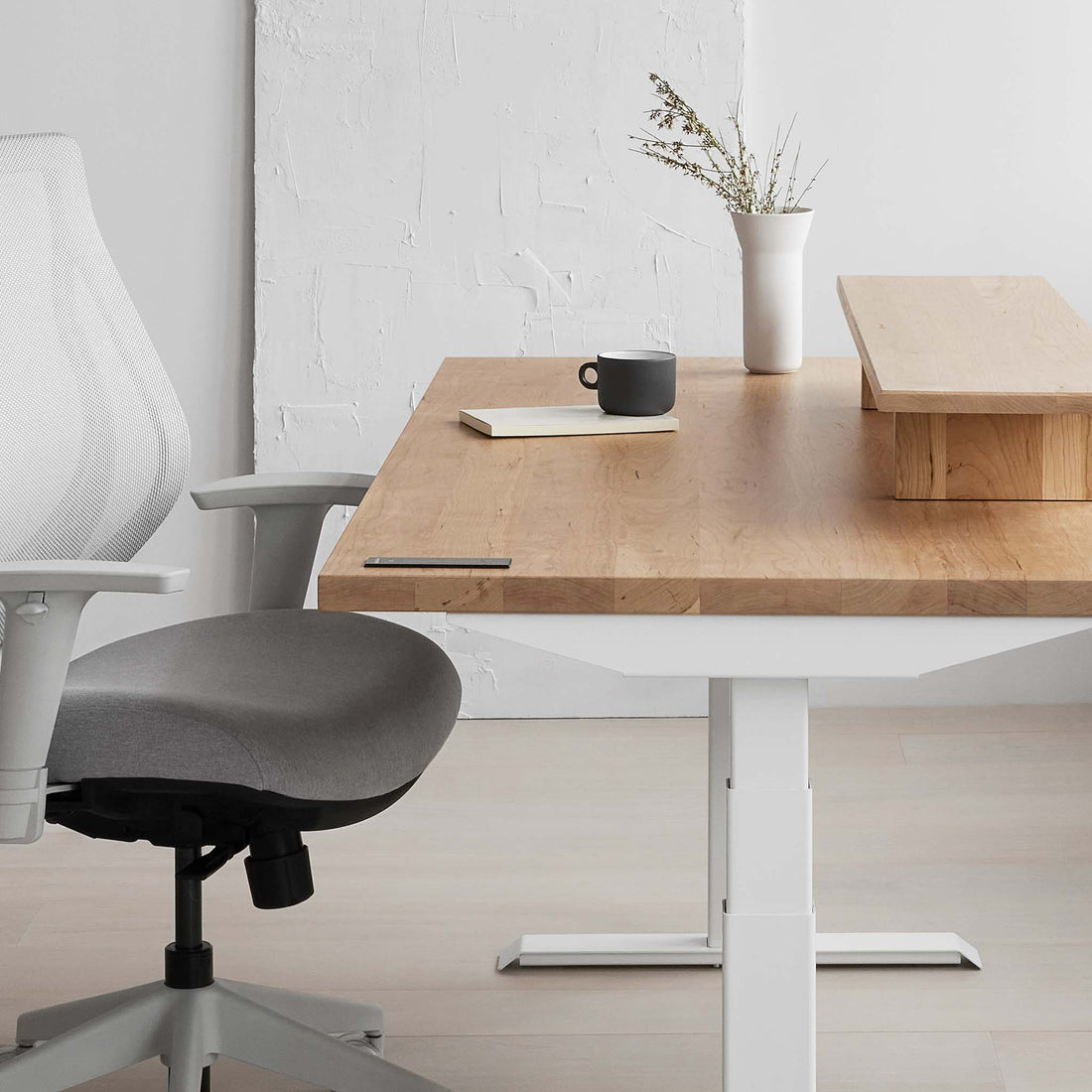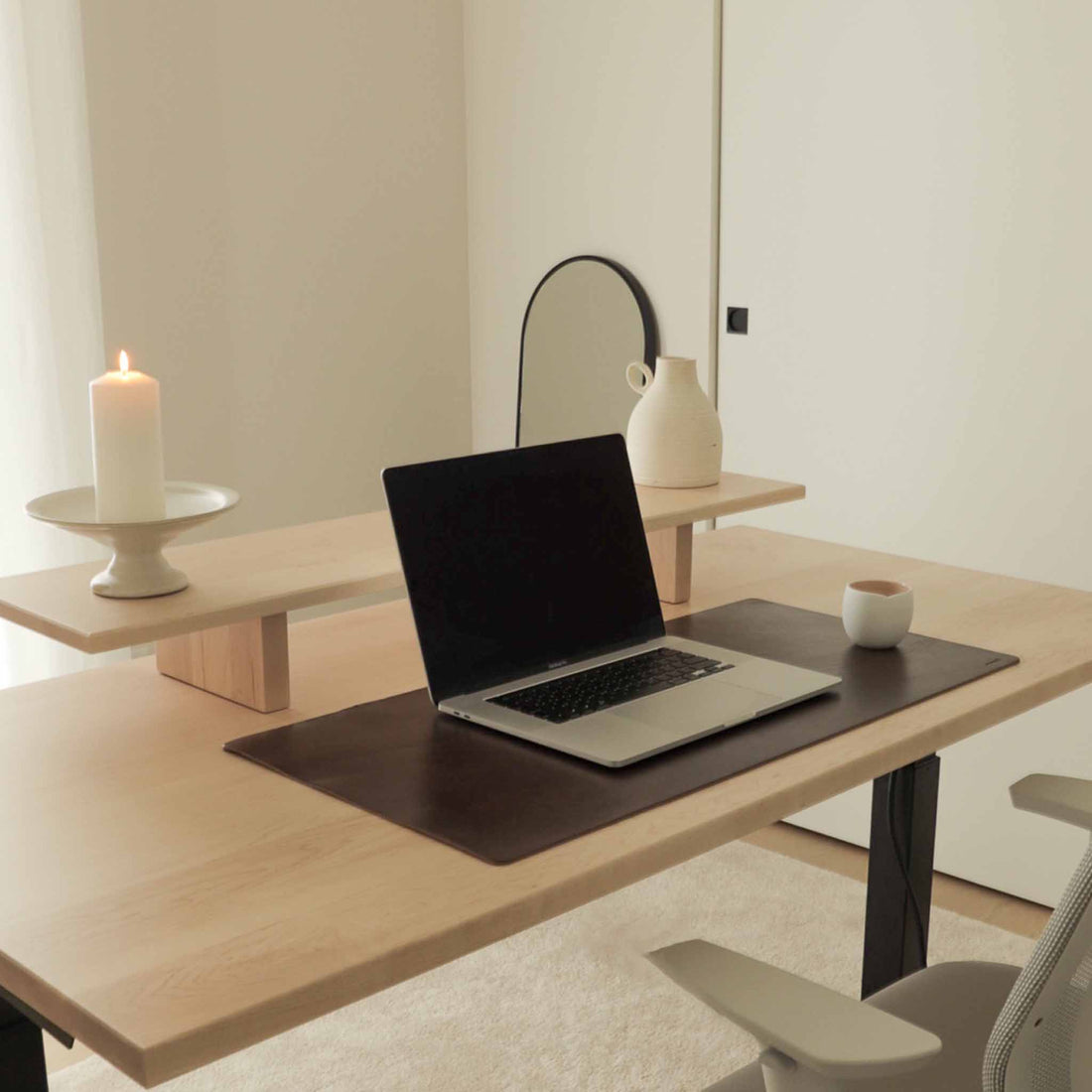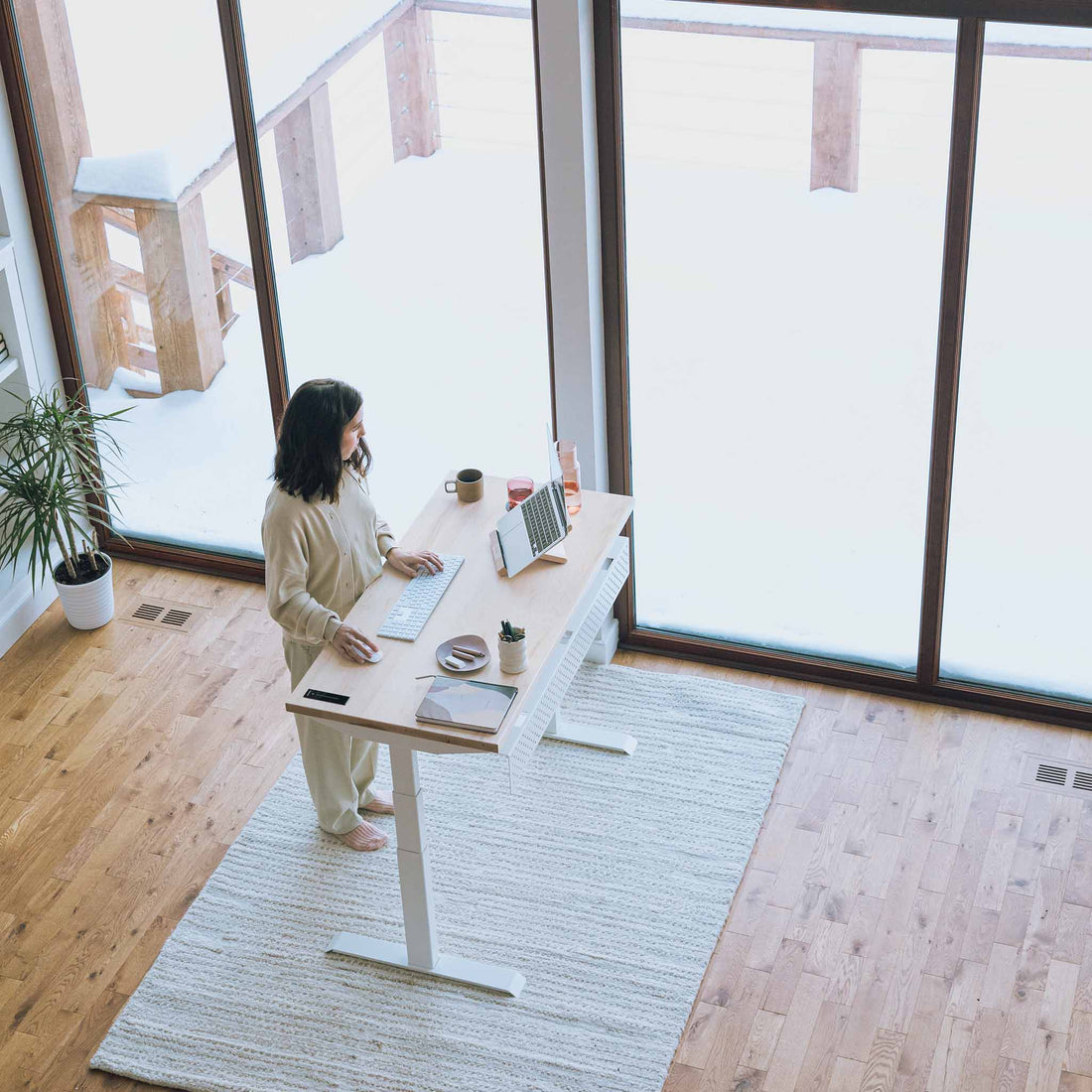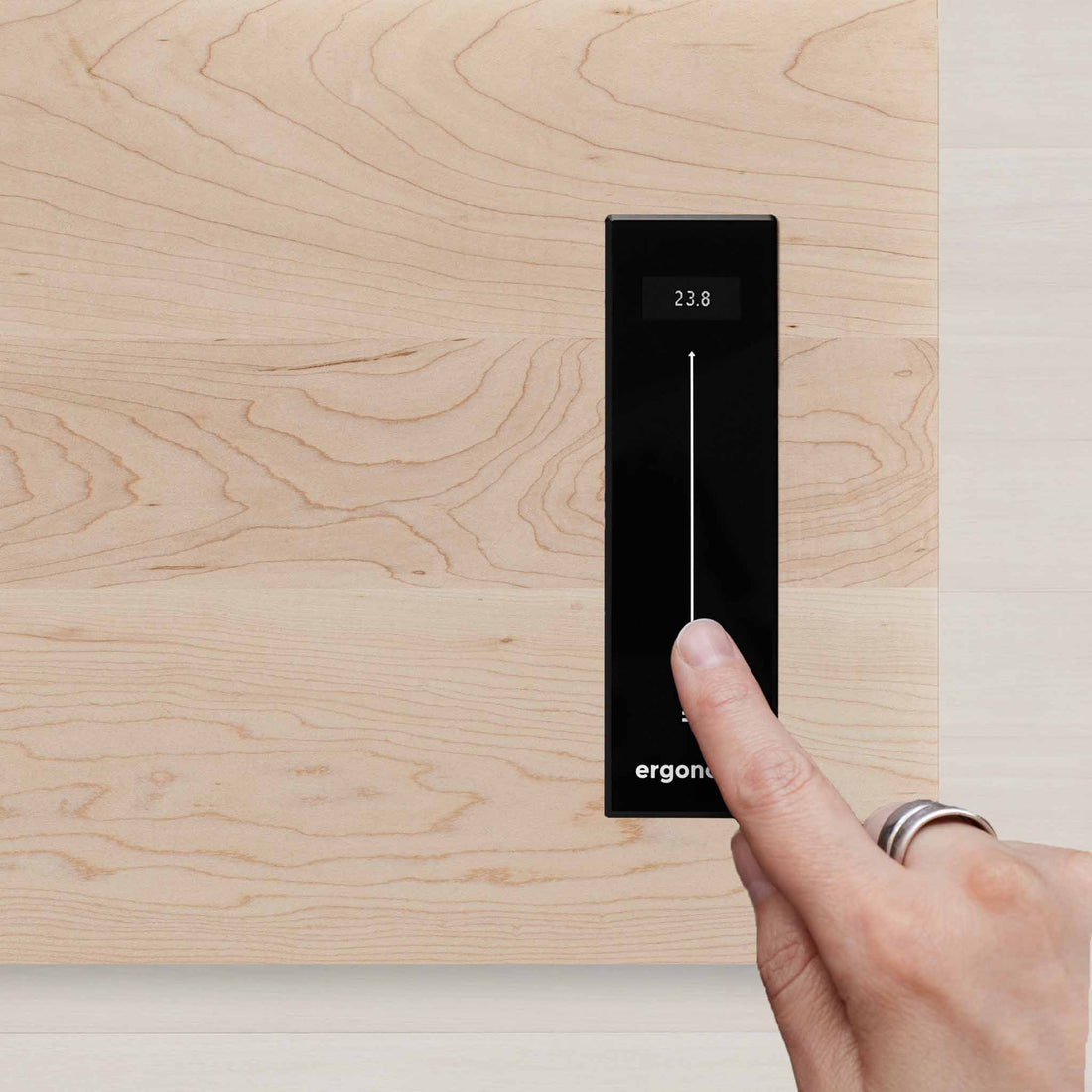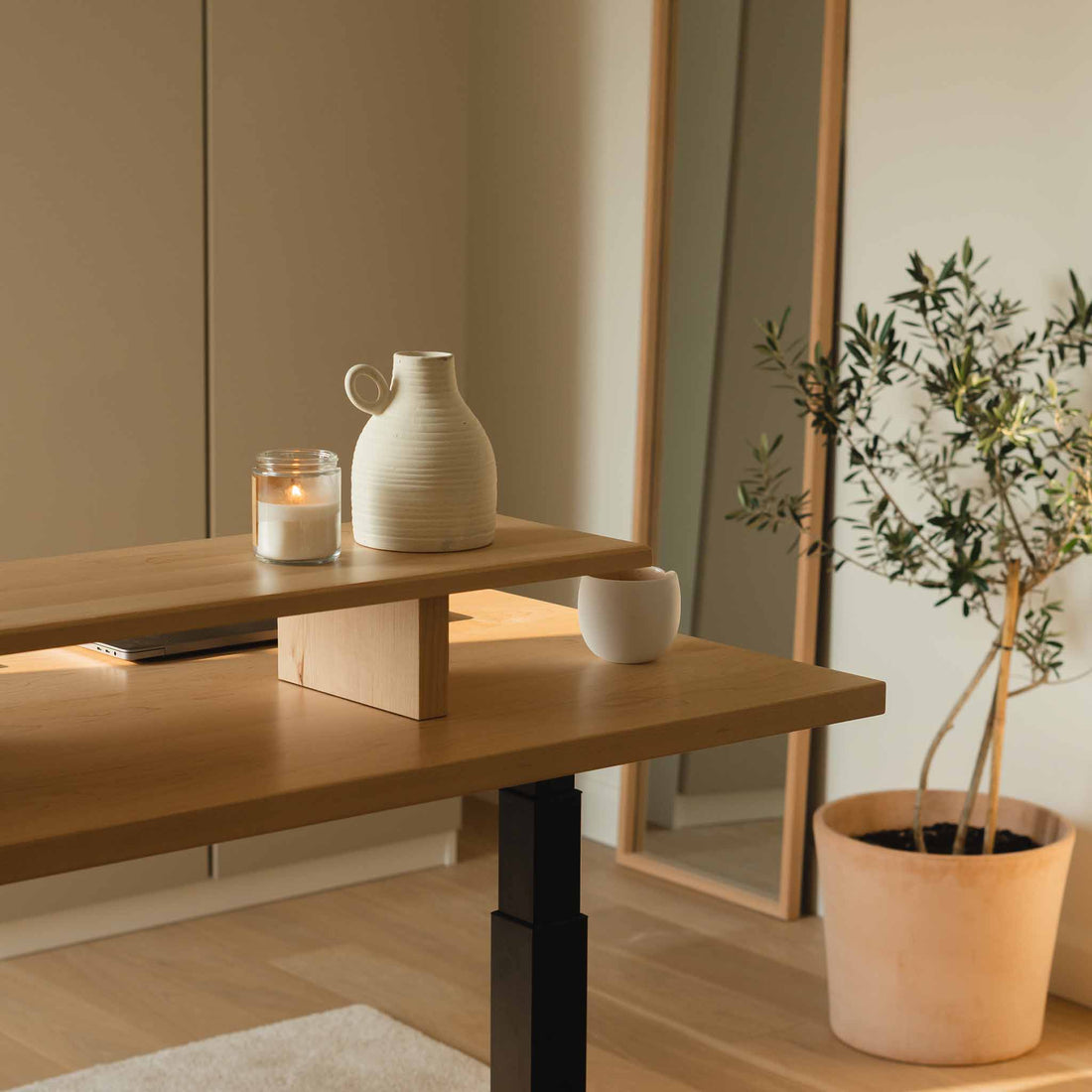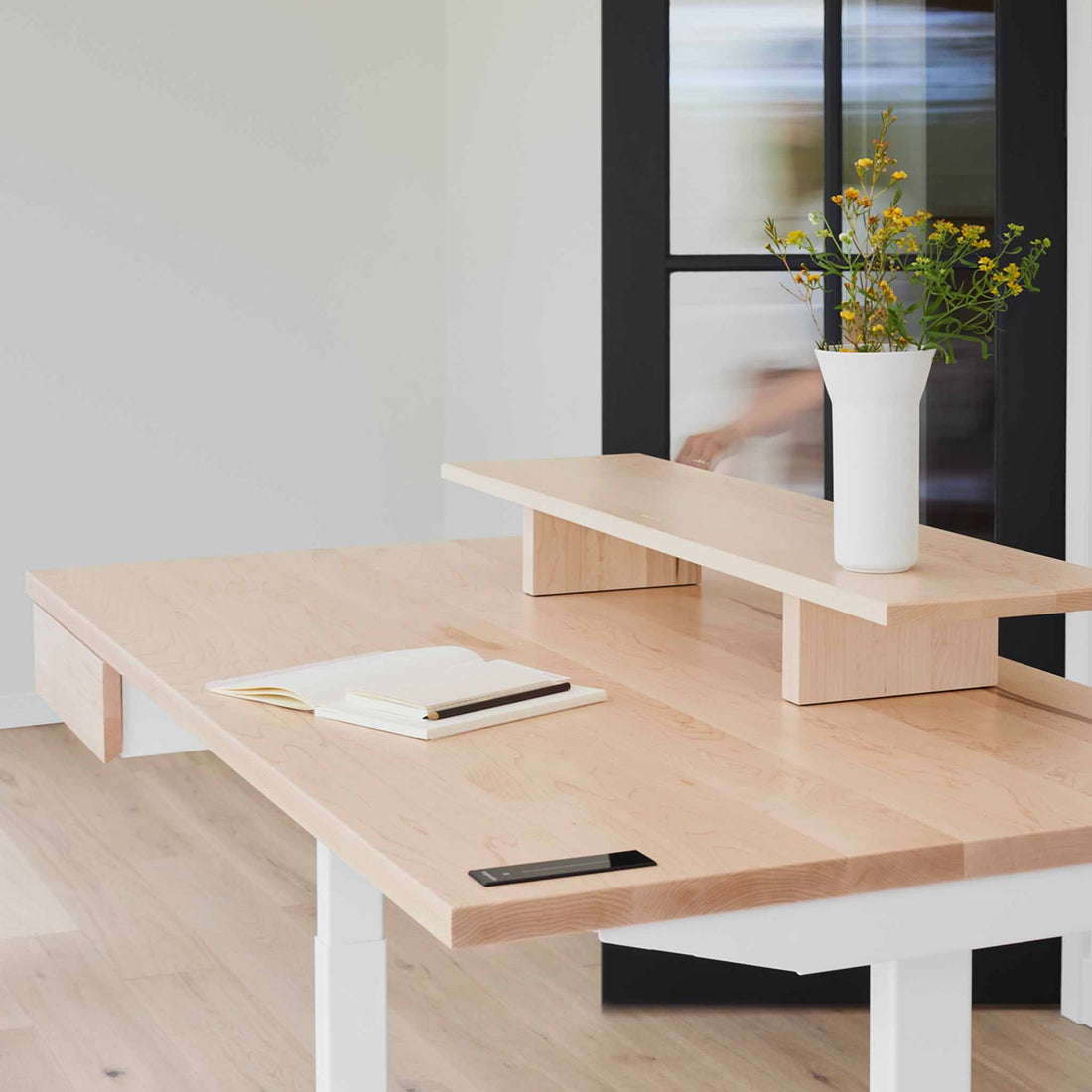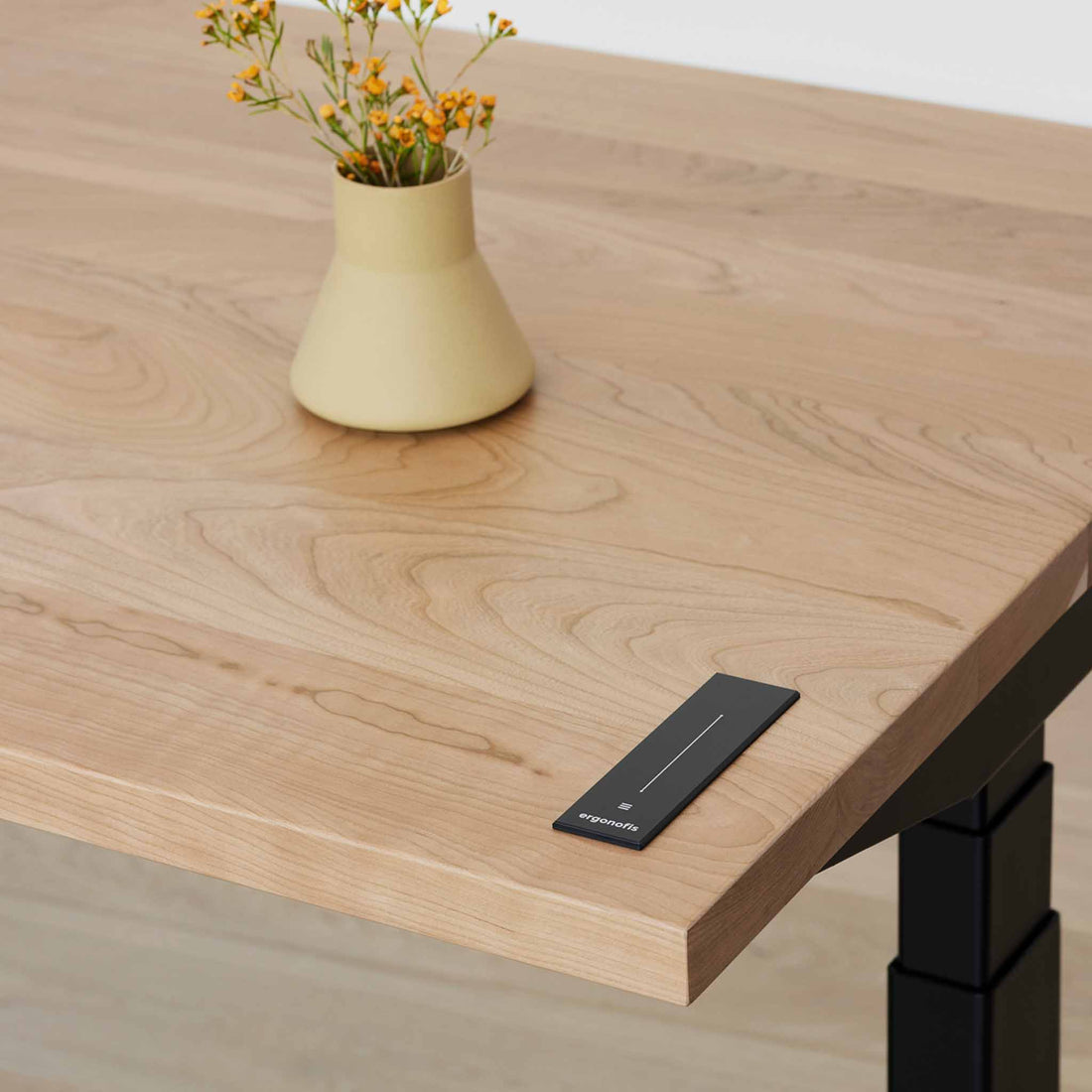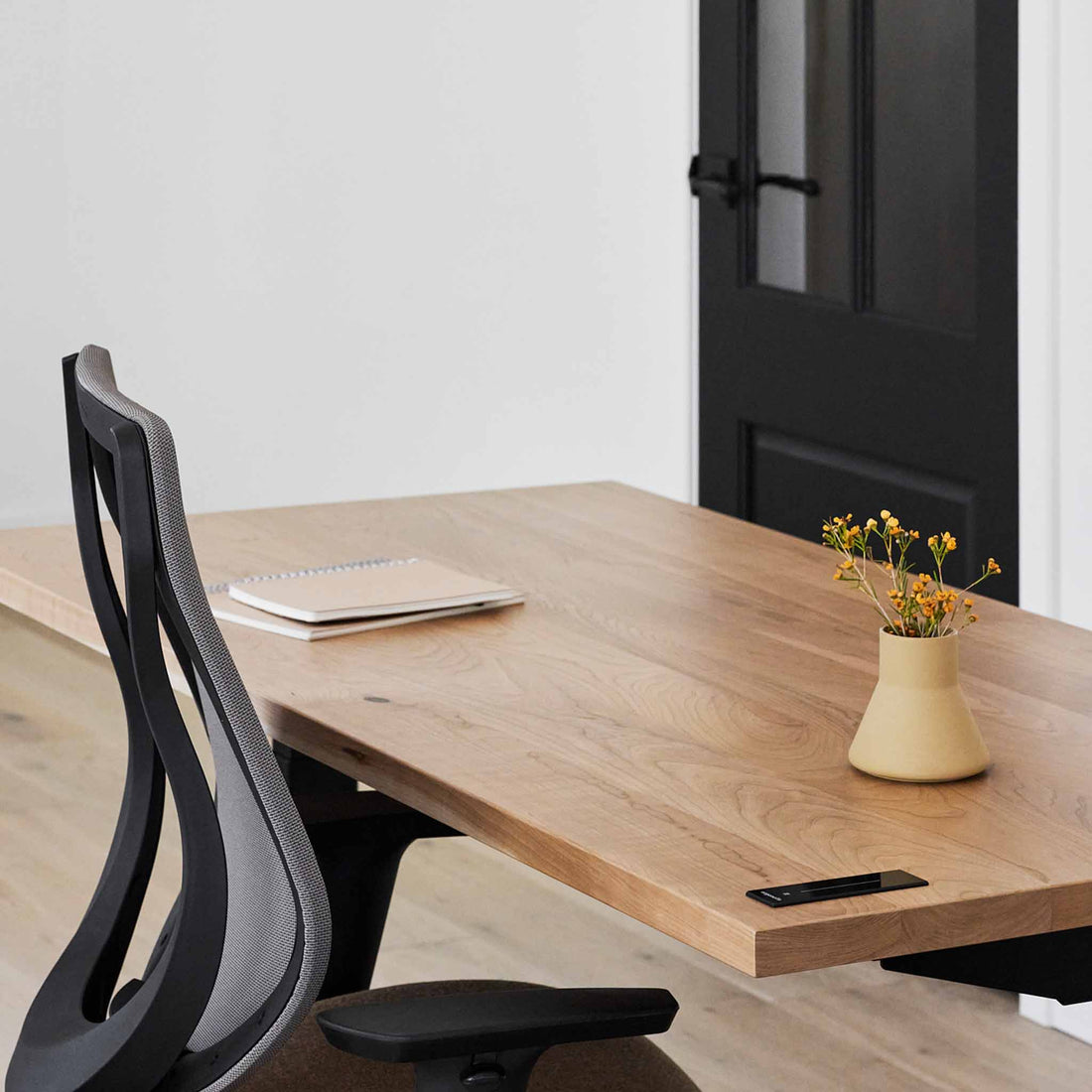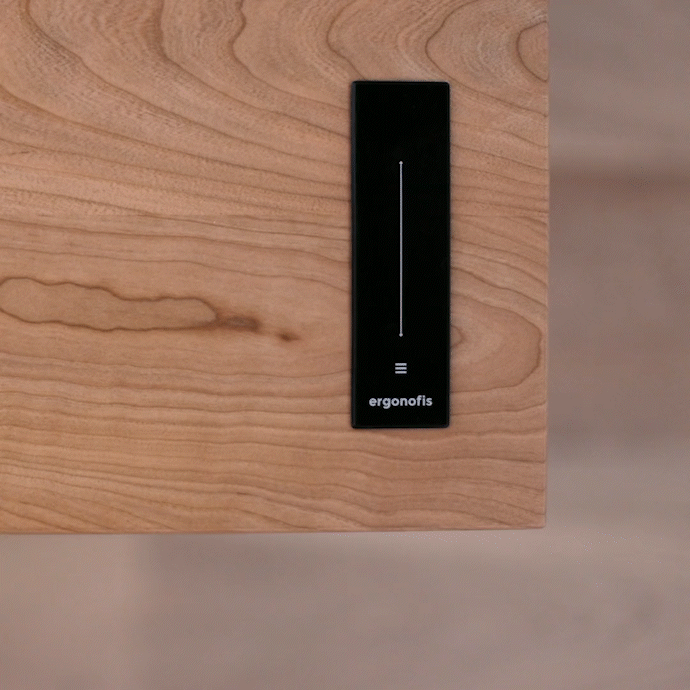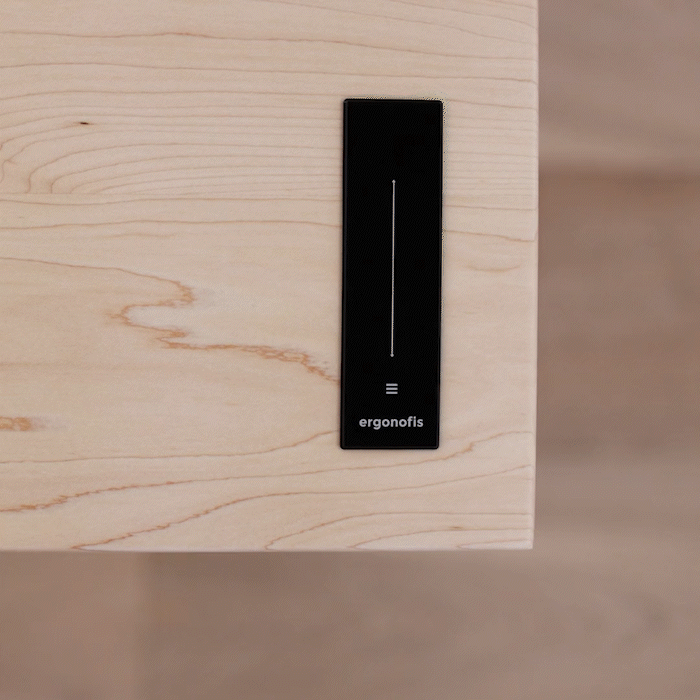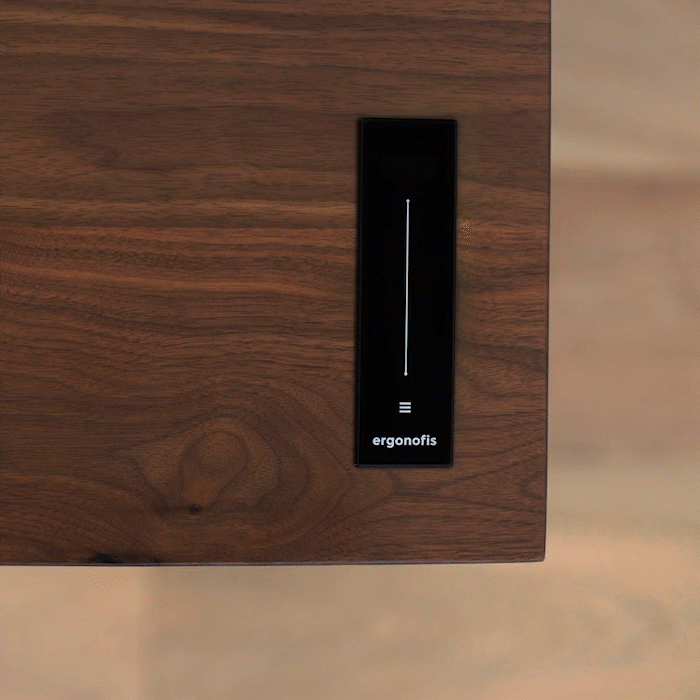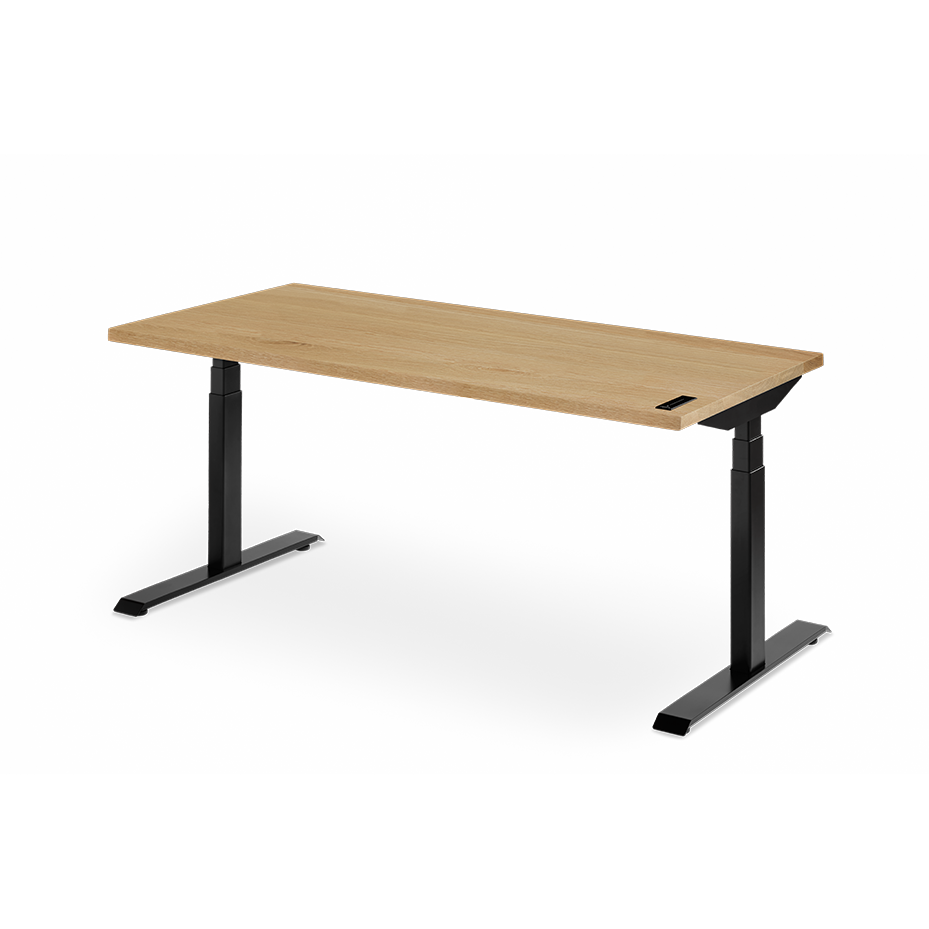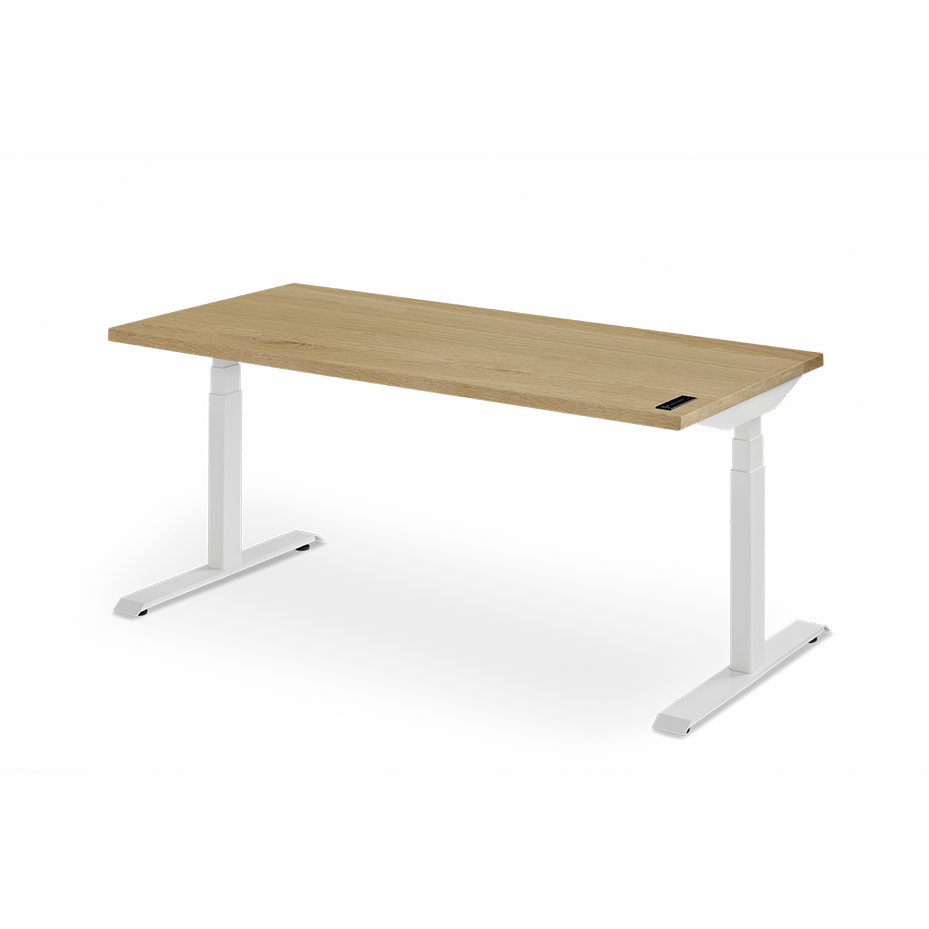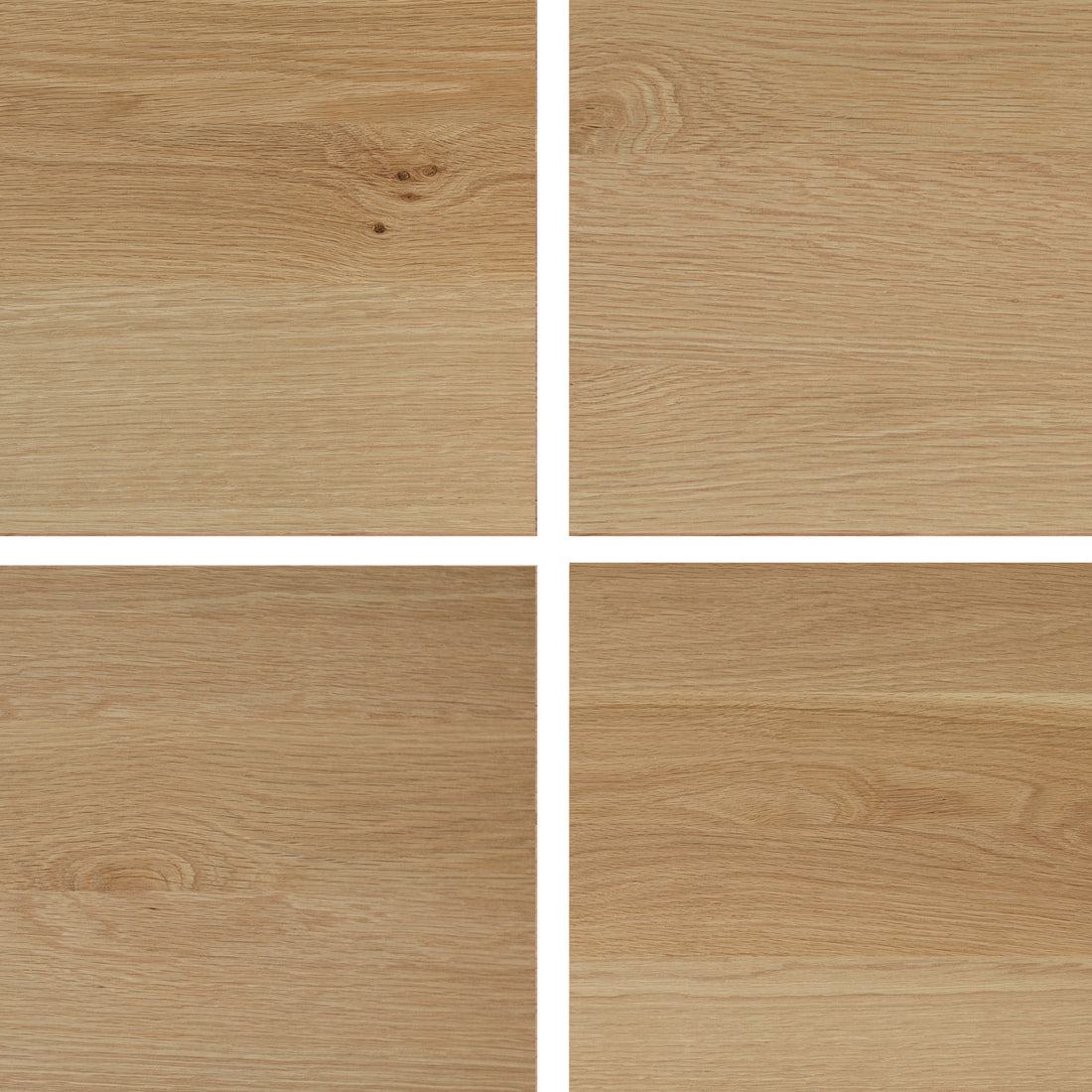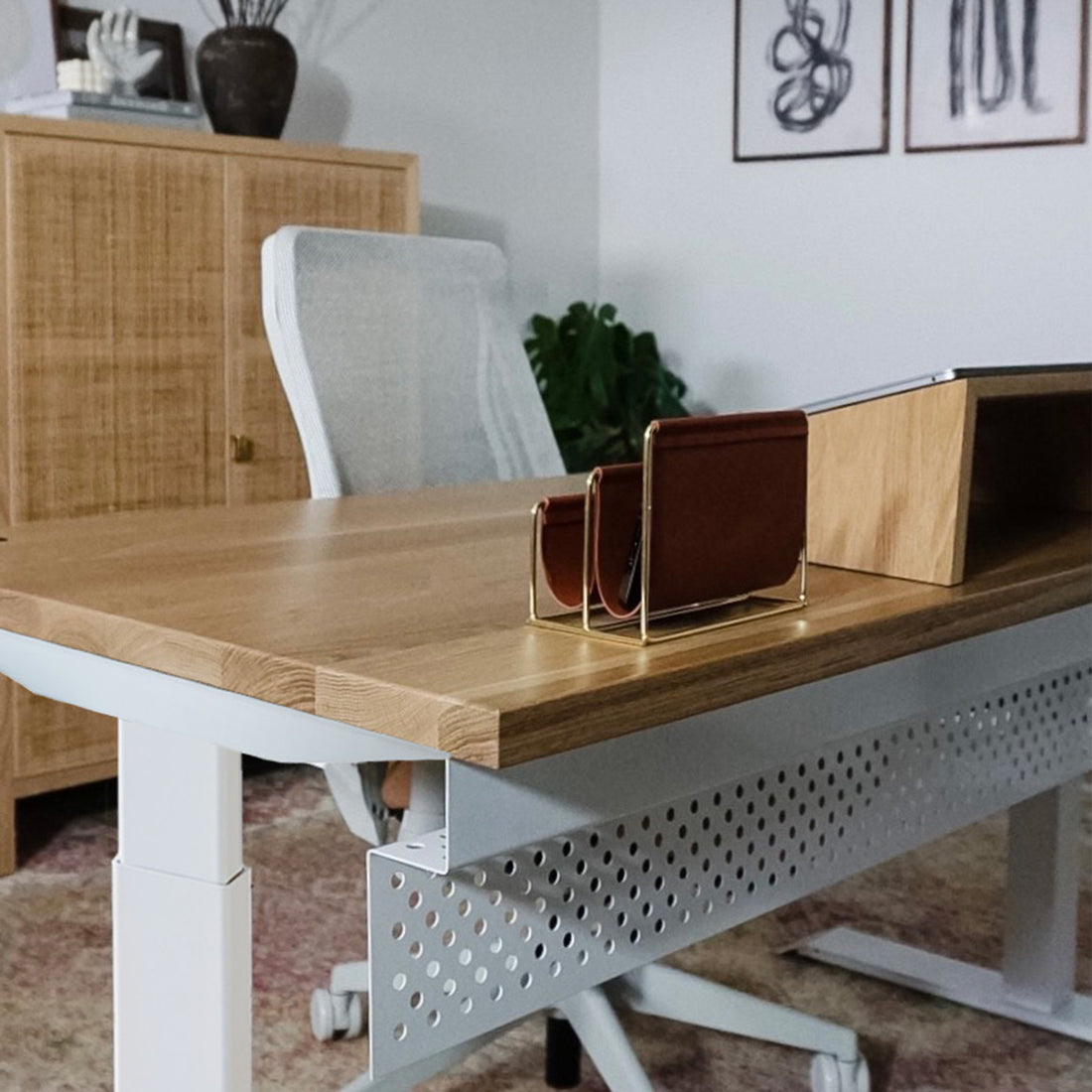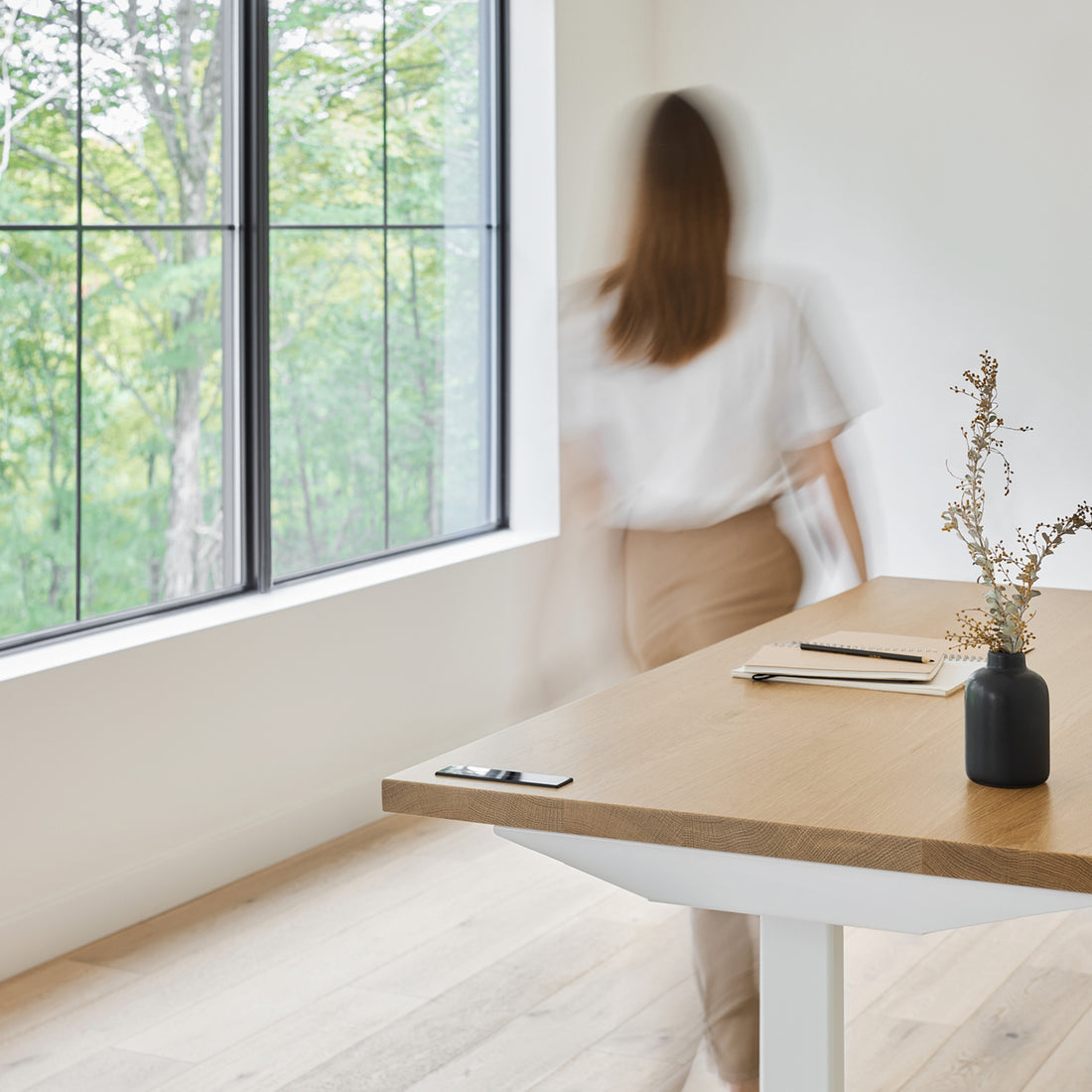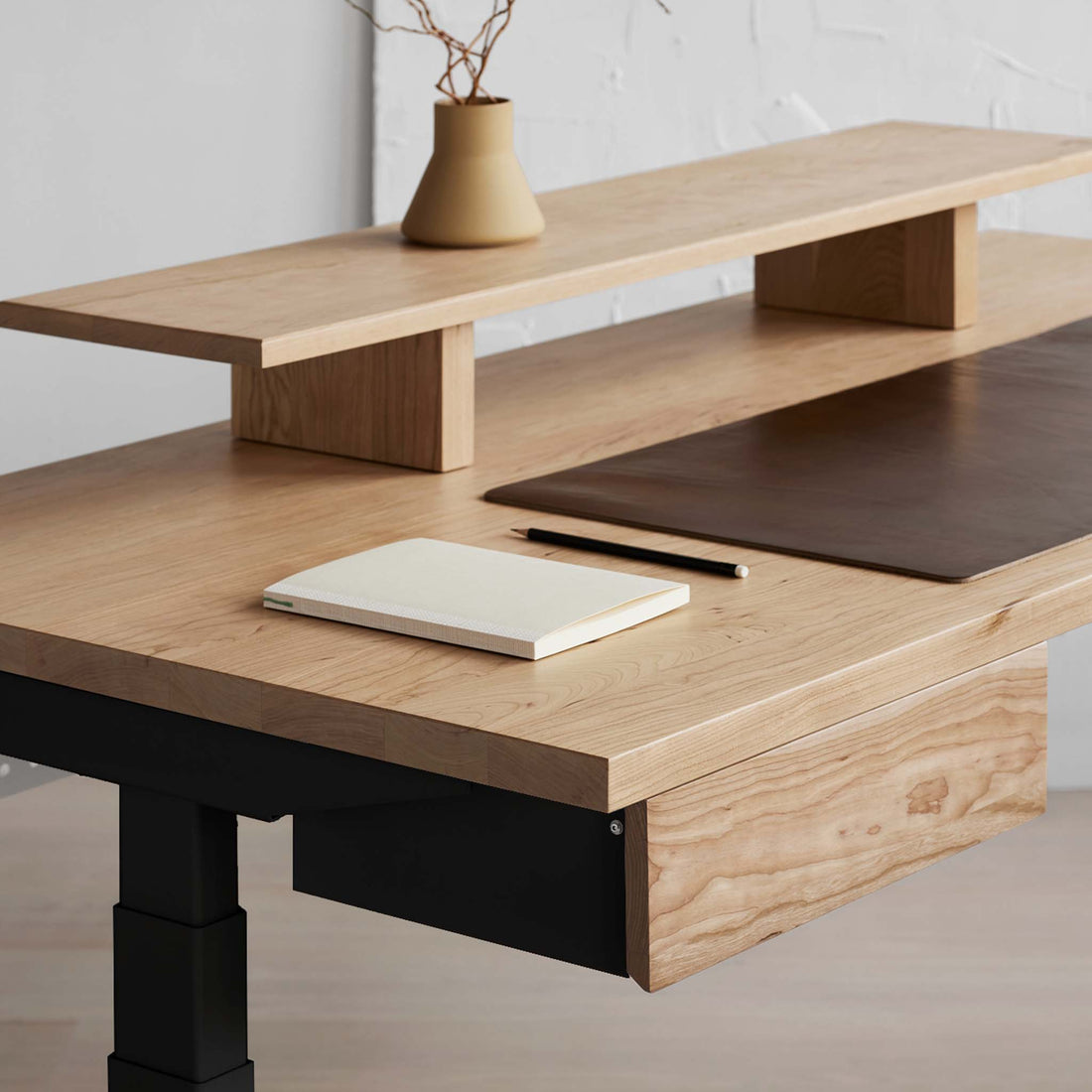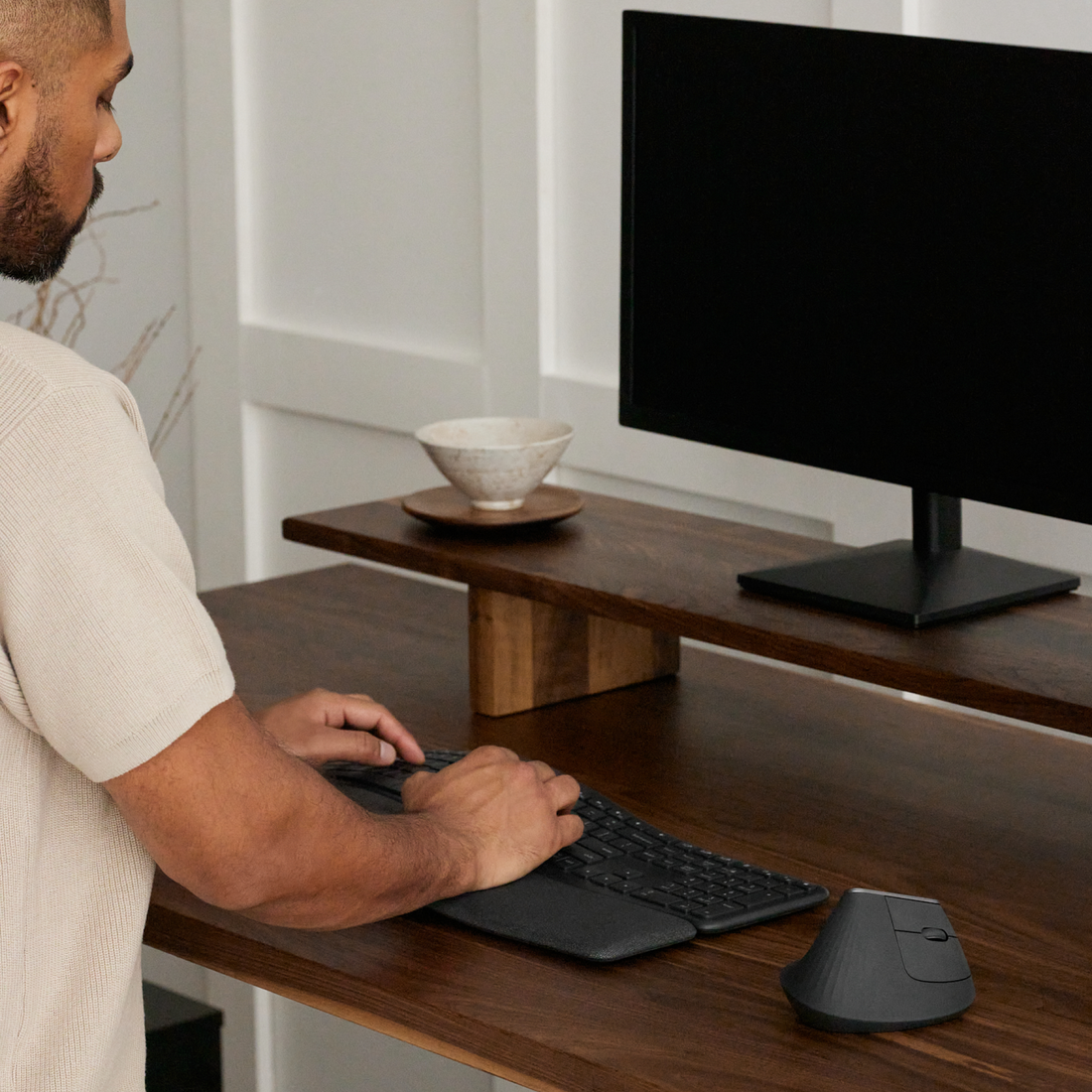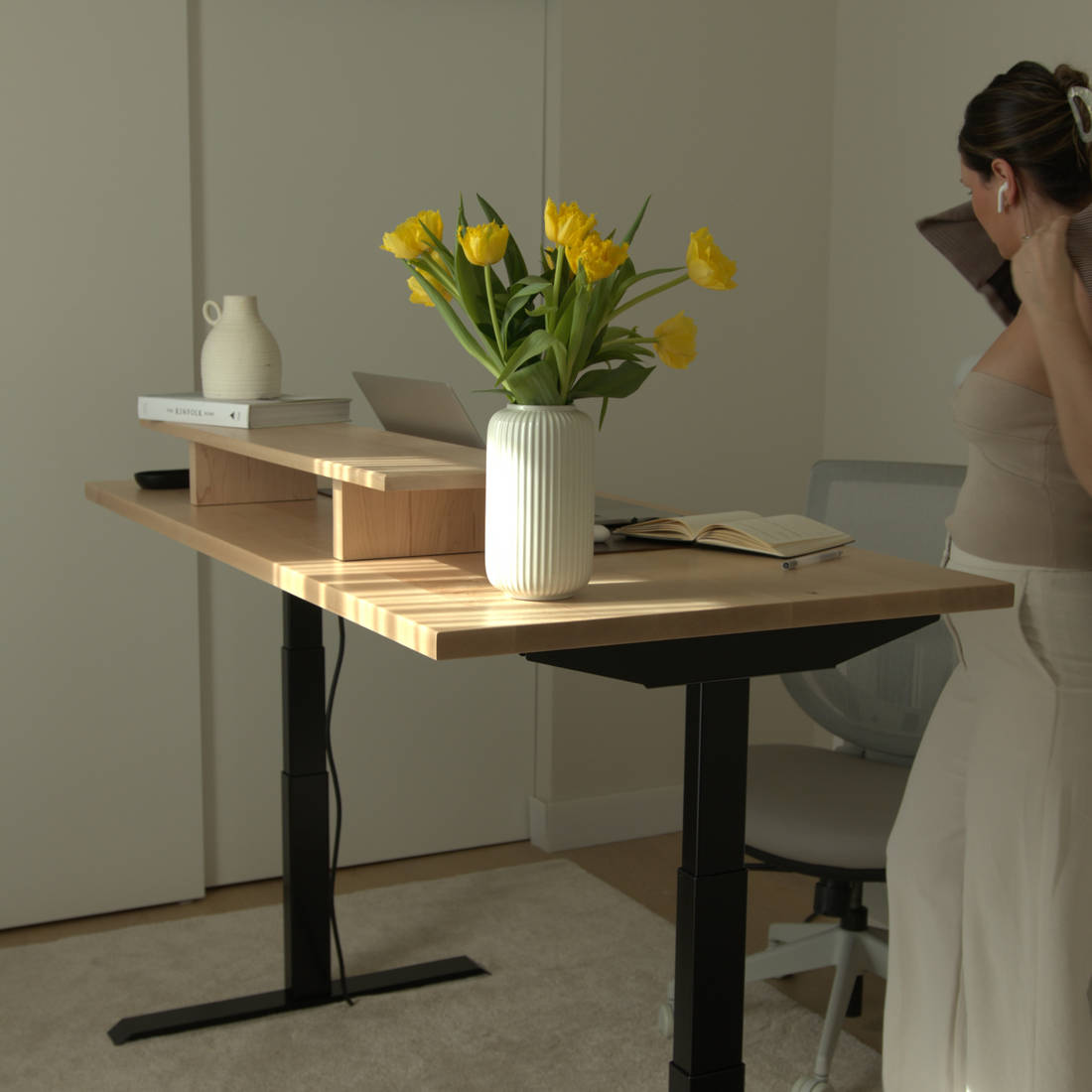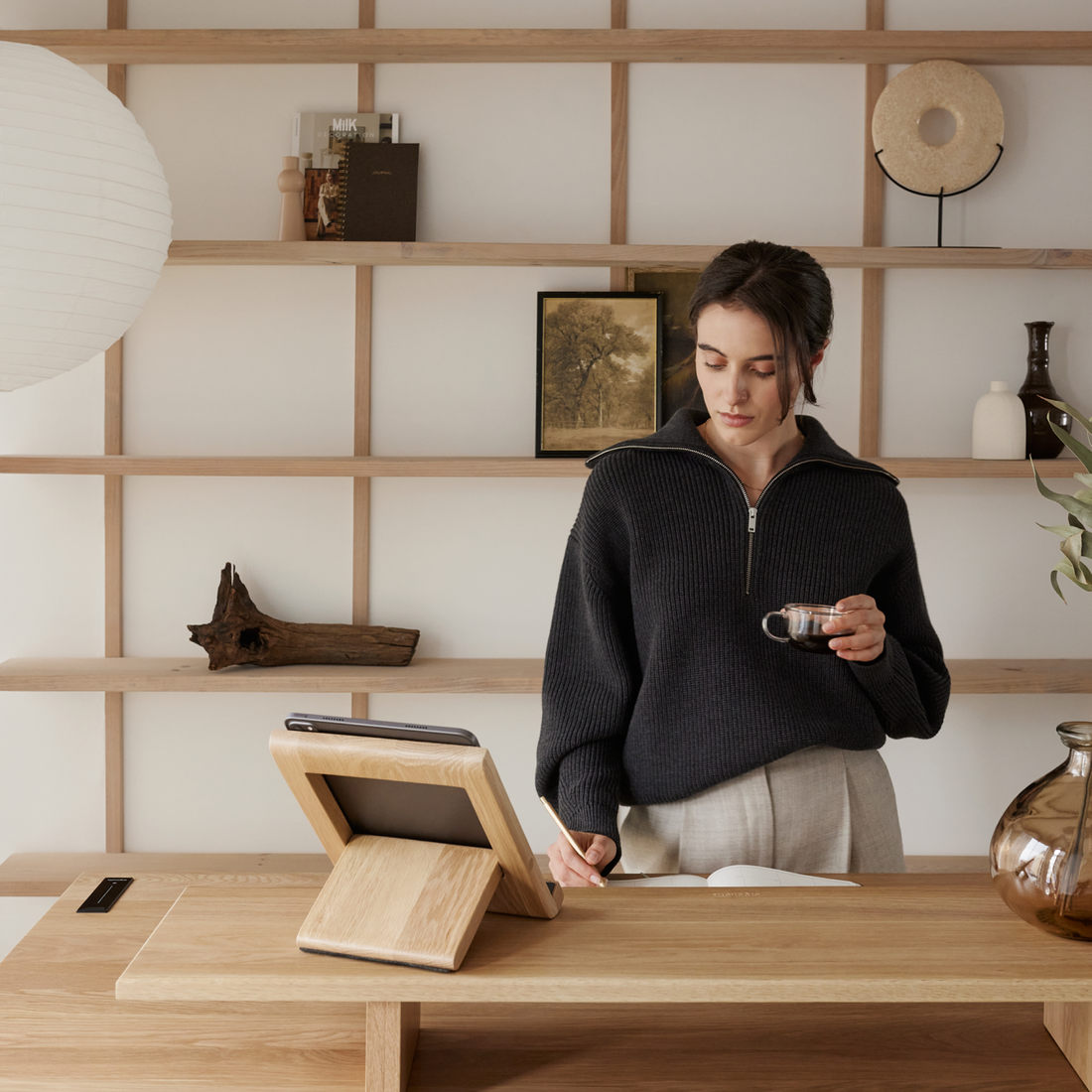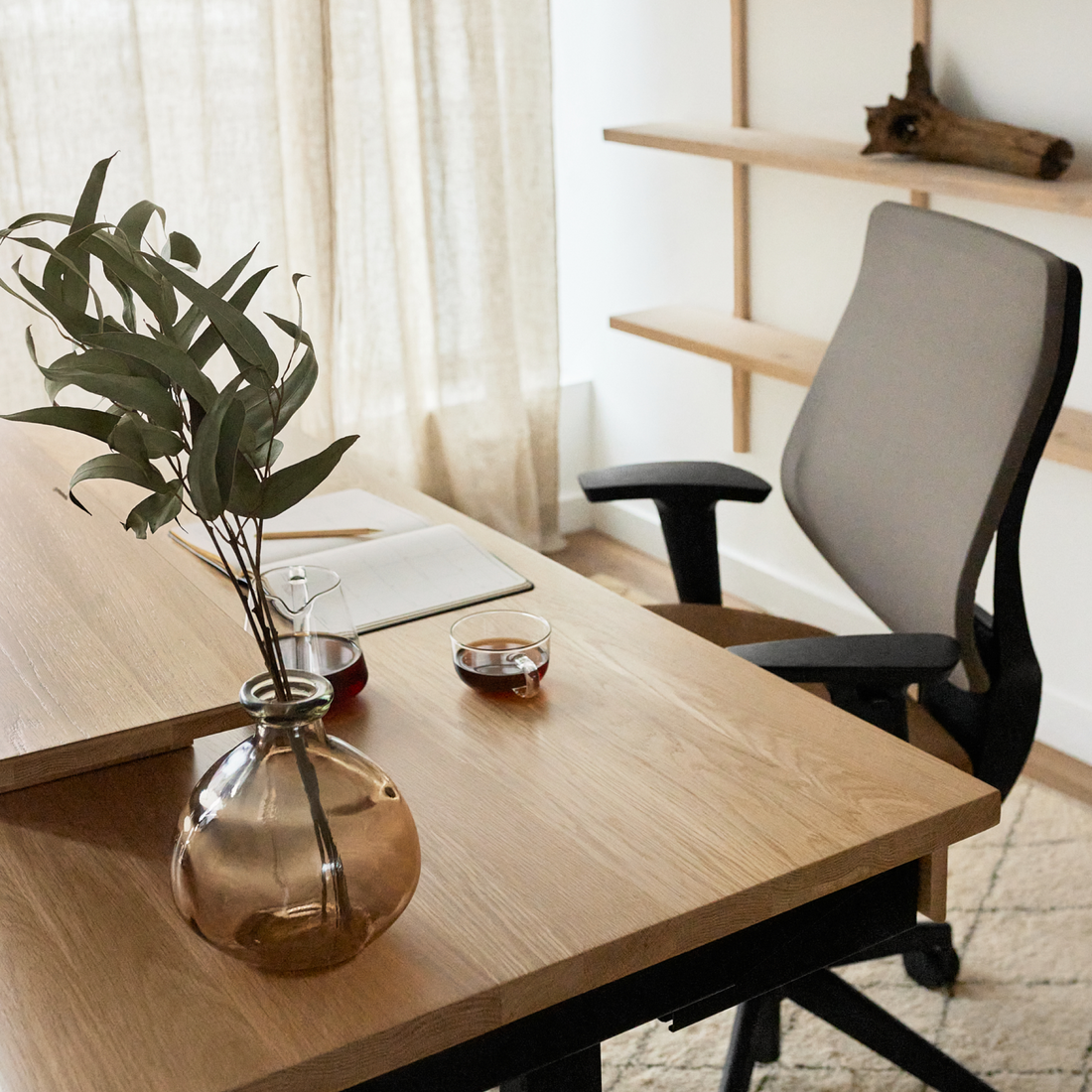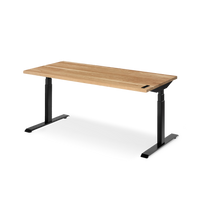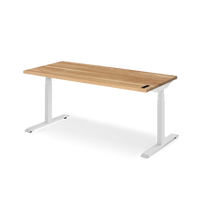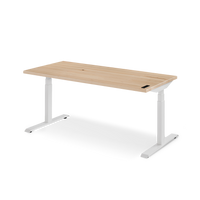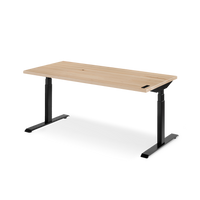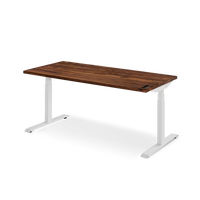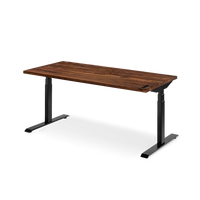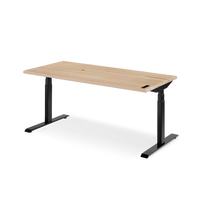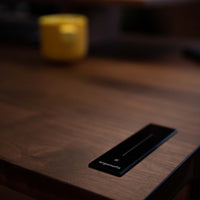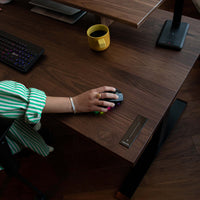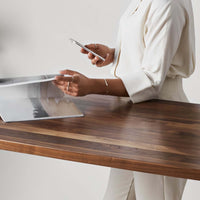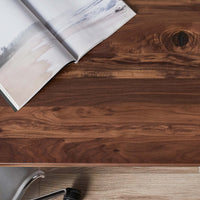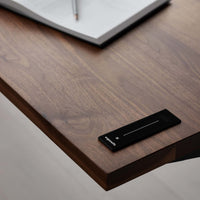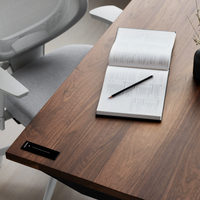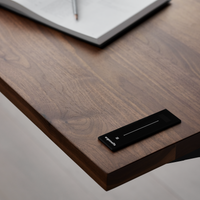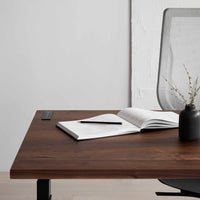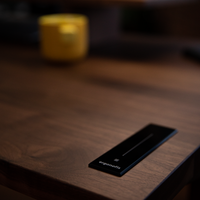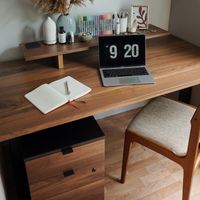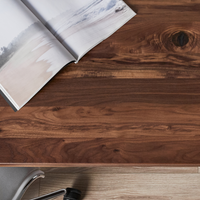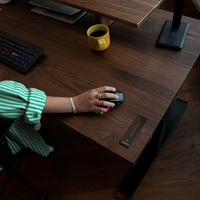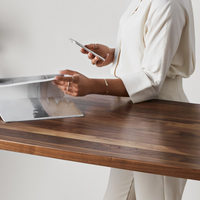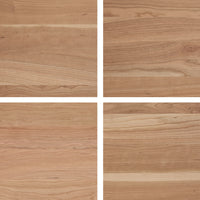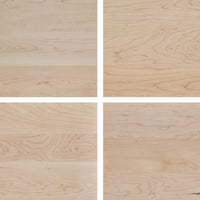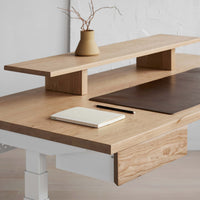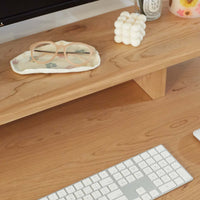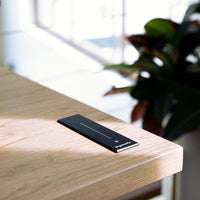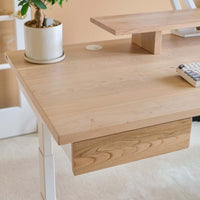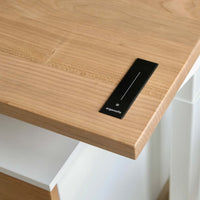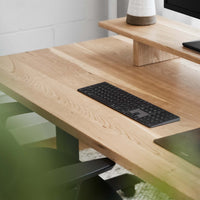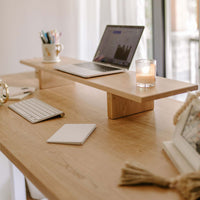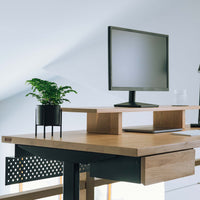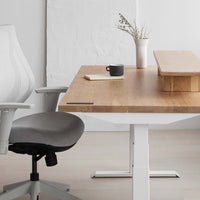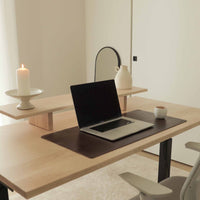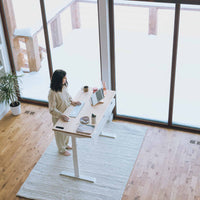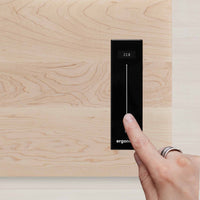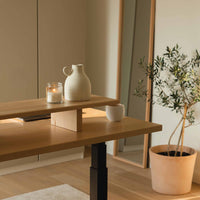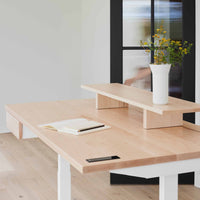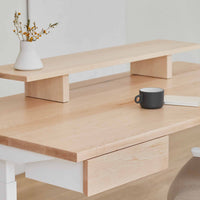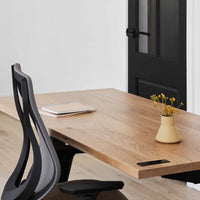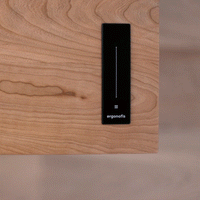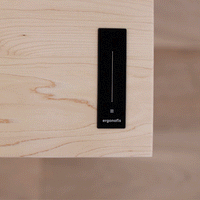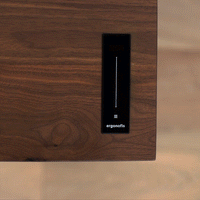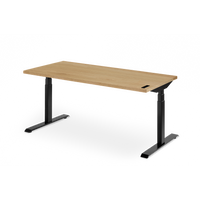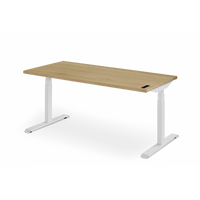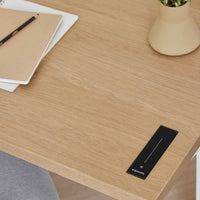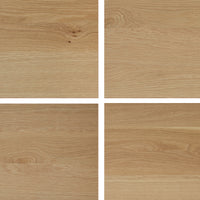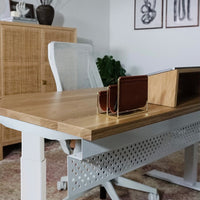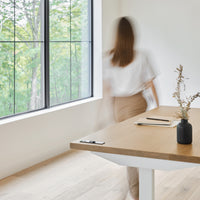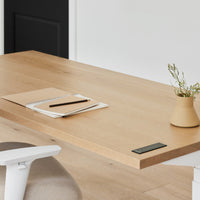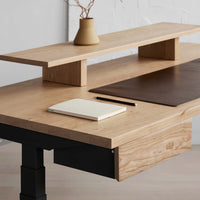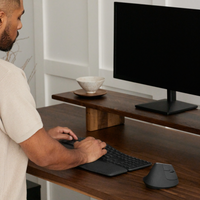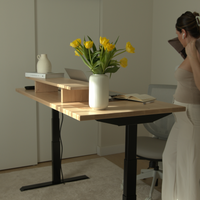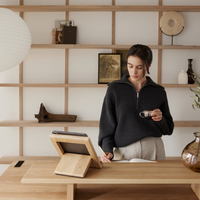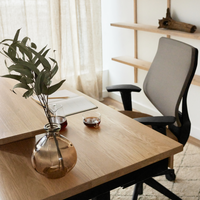 Transform your workspace into a design and productivity hub with our signature adjustable desk: the Sway.
With its brand new Swipe function, the Sway allows you to glide your finger across the interface and set your desk into one position or the other, without any effort. A revolutionary feature that makes using your height-adjustable desk easier as well as improving your overall experience.
Its sustainable surface was thoughtfully created for you, featuring wood species of the highest quality coming from sustainably managed forests.
Your search stops here: the Sway is so pretty that your home office is sure to become your favourite room in the house.
Main Features
- 2 saved position per user
- Up to 4 different users
- One-swipe height adjustment
- Solid-wood surface made in Canada
Technical Features
- Fully customizable settings
- Height-adjustable from 22" to 48,3" (with 1 1/4" thick top)
- Dual motors
- Superior anti-collision system
- 360-lbs lifting capacity
- Pre-drilled for quick and easy installation
- Low noise level: < 40 decibels
Wood Characteristics
Solid wood is a noble material whose colour can become warmer over time if exposed to direct or indirect ultraviolet light. For this reason, we encourage you to get into the habit of regularly moving your decorative objects around such as lamps, vases, monitors, etc., to avoid the creation of localized marks that differ in colour from the exposed surface. Note that cherrywood is the species that reacts the most to the effects of natural light.
Wood Finish
Solid wood has imperfections and irregularities that will vary from one slab to another, such as knots. This trait is one of the many traits that give solid wood its character and uniqueness. We fill the holes on top of the stand with epoxy to make sure that your stand is even.
We fill in the holes and cracks that could have an impact on the durability of your work surface to ensure it stays flat and stable over time. However, for ecological reasons, we do not fill shallow cracks or holes that don't have such an impact. We also don't fill holes or cracks under the worksurface to keep the wood in its natural state as much as possible and to avoid wasting materials.

Make sure to keep a constant temperature and humidity level, ideally between 18 and 21 ° C and between 45% and 55% for the humidity level. Variations may put your wood top under stress, which may result in cracks and curves.

Some protective pads made of synthetic rubbers can react with wood lacquer and create surface discoloration. Always test for chemical reaction on a discreet section of your desk.

Need help choosing the best wood for your standing desk?
Read more about our different wood species in our shopping guide.
An innovative touchscreen paired with a sustainable solid-wood surface.
Our Sway standing desk has an integrated highly customizable control panel. With a sustainably sourced solid-wood top made by local woodworkers, it's no surprise it's our bestseller.
- New Swipe touchscreen technology
- Height presets for 4 different users
- Sensitive collision prevention
- Quiet double motors
- Child lock for additional safety
FREQUENTLY ASKED QUESTIONS
The grommets allow you to neatly slide the wires from your computer and other electronic accessories through the desk. It comes in white and black.
The Sway desk surface is not sold by itself, unless you already have one of our desks and are looking to change the desk's size or look.
The Sway desk has an inlayed control panel carved into a 1 1/4" solid wood surface. The Shift desk has an under-desk control panel and a 3/4" thick softouch laminate surface.
You can use a soft microfiber cloth dampened with warm or room temperature water. Always dry quickly with a paper towel or soft, clean cloth. Clean following the direction of the grain of the wood.
Excellent product
Buy with confidence. The sit to stand mechanism is very well built and solid. The wood surface is wonderfully made and finished. The entire table is made from North American stew and wood and the sur to stand mechanism is from Danemark. Very satisfied.
Hey Ricardo,
Talk about home office goals! Thank you for sharing your stunning White Oak Sway Desk with us.
The ergonofis team,
Great
Walnut wood grain is really nice, and the desk I got has no flaws in it. The wood has sort of a matte finish where you can still feel the wood grain a bit, which I like, opposed to the other glossy and shiny finishes some brands have. Also comes with a free leather coaster which is nice.
Hey Matthew,
Thank you for this kind review of the Walnut Sway!
Happy to read you enjoy our (not so secret) gift
The ergonofis team,