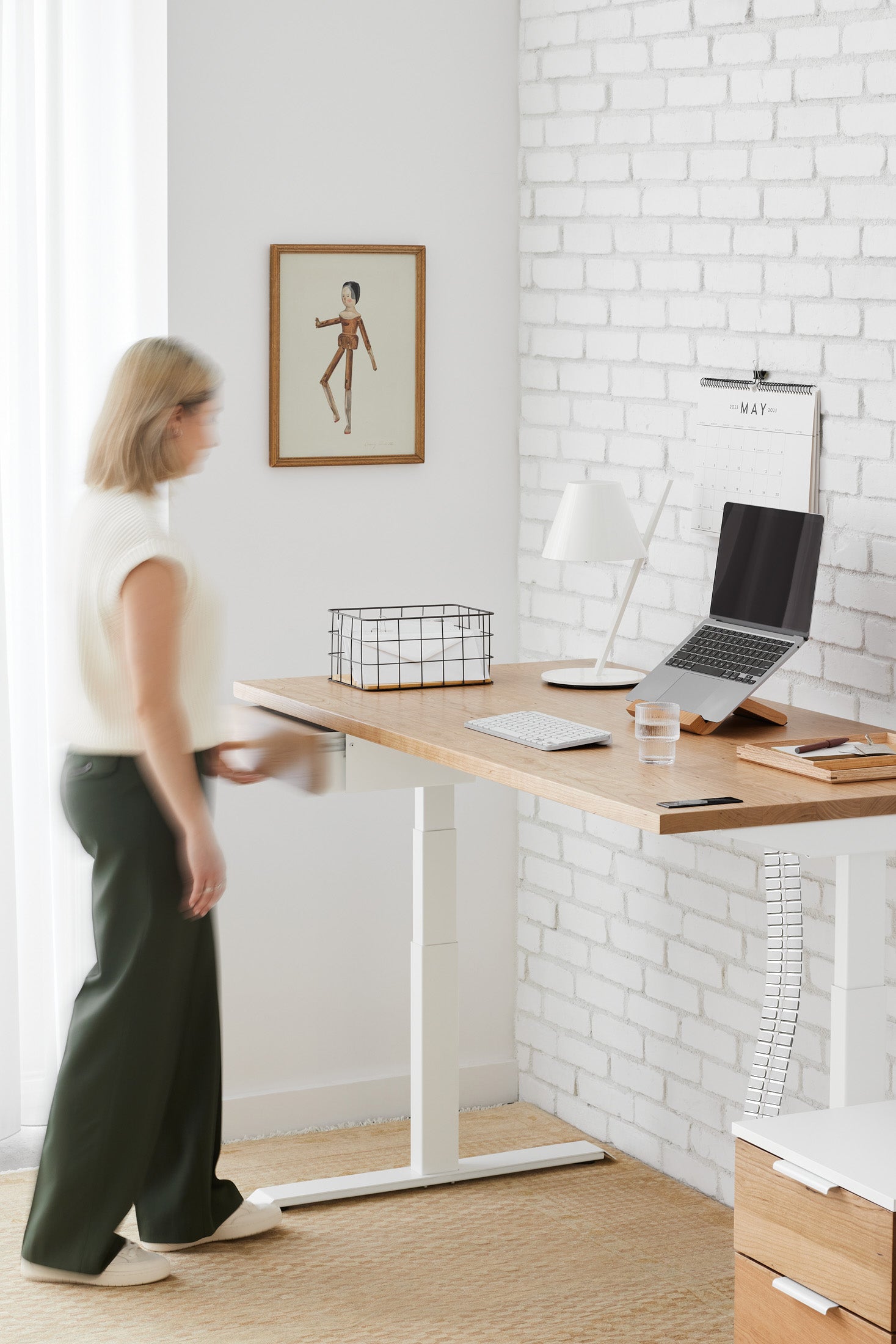 Featured post
In addition to turning everything else in our lives upside down, the COVID-19 pandemic has radically changed our approach to work. No longer happy with a desk job where long...
Featured post
You need advice on how to set up an ergonomic workspace at home? Find out how to create an environment that will boost your energy, productivity and motivation when working...
Frequently Asked Questions
What is the difference between the Sway and the Shift desk?

The performance of the frames is relatively the same (same weight capacity, same speed of adjustment). Here are the main differences:

1. The Shift 2.0's frame comes with a handset that's attached under the work surface instead of being integrated into it

2. The work surface of the Shift 2.0 is built with a high-end soft-touch laminate that is ultra-matte and resists fingerprints

3. The Sway and Alive surfaces are made of solid wood

4. There is a slight difference in starting and ending heights. The Shift's frame starts at 24.5" and goes up to 49" versus the Sway/Alive's frame that goes from 22 to 48.3.
Does my tabletop arrive pre-drilled?

Yes! All of our desk tops arrive with the holes already pre-drilled for you.
Are the desks difficult to assemble?

The installation is fairly simple and takes about 20 to 45 minutes for someone with no experience in installing adjustable standing desks. However, we do suggest being two during the installation as the frame and the work surface are quite heavy.

We offer an installation guide with all of our adjustable desks. This guide is very easy to use and is available in English and French versions.
Do you provide wire management with your desks?

Yes, we do!

With every desk order, we include a free Cable Net to help you manage and organize all of your wires. For additional and optimal wire management, we suggest the Cable Management Solution, a all-in-one solution with a 9 outlets power bar, a privacy grid and multiple reusable cable ties.

To learn about our favorite tips and tricks to conquer wire management, consult our practical guide available on our blog.
What is the best wood choice for my desk?

There are many factors that can influence the choice of wood for your desk. In fact, it all depends on your taste, your decor and the style you want in your new ergonomic workspace. Personally, we love all the wood species for their personality and unique characteristics.

Need help to choose? Discover our buying guide on wood available on our blog.
What Sets Us Apart

Made in Canada
We design and build our products in the province of Quebec, Canada, and we source our materials locally whenever possible.

Exceptional Quality
All of our products are thoughtfully designed and built to make your workday more comfortable and productive.

Certified BCorp
Since 2022, we're part of a global community of businesses working to build a more sustainable economy. The wellbeing of our people, communities, and environment drives every decision we make.