A Montreal company dominating Hollywood  

Custom walnut sit-stand desks with wire management
The Hunger Games: Catching Fire, The Amazing Spider-Man, Star Wars: The last Jedi, The Fate of the furious, Star Trek: Beyond, X-Men, Arrival, Pirates of the Caribbean… What do all these movies have in common? The visual effects were done by the same amazing company; Rodeo Fx.
Montreal born Rodeo Fx is truly an amazing success story. The movies they've worked on is impressive and the awards they've received are well deserved. If you watched the Oscars in 2018, you might remember that Bladerunner 2049 won the best visual effects. Rodeo Fx's team in Montreal created 75 shots in that movie. They also do the visual effects for the global phenomena Game of Thrones, which awarded them the VES Award for Outstanding Effects Simulations.
Like Shopify, Rodeo Fx places a huge emphasis on the work environment they provide for their team. Richard Branson famously said:
"If you take care of your employees, they will take care of you".

That's certainly the case for Rodeo Fx!
It's with great pleasure that we had the chance to work with them on their expansion in Montreal. It was quite a complex project with lots of requirements. 100% custom sit-stand desks were the only way to go.
Here's a quick glance at their requirements:
 
Their employees like to alternate between sitting and standing. Working at a standing desk is fun, but they also really enjoy the freedom of working at their desired height when sitting. Some of them even work sitting on the floor (yes, our desks go that low!).
Their workspaces are very well designed, the sit/stand desks needed to respect that high standard.
The sit-stand desks needed to be robust and durable because their employees are extremely busy. They're busy creating the next visual effects that will win them an Oscar next year. The last thing they need is to encounter malfunctions.
Thoughtful and precise wire management
Nothing ruins a well-designed office space more than wires hanging all over the place. To make things a bit more fun, they have 3 different sizes of CPUs, some of which are so big that they might be able to communicate with species in outer space!
They wanted minimal storage and it could not be in the form of a cabinet or a credenza.
They have expensive equipment to build visual effects, they need to make sure the sit-stand desks are stable when at the highest point.
Things move very quickly and their teams are growing rapidly. They can't afford to wait for traditional delays of 4 to 6 weeks.
A well-designed office space with high-end sit-stand desks


After a few days of no sleep (speed was key, remember ;)) and constant excitement, we built a few designs and presented them to the Rodeo Fx team. A few iterations and a few sleepless nights later, we arrived at the perfect design: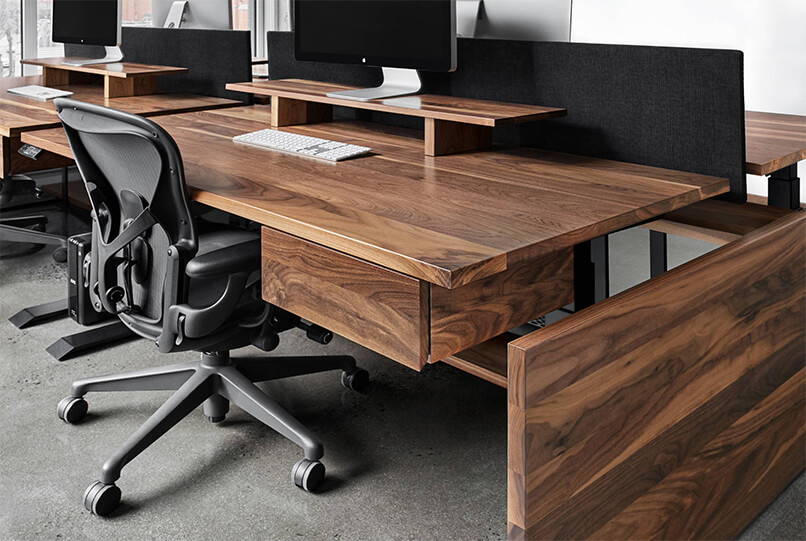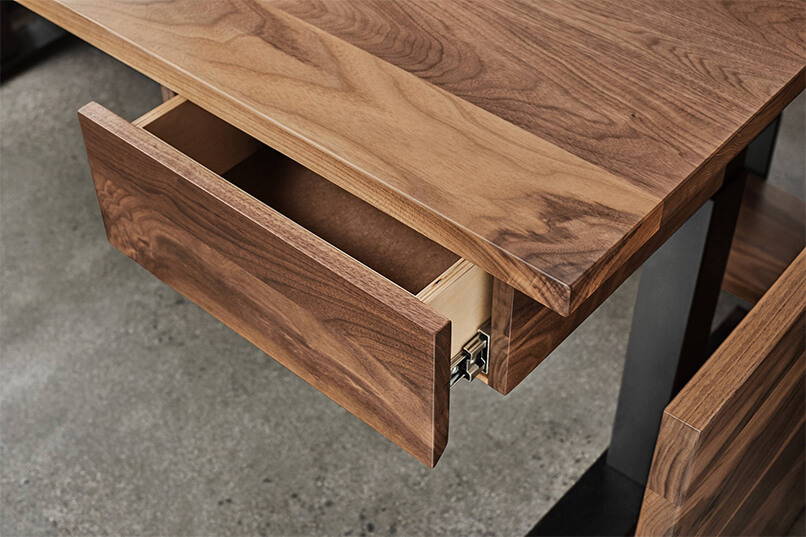 Custom electric height adjustable desks with walnut tops and walnut drawers coupled with custom walnut monitor stands and custom CPU shelves in walnut. The CPU shelves have side walnut panels to provide wire management and black privacy panels on top of them. They also include 6 power outlets each and can fit any of Rodeo Fx's CPUs. We also had the honor of building the executives' height adjustable desks with big walnut tops.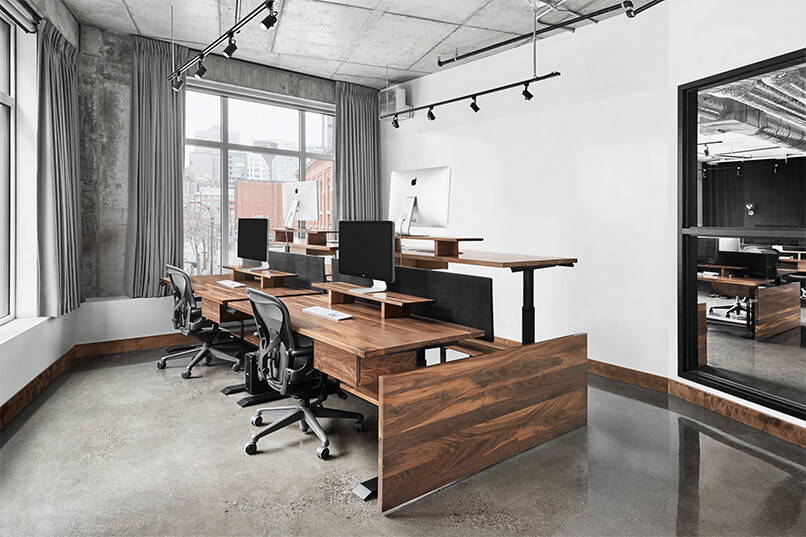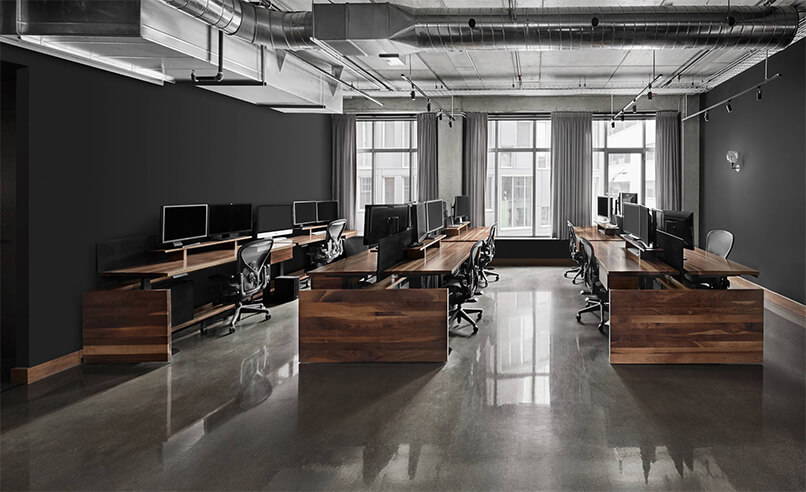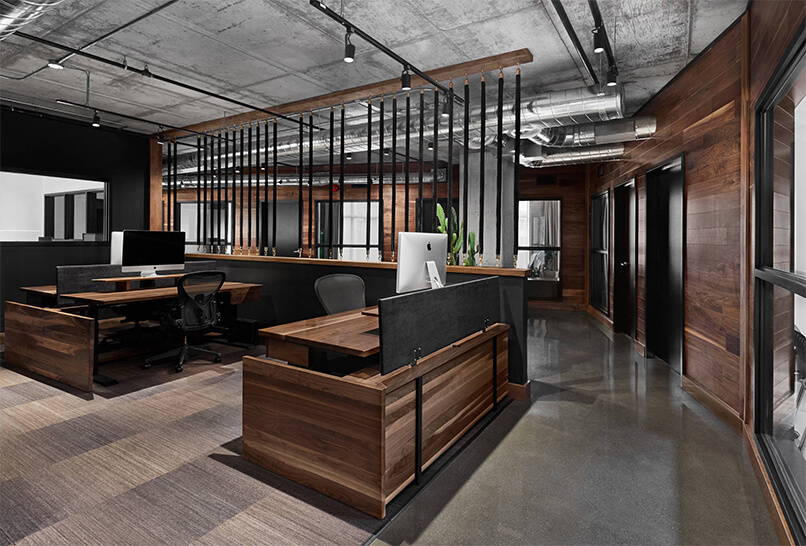 As you can tell, Rodeo Fx is an amazing company with incredible workspaces, we're delighted and proud to be part of their work environment
---
Are you looking to furnish your workspace?

Let us help you build the perfect work environment for your team. Fill out the form below and we'll get back to you within 24 hours.
We're glad you contacted us - Let's built something great. Talk soon!
This field is required
This field is required
This field is required
This field is required
This field is required